With sport coming to a virtual halt in the wake of the Covid-19 coronavirus pandemic and New Zealand's impending lockdown, it might seem trivial or needless to continue with the Northern Advocate's people's choice 'Sideline Champion' award.
However, with times as bleak as they are, it is important that we remember what and who make our communities great.
Voting for the award can either be done through an online poll or via email.
Voting is now open through the online poll at this web address - www.doodle.com/poll/8pw7q38vi6hnwbp2 - which will be linked in the online version of this story.
To vote via email, please send the name of your chosen finalist to sports@northernadvocate.co.nz.
You can vote only once and voting will close on Wednesday, April 1, at noon. The winner will be announced on April 3.
Read more: Aaron and Amy Condon
Read more: Hayley Taylor
Read more: Kape Murray
Read more: Ramona Hellesoe

Finalists
Aaron and Amy Condon:
For Hora Hora Rugby Club stalwarts Aaron and Amy Condon, club rugby has been an integral part of their lives.
Both Aaron and Amy grew up around rugby and would go on to feature strongly at a club and regional level. Now the pair play a crucial role in managing more than a dozen teams across the under-6 and under-18 age groups for the Whangārei club.
While the pair said poor sideline behaviour had been an issue, they were hopeful it had improved.
"In the last three years, I think the behaviour up at Kensington Park has got a lot better," Aaron said.
"I think there have been a lot of processes and protocols put into place that now it's much easier to shut that down and deal with it," Amy said.
With falling participation rates in junior rugby across the country, Aaron and Amy implored all those on the sideline in upcoming seasons to keep it positive and help rebuild rugby in New Zealand.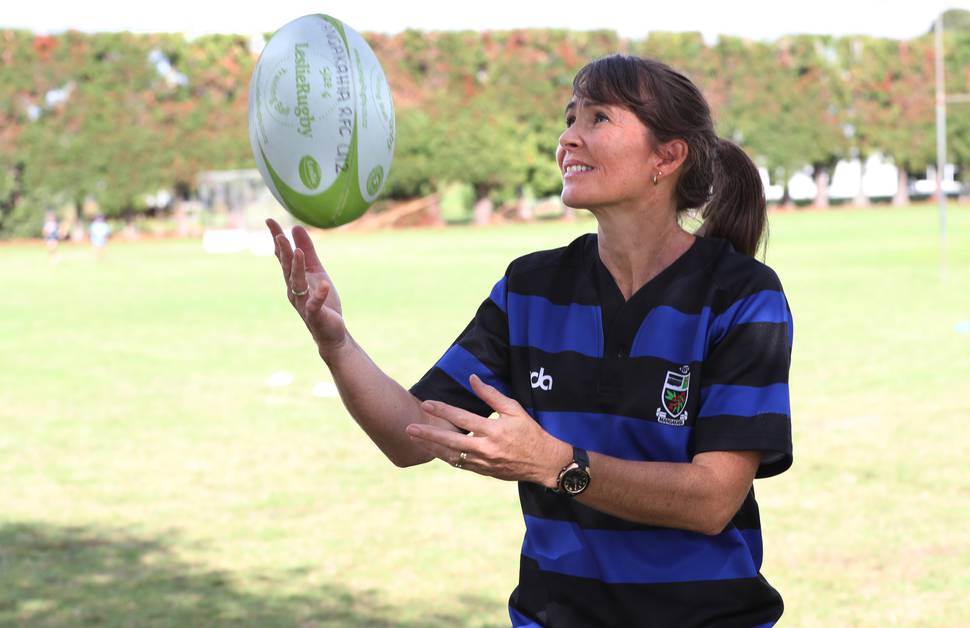 Hayley Taylor:
A love of sport runs through Hayley Taylor's veins.
Having signed off from a fruitful sporting career in both netball and rugby, the 44-year-old mother of two is now a key member in the Mangakahia/Maungatapere sporting communities.
Taylor, who represented Samoa at sevens and was on the fringes of a Black Ferns jersey, now acts as a coach or coordinator for a multitude of teams in rugby, league, touch, netball and basketball for Maungatapere School and respective Mangakahia sports clubs.
However, poor sideline behaviour had been a semi-regular occurrence in Taylor's playing and coaching days.
While she acknowledged almost no parent, coach or spectator would want to deliberately degrade a young player's experience, Taylor encouraged people to be more mindful in upcoming seasons.
"You've got to just keep reminding yourself that they are kids and they are not expected to get everything right," she said.
"It is their game not ours, just let them enjoy it, relax and take a deep breath."
Kape Murray:
Kape Murray is a Kaitaia man through and through.
The 40-year-old father of four has lived in the Far North town all his life and after retiring from his playing days, Murray has become one of the many key figures in Kaitaia's basketball and rugby communities.
After starting his own basketball club called the All Stars, Murray now runs five age-group teams as well as completing his duties as a member of the Kaitaia Basketball Association and the Waipapakauri Rugby Club.
While he acknowledged abuse from the sideline had lessened in recent years, Murray said he was open with the parents of his players with what he expected come game-day.
"It still happens a little bit, but I think that's just people's emotions getting the best of them," he said.
"I know for my rugby club and basketball families, it's almost an unwritten rule that you go through me and we don't need to be like that."
Murray encouraged parents to keep this philosophy in mind for upcoming junior seasons because should they not, it would only drive more children away from sport.
Ramona Hellesoe:
When Ramona Hellesoe moved from Auckland to Kaitaia when she was 25, she didn't think it would be the start of a swimming coaching journey to last more than two decades.
Nevertheless, that is exactly what happened and now, at 55, Hellesoe is the head coach of the Manaia Swim Club which manages about 45 young swimmers across four weekly training sessions.
Hellesoe said the true enjoyment she received from the coaching role was in seeing the children's progression in the sport.
"Just seeing the children improve and so happy, it's great, a real pleasure."
With poor poolside behaviour a present issue in swimming, Hellesoe said she was a big believer in the "Hamburger method", by which a coach would give positive feedback, followed by constructive feedback, followed by more positive feedback.
"I just promote the child to do their best," she said.
"Definitely correct them when they're not doing something right, but always finish off on something positive afterwards."