From being a shy farm boy who came to town not sure what he wanted to do, Neville Walker would turn jewellery making into one of Whangārei's quietly successful industries.
Walker bought the retail store Fishers Jewellers in 1988 from the late Arthur Fisher, of the founding family who opened the store in Whangarei in 1924.
"Arthur was a great mentor and we worked well together. I had the ideas and he had the steady, experienced hand," Walker said.
The two had been in business together since 1964 when Walker branched out from jewellery making, silverware and plating with Avon Industries, where he had done his jewellery apprenticeship.
Walker and Fisher were two of four directors who started Edward Dickson Ltd in 1964.
He chuckles about the number of times people have asked who Edward Dickson was.
The name is an amalgam from names of three of those directors.
Ironically, Walker, whose name was never included, is the only remaining one in the business. He bought it out fully in 2003.
"Fishers was always just a retail shop when I bought it. It sold silver tea sets, cutlery, trophies, diamonds and other jewellery, crystal, fine china ... A traditional jewellery store, you don't see them these days," Walker said.
"It has evolved, of course. We've had to withstand several changes in the industry."
Storms the business rode with Walker at the wheel included the lifting of import duty in the 1970s which slashed the amount of jewellery made in New Zealand. That side of the industry couldn't compete with the lower-priced goods coming in, mainly from Asia, Walker said.
Then there was the rise and rise of jewellery chainstores, "with their mass-produced ranges".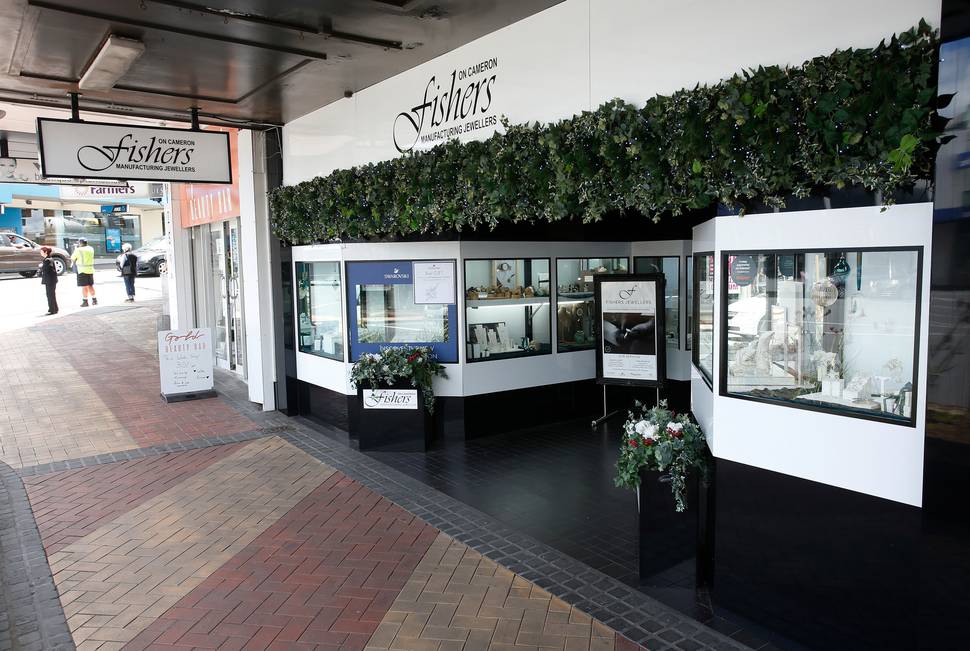 Back in the day, Edward Dickson had representatives selling throughout New Zealand, Australia and the Pacific Islands.
Earlier on, Walker and his wife, Mary, took turnabout weeks to travel routes over half the North Island, selling a product snapped up by jewellery wholesalers and retailers.
Changes in the industry eventually forced many old-style jewellers to close.
But the solid little Whangārei company survived, turning out a quality product and training apprentice manufacturing jewellers — 25 of them.
From once selling only jewellery made in-house, the front-of-house Fishers has had to move into "brands", wholesale designer and inexpensive lines. There is still a huge catalogue of designs to choose from and have something made if nothing on the shelves takes a customer's heart.
Walker's early adoption of internet retail — "My staff pushed that along" — enabled Fishers to withstand, then compete with, the growth of online shopping.
"We stand by the quality of anything we sell online but buyers on some sites don't really know what they're getting. Much of it is not well made, not good metal or stones."
There's only a handful of jewellers working for the Edward Dickson side of the company now; one of them has been with Walker for 40 years.
"We still do repairs, we do remaking, we do the whole design process if the customer wants. The unique side is the manufacturing, and some people still bring in gold or other metal and stones from pieces and want something made."
Fishers also buys old gold and takes jewellery apart, although Walker finds that side of the business "a little sad when I started out making the stuff''.
He admits to "cringing" about having to melt gold down.
After its beginning more than 90 years ago, and 30 years after Walker bought the business, Fishers Jewellers' retail store is again up for sale.
"I would dearly love to see the business go ahead," Walker said.
"It's not a dying business. I think branding will find its own level.
"Choosing new jewellery is an incredibly personal experience. Nothing takes the place of building up a relationship with your customers."