A Navy crew pulled a 12m steel hulled yacht off rocks at the iconic Poor Knights Islands yesterday.
A mayday call was put out by the skipper and sole occupant of the yacht after it drifted on to rocks at the Poor Knights Islands in an area known as the Five Arches, as the skipper tried to re-anchor in blustery conditions, about 7.20am.
Navy ship HMNZS Wellington, in Northland for training, was about 14km from the yacht's location when it received the distress call.
"We made the best speed towards the yacht's location. As soon as we reached the area, we launched one of the ship's sea boats to help tow the yacht away from the rocks and stayed until it was able to get under way," Lieutenant Commander Gibbs, captain of the ship, said.
"We are pleased that we were able to help."
The Tutukaka Coastguard team met the navy team and towed the rescued boat to a sheltered bay and checked for damage.
Tutukaka Coastguard skipper Ben Wood said the rudder had sustained damage and was taking on a small amount of water.
Coastguard towed the boat back to the marina which took about two and half hours.
The islands are 23km off Northland's Tutukaka Coast and are an international diving icon.
Meanwhile, attempts to free a 14-tonne yacht from a Russell beach were due to resume at high tide yesterday after it broke its moorings in Thursday's big blow.
Serenade, a 12m ferro-cement yacht, ended up with its bow resting on Russell boat ramp and being pounded by waves whipped up by a 40-knot onshore wind.
Northland harbourmaster Jim Lyle said conditions at the time meant the Northland Regional Council vessel couldn't get in to Russell to attempt a tow. Efforts using vehicles to pull the boat along the shingle beach, away from the boat ramp, were also unsuccessful.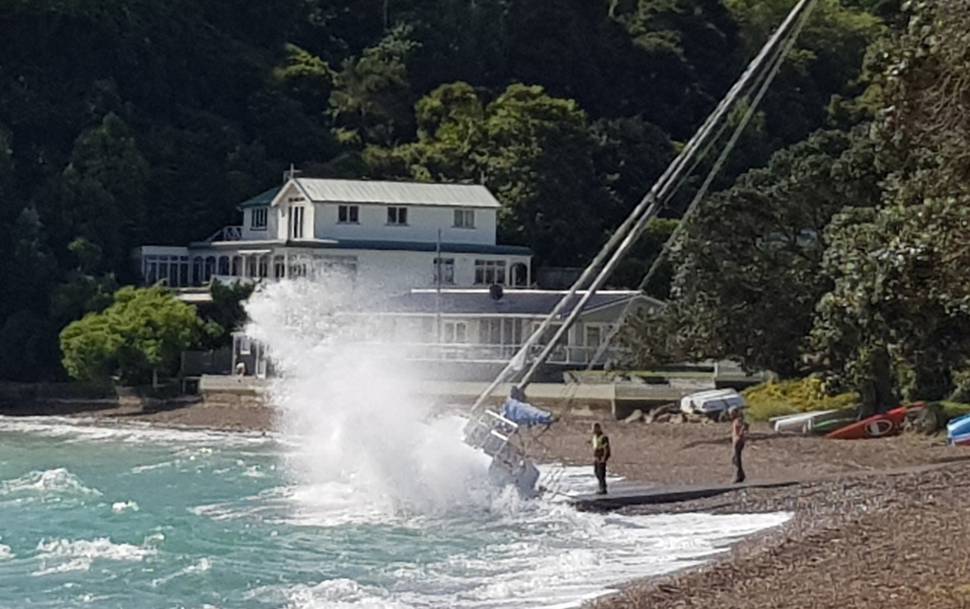 Instead the vessel was secured, a tyre fender was placed under the bow, and the owner was left to organise a tow-off.
Overnight attempts to free the boat failed but another attempt, by the tug boat Albatross, was due to be made at high tide yesterday evening.