They're dark, gory and ready to scare.
The backdrops for a new haunted house at Rainbow's End have been painted in Whangārei by Olivia Garelja.
In total, there's about 40sq m of mural consisting of a library scene, a bedroom scene and a kitchen scene. The dark, haunting mural boards are punctuated by bright, bloody patches.
The boards will be part of a temporary walk-through attraction that will open at the Auckland theme park for Halloween.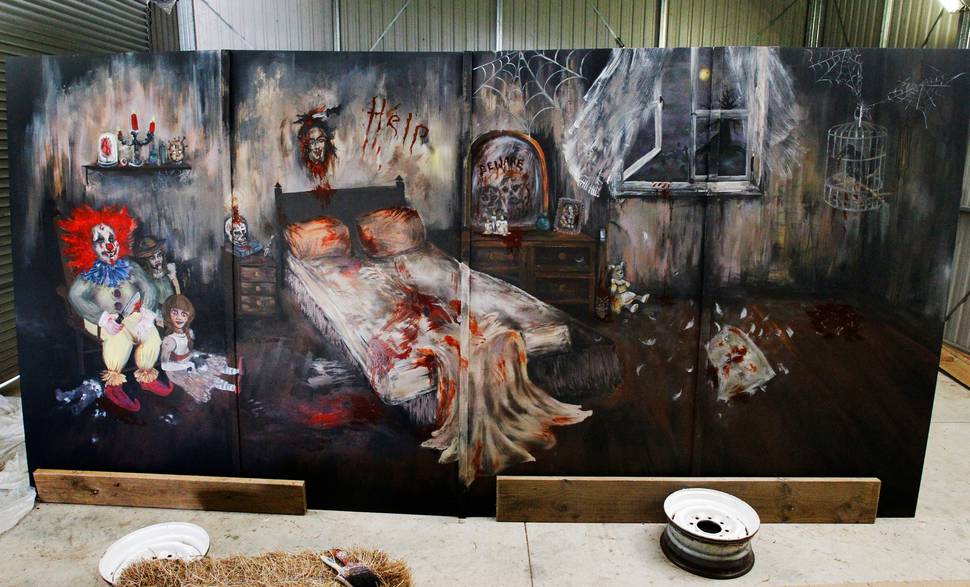 Garelja credits her "creative mind" and Pinterest for her inspiration.
"I kind of imagined what a kitchen might, in a horror scene, look like."
She drew base outlines on the boards with chalk and the designs for each room evolved from there.
The kitchen is complete with a pig's head, loose human limbs and a body in a mincing machine. The bedroom has a clown armed with a knife, a doll whose eyes follow you around and a message written in "blood".
"I haven't done work so dark before."
In contrast, she usually she paints florals and landscapes.
Garelja has spent around 25 hours a week over the past eight weeks working on the scenes in her studio near Kamo, fitting painting around her day job.
It's been mostly painted with brushes, but she wasn't afraid to use her hands and fingers to create realistic bloody hand prints or mix paint colours together.
Garelja, who moved to Whangārei about seven months ago, worked as a mural artist for Rainbow's End a few years ago but usually painting children's scenes.
In recent years she has worked various corporate jobs while pursing her creative interests - painting, design and photography "on the side".
Rainbow's End contacted her in August to see if she could do this job and were not fazed by her move north. They shipped up the boards, the paint, brushes and cloths and returned on Monday to pick the finished boards back up.
Garelja said she is "satisfied" by what she has completed, given the tight timeframe.
"It's quite a captivating work, you stand there and there's quite a lot of depth and detail."
Garelja is looking forward to heading to Auckland to see it set up, and hopefully seeing it draw a few screams.