Department of Conservation (DOC) staff in Whangārei are abseiling from cliffs to collect rātā vine seeds in an attempt to save the species from myrtle rust.
DOC biodiversity ranger Laurence Sullivan said the programme was designed as a safeguard in case the fungal disease threatened the survival of rātā species.
"It's more an insurance policy than anything, in a worst-case scenario."
Sullivan collected carmine rātā seeds from five sites at Bream Head and one at Manaia.
"It was pretty scary because we were right at the top of Bream Head on the rocky outcrops."
He was one of the first to volunteer for the operation.
"I love doing exciting outdoor stuff," he told the Northern Advocate.
Sullivan had to be trained and signed off with an "abseil ticket" before he was allowed to take part in the operation.
"It was very tricky and time-consuming setting the ropes up on a cliff edge, and we didn't even know if there would be any seed.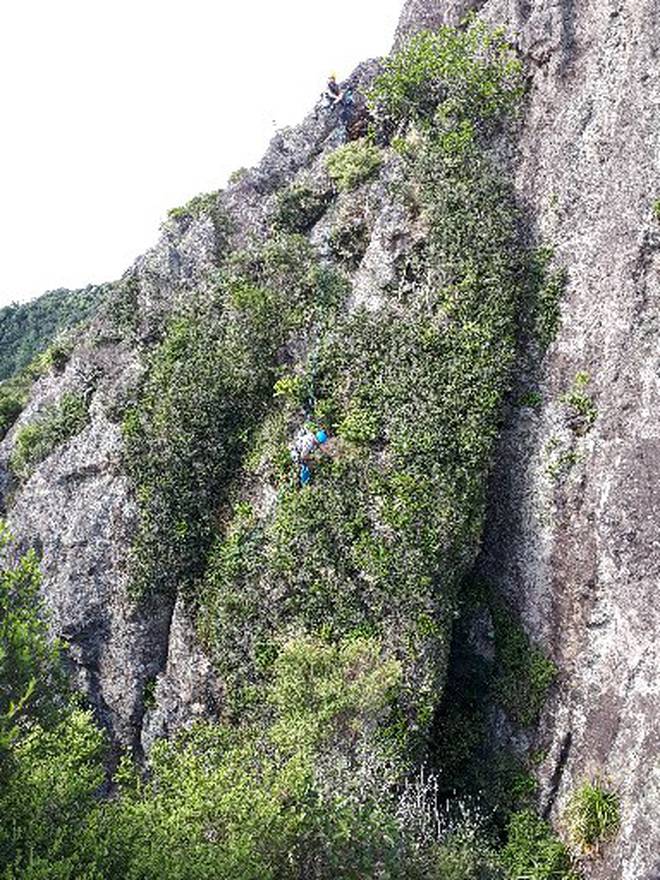 "Every site that we went to we got seed, but at some we weren't able to get much."
The seeds were sent to a national seedbank for secure storage. The operation was part of a larger seed-banking programme for seeds from a range of tree and plant species affected by myrtle rust.
"Although this work sounds like fun, it's crucial for the future of native myrtle species," DOC operations manager Louisa Gritt said.
Myrtle rust was discovered in Kerikeri in May last year for the first time on the New Zealand mainland. The fungus was wind-blown, making containment difficult. Myrtle rust spores likely spread to New Zealand when they were blown over the Tasman Sea from Australia.
It primarily affected plants in the myrtle family, including rātā, pōhutukawa and mānuka.
DOC said the disease was eradicated in Kerikeri when the infected plants were destroyed, but it has since reappeared in Northland at 32 different sites and 656 other locations around the country.
More than 50 trees in Kerikeri have been affected, along with at least one in Kaipara.
Myrtle rust can cause deformation of leaves and flowers, reduce fertility, and kill plants.
MPI (Ministry for Primary Industries) has said the fight against myrtle rust was "changing gear" as it proved impossible to contain.
More than 95,000 plants have been inspected and thousands destroyed over the last year, but the disease has not been contained.
"We have signalled for a while the likely need to change gear from intensive surveillance and the removal and destruction of host plants to one where we look to manage the disease over the long term," MPI's Dr Catherine Duthie said.
Instead, people were asked to take photos and call the MPI exotic pest and disease hotline on 0800 80 99 66.