Emma Bennett and Darryl Davies say passion, empathy and integrity are qualities which make a good teacher.
And they would know.
The two Kamo High School teachers have won top awards in the 2017 Warehouse Stationery Teacher of the Year awards.
Ms Bennett, a media studies and junior social studies teacher who is in her second year of teaching, was named Teacher of the Year.
Meanwhile Mr Davies, who started teaching in 1981 and is deputy principal and teaches physical education, won High School Teacher of the Year.
"It was baffling. There are so many other teachers I thought 'oh it would definitely be her, or it would definitely be him,'" said Ms Bennett.
"Mum is super chuffed too, I couldn't understand a word she was saying on the phone because she was crying so hard."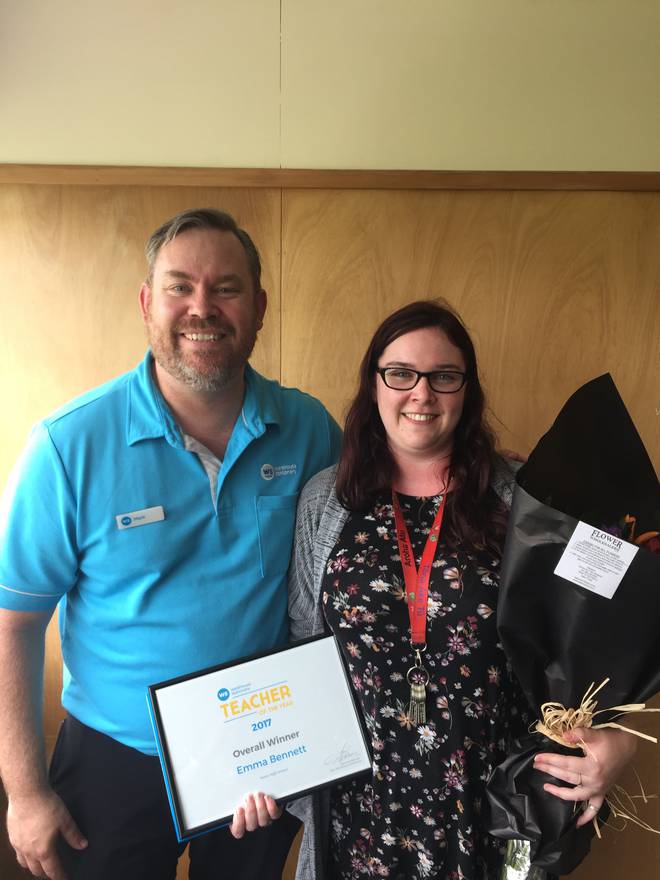 The Warehouse Stationery Teacher of The Year is in its seventh year and was formerly known as 'New Zealand's Most Inspiring Teacher'.
Students, parents and members of the community were invited to submit a nomination in 400 words or less, explaining why their teacher is considered 'Teacher of the Year'.
Winners were selected by three judges who all have education backgrounds.
Kamo High School received the greatest number of nominated teachers nationwide, receiving 16 unique nominations, the highest number in the history of the initiative.
It was a past student, who is now 41 years old, who nominated Mr Davies.
"I was in a severely abusive home. Mr Davies knew this in his heart even though I said nothing. He bought me clothes and shoes and left them for me to change into every day so the bullying at school would stop. It worked," the student said in the nomination.
The student said Mr Davies showed love and compassion and said he helped carve the path to an "amazing happy life".
"Some of the kids I teach said 'Sir we thought you were going to cry'. So it was very emotional to be honest. First it was surprising, I didn't even know I was nominated let alone up for the award.
"When you hear what people say about the impact you've had on them it is a very humbling experience," Mr Davies said.
Meanwhile, the student who nominated Ms Bennett said "she was one of the best teachers I've ever encountered".
She said her positive but firm teaching approach helped students excel.
"One of the best things Miss Bennett has instituted is film club. Held every Friday afternoon in her classroom, she takes her own time out to culture us with modern films as well as classics that spark deep discussions about a variety of things," he said.
When asked what makes a good teacher the pair said: "passion, empathy and integrity".