A weekly round-up of news snippets, events and oddities from the Bay of Islands and around the Mid North
A festival aiming to teach youth about the harm caused by alcohol and drugs celebrates its tenth anniversary this Easter with two days of live music plus a talent quest at a new venue in Paihia.
Be Free was founded by Kerikeri's Tony Harrison in 2005. He's now the owner of the Music Workshop, Northland's biggest stage sound and lighting company, but it wasn't always that way.
Mr Harrison spent many years in the thrall of booze and drugs, including four years with a daily P habit. After turning his life around and completing rehab he founded an annual concert to steer kids away from the path he followed.
The 10th anniversary Be Free Family Fun Day and Concert will take place on Easter Sunday and Monday on Paihia's Village Green.
Sunday's lineup, from 11am-4.30pm, will include 2013 Smokefree Pacifica Beats winners Strangely Arousing, who last brought their high-energy, brass-heavy sound to Kerikeri's Street Party, and the soulful Taylah Barker and band JB Rhythm from Kerikeri. Playing support will be many of the winners of past Be Free youth talent quests.
Monday will feature X-Factor finalist Brendon Thomas and the Vybes plus local acts Rangitane Riot and Arn N Dee, plus an under-12s talent quest, from 10am-3pm.
Mr Harrison said there would be no lecturing concert-goers about the evils of drugs and alcohol; rather, the emphasis would be on family fun and good role modelling.
"We want to get kids and whanau along and give them subtle messages about the harm caused by drugs and alcohol, together with some education around positive choices and support that are available," he said.
Over the past years Mr Harrison said the festival had steered "heaps" of people into rehab and away from drugs. Another sign of its success was that every kid in the Far North knew what Be Free meant, he said.
The Bay of Islands-Whangaroa Community Board granted $10,600 to this year's event. Chairman Terry Greening said it was a well-run local event the board had supported since its inception.
The free event, which used to be held at Kerikeri Domain, will go ahead whatever the weather.
Be Free has also spawned a youth music mentoring programme teaching kids performance and life skills.

Food and wine fest returns
Easter's musical bonanza begins on Saturday when a scaled-down version of Kerikeri's Ocean and Orchard Festival is held at a new location next to the Old Packhouse Market.
The event will feature the tried and true combination of live music and Northland food washed down with local wine and craft beers.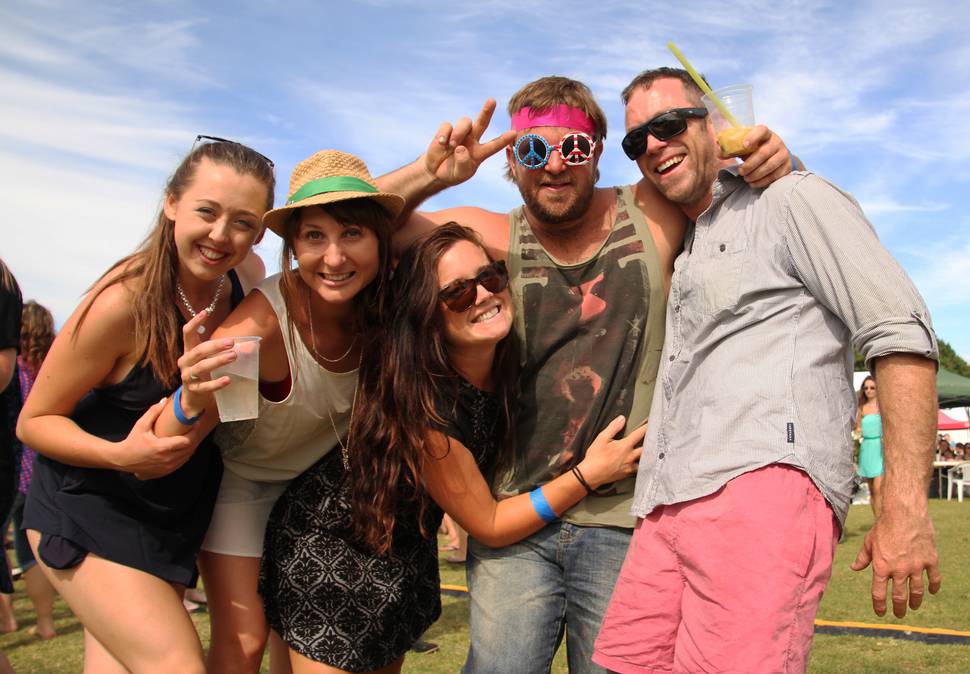 Entertainment will range from the Bay Windjammers' easy-listening jazz to Bootleg's rock/blues covers, plus a Leonard Cohen tribute band from Warkworth called Imperfect Offering.
Bootleg is based around Bay of Islands singer/guitarist Merv Pinny, Northland's most successful dairy farmer. After selling his Mangakahia Rd farms last month he is free to pursue his life-long love of music.
Festival-goers will be able to compete in lemon-sucking and oyster-eating contests when they're not sampling the wares of ten food stalls and five wineries.
Organiser Judy Hyland was one of the festival's key organisers when it was held on Kerikeri Domain. With Mrs Hyland now busy with the Old Packhouse Market and no one in the Kerikeri and Districts Business Association able to take over, she decided to organise a scaled-down version in the hope that someone else will pick it up next year and bring it back to the Domain.
The event will run from 3-7pm on March 26. Tickets are $20 from the market, Kerikeri Pharmacy or at the gate (unless it sells out prior). Under-17s free. See oceanandorchardfestival.co.nz for more information.
The Old Packhouse Market is on Kerikeri Rd about halfway between town and the SH10 roundabout.

Hokianga stars in local doco
The people of the Hokianga are the stars of a 90-minute movie about the power of community.
Hope:Tumanako
will screen at 7.30pm in Rawene Hall this Saturday, March 26. The locally-made documentary features a wide variety of local people telling their life stories and expressing their fears and hopes for the future.
Admission by koha; supper provided, along with a chance to discuss the film with its makers and cast afterwards.
The documentary was directed by Susy Pointon with Hokianga film-maker Lloyd Latimer and producer/presenter Judy Reinken.
They interviewed 30 people about how they had made the planet a better place for their descendants through farming, environmental action, music, art, teaching, building and political activism. The film also recounts how the Hokianga community came together to save Rawene Hospital in the early 1990s.
Started in 2011 and completed in early 2014, the film screened at the 2014 Auckland International Film Festival and had a run at Rialto Cinemas last year.
Documentary "stars" present for the screening will include Tony Watkins (writer on sustainable living and architecture), David Williams (law professor and Treaty Negotiator), Judy Reinken (lay preacher and environmental activist) and and the Wild West cowboys. Go to www.hopethemovie.nz for more information.

Midge's Northland swansong?
Easter's musical feast continues on Monday when blues legend Midge Marsden plays at a Kerikeri winery that shares his name - Marsden Estate - with Whangarei guitar virtuoso Chet O'Connell.
Midge tells us this is his last year of playing live before he bows out after 50 years of "treading the boards", so it could be your last chance to see him in Northland.
He will be supported by Guru and the Gypsy, aka Dave Gorrie and JD Donoghue, former members of Puha Bandidos and Far North musical institutions in their own right.
Midge was named New Zealand Entertainer of the Year in 1990 and taught "bluesology" at Waikato Institute of Technology. He has toured the USA four times and played with the likes of Stevie Ray Vaughan.
The show starts at noon. Tickets $25; booking essential. Email marsdenestate@xtra.co.nz or call (09) 407 9398. Marsden Estate is on Wiroa Rd between the SH10 roundabout and Kerikeri airport.

Easter egg hunt
The Excite Christian Centre is holding its annual Massive Easter Egg Hunt at 10am this Saturday in the Turner Centre Plaza, Kerikeri. As well as searching for elusive chocolate treats kids can try face-painting, a bouncy castle, ceramic painting and refreshments, all free of charge.

Stay up to date
Vision Kerikeri has launched a new website where the community group will regularly post updates on matters of interest to people living in the Kerikeri area. Go to www.visionkerikeri.org.nz to check it out.

Bike park update
In case you're wondering what's up with the Waitangi Mountain Bike Park ... The original aim was to open the trails in Waitangi Forest by the end of this month but delays in getting permission to develop the carpark and trail hub means it's now more likely to happen in mid-May.
As of March 10 just over 16km of trails had been built by Rotorua firm Southstar Trails. Two new grade-3 trails have been completed as well as a "super-easy" loop trail aimed at families and beginners.
The project is driven by volunteers of Focus Paihia. As well as creating another option for healthy outdoor activity, it is hoped the park will boost the Bay's economy by attracting visitors, encouraging them to stay longer, and giving them something to do outside the peak summer months.

Old for new
Kerikeri topped the country in a Coastguard programme to persuade boaties to swap their dodgy or damaged old lifejackets for safe new ones.
The Old4New Lifejacket Upgrade Campaign visited 23 boat ramps and towns from the Waikato to the Far North during summer, racking up 3300km and upgrading 1500 lifejackets along the way.
The record was at Kerikeri's New World supermarket where boaties traded in 105 lifejackets, followed by Waiheke with 99. About 300 of the traded-in lifejackets still meet safety standards and will be distributed to schools and community groups.

Do you have news or an upcoming event you'd like to see in this column? Send it to us, including your full contact details, to baynews@northernadvocate.co.nz.