An armed incident that put a Napier neighbourhood and four surrounding schools into police-enforced lockdown remained ongoing on Monday evening.
Police are continuing to respond to an incident at a property on Alexander Ave, Onekawa, Napier.
Police were called to the incident following a report of concern around 2.15pm.
The Armed Offenders Squad and the Police Negotiation Team are in attendance.
Cordons are in place at Alexander Ave.
Residents who cannot return home can gather and keep warm at the Kings House Church on 190 Riverbend Rd, opposite the entrance to the Pukemokimoki Marae.
Residents currently inside the cordons are asked to remain indoors until the incident is resolved.
Schools in the Onekawa area were in lock down for a period of time this afternoon.
Pupils at four Napier schools were finally given the all clear at 4pm to leave 90 minutes after being told by police to stay inside their classrooms.
But, into the evening, armed police and the Armed Offenders Squad continued to surround an Alexander Ave property that they laid out road spikes around at the same time.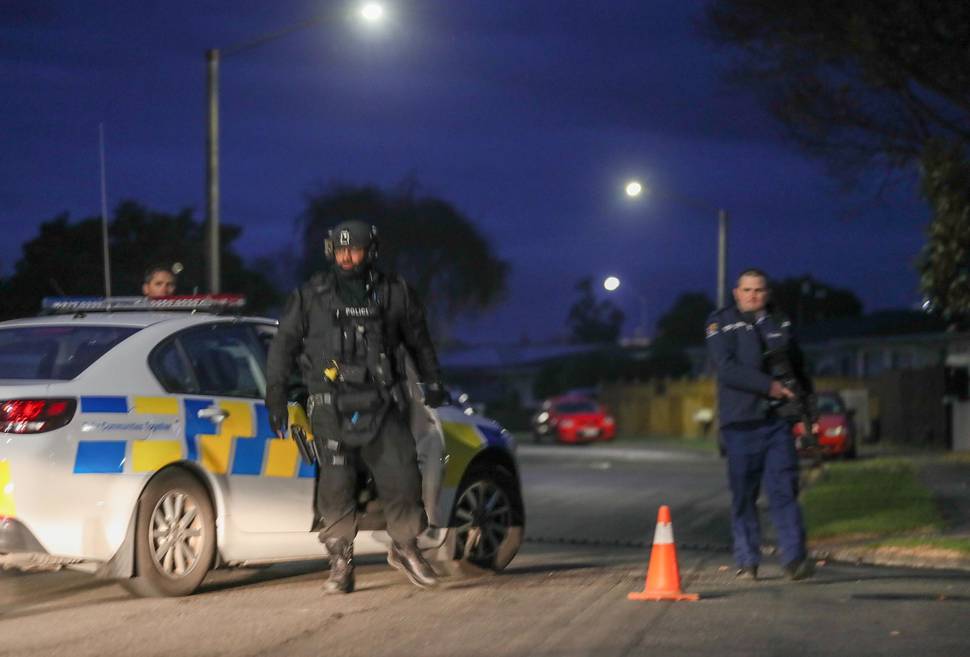 Richmond School, Henry Hill School and William Colenso College and Maraenui Bilingual School were placed into lockdown as scant details began to emerge about the incident.
Multiple witnesses reported seeing a man with a gun on an Alexander Ave property.
Police, who set up a base in on the corner of Dinwiddie Ave and Waterworth Ave, would not confirm this.
Wycliffe St and Hitchings Sts were also blocked off with armed police visible at the scene.
A small crowd of people built up at the Hitchings St blockade, many of them locals, and some of them parents waiting to get access to their children.
Residents at the cordon, who did not want to be named, said they had been waiting since 2.30pm to get back to their homes.
Police shifted the cordon further down Hitchings St and closer to Alexander Ave about 3.45pm.
A spokesperson for William Colenso College said via its Facebook page: "We are all safe. Thank you for your patience".
An office staffer at Richmond School said police had placed the school into lockdown about 2.35pm, but they had no idea why.
"When we were told, we didn't wait to find out why, we just did what we were told."
The school advised parents on Facebook:
"Do not come in and pick up your children, we are in lockdown. Your children are safely secured in their classrooms with their teachers."
Wycliffe St resident Barbara McFarlane said she was only aware of police setting up a cordon outside her house at 2.40pm when her daughter called her.
"I was just watching TV and didn't hear a thing, no sirens, no commotion, nothing. It wasn't till I looked outside that I saw armed police just down the street."