As part of our build-up to Rio 2016, the Herald, in association with ANZ, is counting down New Zealand's top Olympic towns. Today, number two - Hastings. Find out how the list was compiled below.
"People always talk about getting the medal around your neck," says Keith Trask, who won gold for New Zealand as part of the rowing coxless four crew at the Los Angeles Olympics in 1984.
"For me rowing is the best. You know, the feeling in the body, which is something special you have with the crew so you can't really describe it in words."
The 55-year-old building contractor started Hastings' gold rush. Not only was he the first person born there to win their Olympic event, but he set a standard for rowers that's been maintained by Eric Murray and the Evers-Swindell twins.
Trask, who now lives in Auckland with wife Serena, was a promising First XV rugby captain at Karamu High School.
He gravitated to rowing to hang out with some mates and school coach Tony Bone, who he keeps in touch with, provided the template for his prowess.
Trask's selection in the New Zealand Colts team in 1979 made it easy to go fulltime with the summer sport.
In 1983, he moved to the North Shore Rowing Club after missing out on national teams in the previous two years.
"Hawke's Bay was a strong club but I needed to row with the best people at North Shore," he says.
Trask was selected to go to the 1980 Moscow Olympics as a member of the coxed four but never went because of a US-led boycott.
"It was disappointing but I was pretty young, 19 at the time, so it was more like missing a trip for me," he says with a chuckle.
In 1982 the Kiwi eight had won world championship gold in Switzerland. He wasn't there, and that rankled.
Winning world championship gold with the coxed four crew of Conrad Robertson, Gregory Johnston, Leslie O'Connell and Brett Hollister in Germany the year after was further endorsement of his move to North Shore.
Then came the turbulent switch from the coxed to coxless four.
Then 23, Trask found it mentally and physically challenging but showed fortitude in adapting.
"The boat was okay but it didn't race that well in training trials four weeks out of leaving New Zealand."
Russians, Germans and Swiss were among the frontrunners but the Kiwis - Trask, O'Connell, Robertson and Shane O'Brien - triumphed, pushing the Americans into silver position.
"We cleared water on them [Americans] so they had no overlap on us," Trask says.
It was a proud moment for his parents, Charles and Maureen Trask, who were in LA with relatives and friends of other Kiwi competitors. His father died last year but his mother still lives in Hastings.
"It's a very special moment of your life," says Trask, now a father-of-three who coaches his son in rowing and daughters in water polo.
Trask says the race was over by 10am so the crew went back to their motel and enjoyed the company of the Kiwi coxed four, who had won bronze, for the next three hours.
Later that day they joined a party at the University of California, Santa Barbara, where the regatta was based.
"It's a lot of hard work and you get a sense of achievement out there. The harder you worked the more reward you got."
'WE PUNCH WELL ABOVE OUR WEIGHT'
Friendly water and a focus on the future are among the reasons Hastings "punches above its weight" when it comes to Olympic success.
Five medallists were born in the town and four won gold in rowing.
Hawke's Bay Rowing Club captain Ross Webb says the Clive River is usually rowable and "time on the water is a valuable commodity".
He also points to the region's "great" coaches, including Dave Thompson and Chris Nilsson.
"It's not just about athletes, they're everywhere. It's about the relationship they forge with coaches. I have no doubt that's what happened with Emma Twigg and the Evers-Swindell twins.
The Evers-Swindells are the jewel in the town's crown, with double golds in the double scull. Their record, together with the efforts of Trask and Eric Murray, appear to be inspiring the next wave of rowers.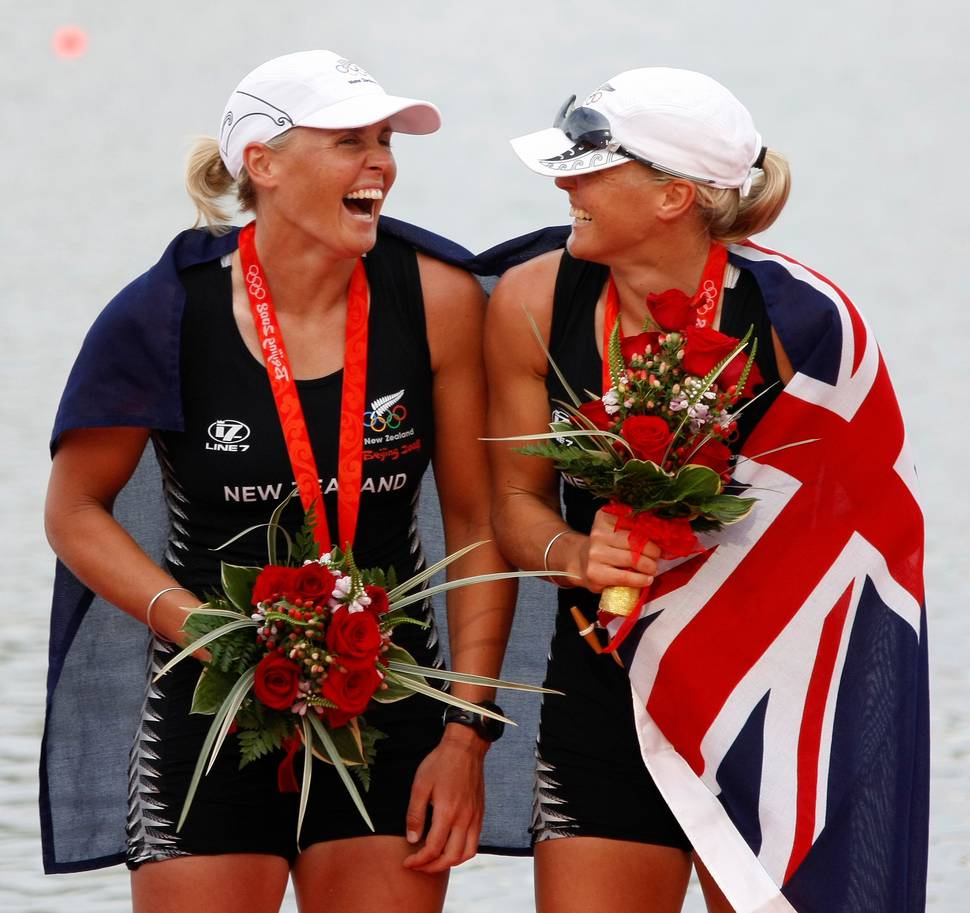 "I think it comes down to the schools programme," says Nilsson, a Hawke's Bay Rowing Club member and former Olympian.
"[Hawke's Bay] would be one of the most successful school-based clubs in the country. Rowing was in decline a few years back but their numbers were still strong."
Hastings Mayor Lawrence Yule is understandably chuffed at the city's Olympic record.
"Sport is part of our whole lifestyle and our weather here is so good so people get outside a lot."
Mr Yule believes the Rio Olympics will spark the competitive imaginations of many youngsters.
He recalled the day a street parade acknowledged the gold-winning feats of the Evers-Swindells at Beijing and accorded them the freedom of the city.
"I think we punch well above our weight," Mr Yule said, adding that input from people like Sir Graeme Avery was invaluable.
In June, Sir Graeme launched his vision of what could become AUT Millennium Hawke's Bay.
He was one of the driving forces behind the Millennium Institute of Sport, which opened in Auckland in 2002, growing and developing into AUT Millennium.
HOW WE DID IT
We analysed information about every summer Games medallist to come up with the 10 towns that have made the biggest contribution to Olympic glory.
The final position is the result of combining two rankings: the gold rank is based on the number of gold medals won by people born in each town and city, divided by current population; the Olympic rank is based on the number of medal-winning Olympians born in each town and city, divided by population. We averaged the rankings to get the final position.
Today's town, Hastings, is second on the ladder with a population of 76,700, according to 2015 figures from Statistics NZ.
It's the birthplace of five medal-winning Olympians, who have won six golds and two bronzes. Its gold rank is two and its Olympic rank four, giving an average of three.
The method isn't scientific and we expect it to prompt debate. We know some athletes may identify with the towns they were brought up in rather than where they were born, but our ranking gives a strong indication of the places that have given us greatest cause to celebrate Olympic success since Harry Kerr won New Zealand's first medal - a bronze in the 3500m walk at the 1908 Games in London.
THE LIST SO FAR