It's 132 years since Woodville residents began the battle of the pumpkins, roses, dahlia and gladioli at their Horticultural and Industrial show and last Saturday was no exception.
Trestles in the hall groaned under the weight of onions, cabbages, garlic and other assorted vegetables, while flowers and pot plants made a bold statement too.
And while the show was celebrated as the 130th, research by John Priest has shown the first show was held in 1884 - 132 years ago. Mr Priest, who is determined this iconic Woodville event will survive when others have wilted and faded away, set out to discover more about the show and to his surprise uncovered historic records confirming the first show was in 1884.
"It's the oldest organisation in Woodville," Horticultural Society member Ralph Mountfort said.
So why celebrate as the 130th show?
It's likely there could have a break during the war years, Mr Priest thinks.
For the show to survive and grow Mr Priest has been encouraging new entrants and youngsters to join in and was delighted on Saturday to have a large number of children compete.
"If you can get the parents interested then the kiddies get into it too," he said. "Entries in the children's section are better than last year and when the kids see their prize certificate their eyes light up."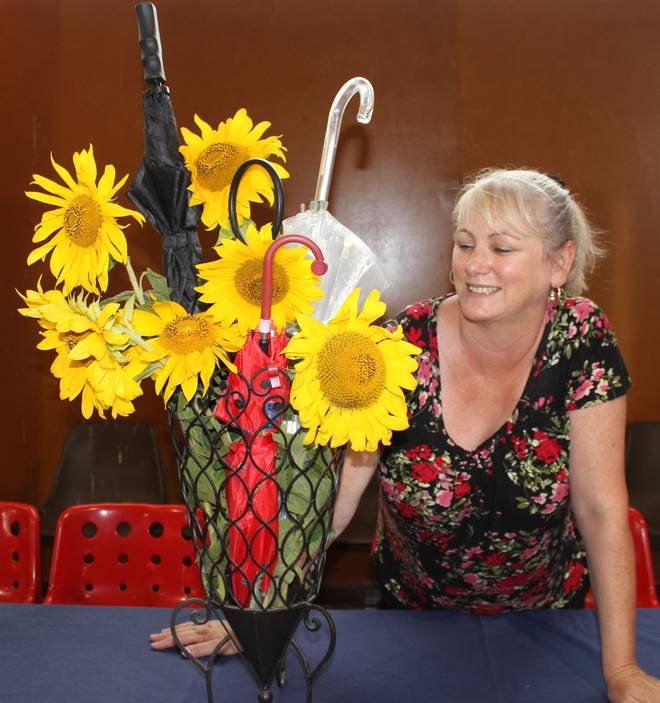 On Saturday there were a number of new entrants, including Teresa de Vines, the new owner of Woodville's Central Motor Inn.
"This is my first flower show and to get three prizes from four entries is wonderful," she said. "I've only a small garden and really know nothing about gardening, I just plant."
Another newcomer was Joe Ash.
"There's always been fierce competition between the brothers Kevin and Ian Eades, but I'm here to give them a bit of a nudge," he told the Dannevirke News.
At the trophy presentation, a delighted Mr Ash received the prestigious Tanner Cup for the most points in the vegetable section.
"I said I'd give the brothers a bit of a warm up and now I know what it's all about I hope I'll give them a good go again next year," he said.
There's always friendly rivalry amongst entrants, with Mr Priest delighted his own entries scored some prizes, too.
"I purchased a cottage here a couple of years ago and it was all lawn," he said. "I see no point in mowing lawns so I dug it up and planted wildflowers and on show day I go looking for something good enough to put in the show."
Friend and fellow gardener Glenys Pryde, also took home prizes, including the Tanner Cup for the most points in the cut flower section and the Lorna Smith Memorial Cup for the most outstanding exhibit in cut flower section.
"I love gardening and it's good to have a bit of friendly fun and competition between gardeners," she said.
Woodville's Joy Kopu said she was delighted by the great response from children.
"The numbers in that section are picking up and John [Priest] has done a great job."
One successful young entrant was Hunter Bretherton of Bunnythorpe who won a first in the vegetable model and sand saucer classes.
Woodville resident John Bradley was pleasantly surprised by the quality of the entries, but he was also concerned how the committee would work towards the future.
"We have to keep up the enthusiasm and then people will come along and exhibit," he said. "There have been some families who have been involved since day one and Mr Eades family has a long history with the show."
Horticulture runs in Mr Eades blood. He took over the presidency when his older brother died and he was following in the footsteps of his parents who also had time at the helm, as did his grandfather. An aunt also exhibited in the show since she was a schoolgirl.
This year Mr Eades' dahlia won the Ralph Mountfort Trophy for the most points in the novice dahlia section and the Woodville Rose Society Cup for the most points in the rose section.
"Last year I had the top gladioli, but it's been a tough season this year, with sun and wind burning the blooms," he said.
Brother Ian wasn't about to be out-done, winning the Syd Turnbull Cup for the most points in the pot plant section.