Indoor Premier Results
FTNC Premier Reserve 44 vs Waikato Diocesan Open A 38
Marist Verdettes Old Girls 88 vs St Peter's Cambridge Open A 37
Uni Premier 65 vs FTNC Premier 55
Nottingham Castle Rangers 52 vs Marist Verdettes Premier 45
In the sixth week of the Trust Waikato Hamilton City Netball Centre Indoor Premier netball competition and after a two-week break there were some close games, with the round robin competition almost complete.
Uni Premier had its closest game to date with Fraser Tech Netball Club Premier in the hunt for most of the game. At the end of the first quarter Uni led by only three goals and they increased this to lead by five at half time.
The half time score was 35 goals to 30. In the third quarter Uni dominated and was ahead by 12 goals at the end of the quarter only to have FTNC Premier retaliate and win the final quarter by two goals to narrow the gap to 10 goals.
Uni won the closely contested match 65 goals to 55. Overall this was a skilled and athletic game which was nice to watch.

For Uni, Rachel Fabling at goal keep was a standout, reading the play and hunting the ball to get intercepts and rebounds.
For FTNC Premier the whole team played well with very few positional changes.
FTNC Premier Reserve also had a close game against a fired-up Waikato Diocesan Open A team with the school girls leading by two goals at the end of the first quarter and by one goal at half time.
The half time score was 23 goals to 22. In the second half FTNC Premier Reserve made significant headway and pulled ahead, winning the game 44 goals to 38.
For FTNC Premier Reserve it was a tough match which required patience and persistence.
Teri Wathen-Smith at wing defence played with real heart and was persistent in her defence of a very fast mid court.
For Diocesan Open, Chelsea Whitaker (who normally plays club netball for FTNC Premier Reserve) at goal shoot had an outstanding game.
Whitaker played a strong holding game and shot well.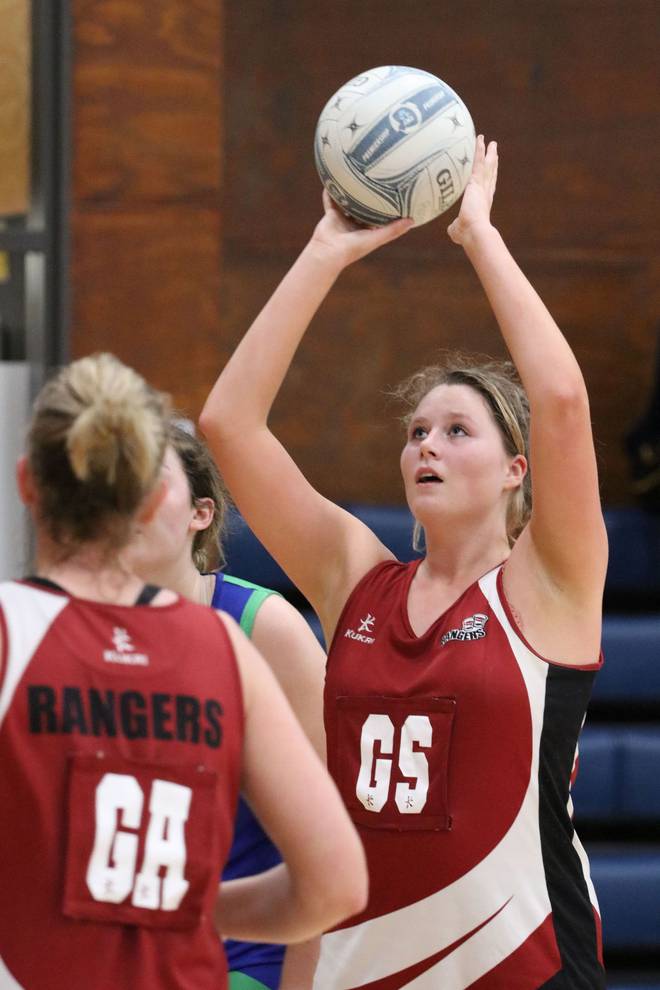 Nottingham Castle Rangers were also tested in their match against Marist Verdettes Premier, and even though Rangers started strong to have a confident lead at half time of 10 goals they were not able to sustain this over the whole 60 minutes.
The half time score was 28 goals to 18. The third quarter was won by the Marist Premier team and they lost the final quarter by only one goal.
The fulltime score was 52 goals to 45.
Rangers knew that the game was going to be tough and so tried to ensure they scored consistently off their centre pass.
There was some great attacking play by Chanay Peri at wing attack and Ally van Kuijk at goal attack, particularly in the first half, but it was a consistent team performance from the whole team that allowed them to take the win.
For Marist Premier, Hannah Bree at goal keep had a great game as did Abby Payne at wing defence. Both were effective on defence.
Marist Verdettes Old Girls had a big win over St Peter's Cambridge Open A who will be disappointed, given their game against Uni prior to the break.
Marist Old Girls dominated the whole game and had a 30-goal lead at half time and won the game 88 goals to 37.
For Old Girls it a great team performance using a variety of combinations with good effect.
Elsa Brown at goal shoot was the dominant shooter and shot well, and the defensive unit of Rachel Beale at goal keep and Hayley Stockman at goal defence was outstanding.
St Peter's was missing Georgie Edgecombe and Waiata Jennings, their regular defensive unit, due to injury and this was telling.
Fill-ins Sophie Waddle at goal keep and Kaylee Smith at goal defence had their work cut out in the first half but their performance, and the team's performance did improve in the second half.