Taupo Quay gave up a warm surface and let over 70 cars and motorbikes put down some fast rubber at the 32nd annual Street Drags for the Wanganui Road Rodders yesterday afternoon.
Commentator and national champion Grant Rivers was delighted with the five hour event, which aside from a brief timing glitch on an early run and one car with a centre-line skid, went off virtually perfect.
There were no traditional hiccups like oil spills and as the afternoon cloud gave way to warm sun, drivers were able to improve their times tenfold while blasting down the 1/8th-mile thoroughfare, getting as much as two seconds faster from the early practices to the elimination finals.
"We've got into the sixes [seconds]," Rivers said by lunchtime.
"We've had such a good run, the competitors are so in-sync, that we're ahead of time."
Another solid crowd was able to watch Palmerston North's Tristan Teki again win the Ivan Jones Memorial Trophy, as he reached a 6.743s time in his 1966 Impala, before quickly heading back home to enter another motor racing event.
Otaki's Alan Smith was smoking as he won the Best Burnout award, while Hastings enthusiast Mike Burns caught everyone's eye with his immaculately prepared 1932 Ford Coupe, which recieved the Best Presented Car prize.
Burns and his wife were loving getting to take their pride and joy out for the major drag races and muscle car shows around the lower North Island.
"We go Americarna and all that. The street road nationals, Port Rd drags, Meremere, Masterton, the nostaliga drags."
Burns did not smoke his own road tyres due to wanting faster times, and was happy enough to get down into the 8.6s range.
A lot of years and finances had gone into the six-speed manual Coupe.
"You're constantly spending. We counted in the early days, but then we thought, 'that's a bad idea'," Burns said.
"I came over the last time but didn't race. I know a lot of the Whanganui guys."
"It's the cammaradie, the social side of it, that makes it so enjoyable."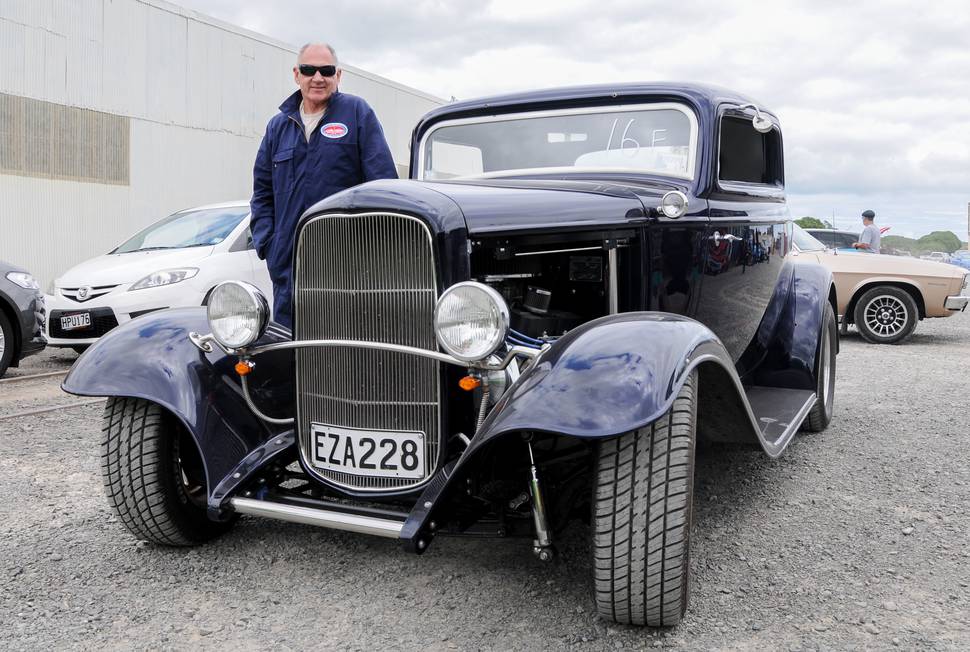 The Road Rodders have been trying in the past two years to encourage more women drivers to take part in the Street Drags, and club member Candace Sixtus was enjoying taking her Chev Silverado truck for a blast.
Sixtus had no issues taking on the high speeds on a New Zealand with a left-hand drive American vehicle.
"I'm used to driving it, it's just what I'm used [to handling]
"This is my fourth run, I've spun the tyres quite a bit - that's slowing my time down."
At the end of the afternoon, Rivers said the event had run like clockwork.
"We've had some good years, but this year just stood out on its own.
"The times got quicker. We saw 10s getting down to 9.3s at the end.
"That's why we run in in groups - people break out and get quicker and quicker."
He noted there was a lot of second-generation racers taking part, with many father and son combinations in different grades.
For example the Graham's – Dallas and Shaune – were runnersup in the Fastest Import and Group Three categories respectively, after they both "went red" in their race.
Dallas Graham still received the Best Import award, while Ross Whelan had the Best V8.
Results
Fastest Ford: 1. Mathew Robinson (T Bucket) 7.349s; 2. Dean Tombs (Fairlane); 3. Gavin Tombs (Mustang). Fastest Chev: 1. Tristan Teki (Impala) 6.743; 2. Ross Whelon (Ford Y); 3. Andrew Dimes (Kingswood). Fastest Other: 1. Simon Carson (Commer Cob) 7.174; 2. Matt Kingi (Holden Ute); 3. Brad Webb (Commodore). Fastest Mopar: 1. Dave Fiswick (Valiant Pacer) 8.556; 2. Shaune Graham (Plymouth Duster); 3. Harry Tam (Dodge Challenger). Fastest Bike: 1. Shane Foster 7.427; 2. Bevan Constable; 3. James McDonald. Fastest Lady: 1. Nicole Rivers 8.943; 2. Coral McGhie; 3. Amanda Tripe. Fastest Import: 1. Andrew Casey 8.708; 2. Dallas Graham; 3. Andrew Rees.
Group 1: Simon Carson 7.132; 2. Mathew Robinson; 3. Andrew Dimes. Group 2: Peter Carmichael 8.782; 2. Barry Huntley; 3. Matt Kingi. Group 3: 1. Warren Kerr 9.393; 2. Shaune Graham; 3. Blair Turley. Group 4: 1. Dave Hickford 8.613; 2. Raj Patel; 3. Harry Tam. Group 5: 1. Nicole Rivers 9.041; 2. Carlin Barry; 3. Brad Rudkin. V8 Verus Import Challenge: 1. Brad Rudkin 9.517; 2. Brian Flynn.
Ivan Jones Memorial Trophy: Tristan Teki; Best Presented Car: Mike Burns; Best Burnout: Alan Smith; Hard Luck: Tony Baird; Fastest Closed: Tristan Teki 6.743s; Best V8: Ross Whelan; Best Import: Dallas Graham.