Is Rotorua the next Queenstown?
The Professionals McDowell Real Estate co-owner Steve Lovegrove thinks so, having just sold a three-bedroom city apartment for more than $1 million. It's one of at least eight properties to change hands in the city in the past six months for $1 million or more.
The Whakaue St first-floor apartment, just around the corner from Eat Streat, caused a stir at auction yesterday, selling well above February's average Auckland apartment price of $671,050.
The auction was tense with a bid of $750,000 getting it off the mark. From there the only way was up, with three bidders helping the property quickly surpass the seven-digit mark.
As bidders dropped off it came down to two local couples who inched their way higher until one could take his bids no further. With the clap of the hammer the apartment was sold for $1,160,000.
With beaming smiles the winning couple were congratulated by those around them but they declined to comment about their purchase.
The big ticket property was one of four for auction at the New Zealand Heritage Farm.
Three were sold.
The apartment's sale signalled a new frontier in the Rotorua property market, according to auctioneer Lovegrove.
"There was a real level of confidence in the competing bidders so it ultimately came down to who could afford it. It sold for more than we were expecting, at least by $100,000.
"This property waves the flag that there is demand here and people are looking for that level of property in Rotorua. This is not a lifestyle property or lakefront home, it is an apartment fetching more than $1 million."
Lovegrove said it was notable that locals secured the sale.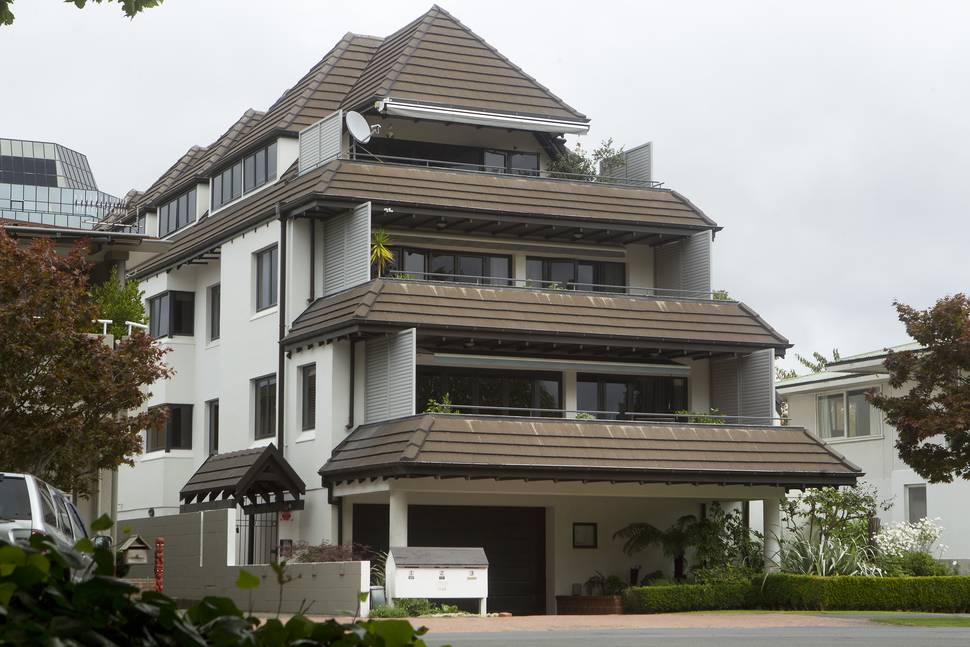 "There was a lot of interest in this property because they don't come around very often. There was significant international and out-of-town interest. To have locals bidding shows they are willing to invest in the city.
"Traditionally local buyers have been more conservative in property prices so this sale indicates locals are endorsing Rotorua."
QV data supplied to the Rotorua Daily Post shows in the past six months, seven properties have had confirmed sales of $1m or more.
All seven properties sold above their 2014 rating values.
Lovegrove said it was time Rotorua was considered in the same stead as Queenstown.
In December the South Island tourist town dipped into million-dollar property territory with its average house worth sitting just over $1m.
"Why shouldn't we be up there with Queenstown? We're worth it and people are starting to realise that."
Ann Crossley, First National Rotorua principal and district forum leader for the Real Estate Institute of New Zealand, said the apartment's sale price was yet another positive sign for the city.
"What it says to me is that there is a big bulge in the market for baby boomers looking for units and apartments. Because there is very little supply of those types of properties in Rotorua, when one does come up on the market, buyers are willing to fight for them.
"In years gone by, these buyers would have gone to Tauranga to spend their retirement so perhaps if we can increase stock, we will stop seeing those buyers filter out of our market."
The apartment:
Sold at auction for $1,160,000
Rated value of $750,000, according to RPNZ
Three bedrooms, two bathrooms, four-car undercover parking
Thermally heated with plunge pool
Overlooking Village Green
Properties sold in Rotorua for more than $1m
Fenton Park: $1,500,000
Kawaha Point: $1,350,000
Holden's Bay: $1,175,000
Tikitere: $1,170,000
Lake Okareka: $1,150,000
Tikitere: $1,070,000
Lake Tarawera: $1,000,000
- In past six months. Source: QV