6.40pm
Waikato are the Bayleys National Sevens men's champions for 2018.
They beat Tasman 21-17 in a hard-fought final, during which both sides played with a positive spirit which summed up the tournament as a whole.
Tasman opened the scoring in the first minute with a try to one of the players of the tournament, co-captain James Lash.
Waikato hit back with tries to Sevu Reece, who showed blistering speed as he raced through a gap on halfway, and Tyler Campbell to lead 14-5 at halftime.
Tasman mounted a comeback in the second half with a try to Glen Ballam in the right-hand corner, to reduce the deficit to 14-12.
Waikato extended their lead once again however, after a brilliant break down the right-hand side by Jordan Bunce, who put Sayarvat Srisawat over with a pass inside to make it 21-12.
Tasman scored in the dying minutes but it was not enough as Waikato held on for the win.
Waikato's Bunce was named men's player of the tournament.
6.05pm The women's national champions are Manawatu, after a tough come-from-behind 17-15 victory over Waikato in the Cup final.
Manawatu opened the scoring through Rhiarna Ferris, the first points Waikato had conceded on day two. However, Waikato hit straight back with a try to Stacey Waaka.
Manawatu ensured they took a lead into halftime with a try Janna Vaughan, who showed great strength to go over in the corner.
Waikato started the second half strongly. Chyna Hohepa scored off the back of a brilliant offload from Shakira Baker, before Ariana Bayler added another after patient build-up play, to take a 15-12 lead.
Manawatu never gave up and with seconds left on the clock they shifted the ball left, inside the Waikato 22, and Lauren Balsillie used her pace to score the match-winner in the corner.
Waikato's Tenika Willison was named women's player of the tournament.
5.30pm Bay of Plenty men won the men's Plate final to finish fifth overall, beating Auckland 31-12.
Bay of Plenty's Teddy Stanaway, who has been a standout all tournament, opened the scoring in the Plate final. He was put into space on the right-hand side, near halfway, put a kick in for himself, raced around the defender, re gathered and scored in the corner.
Captain Te Aihe Toma added another try as he shrugged off tackles with ease before scoring under the posts. Auckland responded with a try to Sam Livingston to reduce the deficit to 12-7. Josh Honey added a third try for Bay of Plenty to make it 17-7 at halftime.
Stanaway added his second try of the game shortly after halftime, before Ngarohi McGarvey-Black added another with a superb kick and chase, to extend Bay of Plenty's lead to 31-7.
5pm Northland downed Southland 31-19 in the men's Shield final to finish 13th overall.
In the men's Bowl final Counties Manukau beat Canterbury 26-5 to finish ninth overall.
4.20pm The Bay of Plenty women have finished the tournament on a high, beating the only team that beat them in pool play, Wellington, 36-7 in the Plate final. It is the second consecutive year they have won the Plate.
Michaela Blyde proved, as she has done all weekend, that if you give her too much space on the left edge she will outrun you. She scored Bay of Plenty's first within the first two minutes for a 7-0 lead. Straight from the resulting kick-off Bay of Plenty broke down the right-hand side and Rebecca Kersten scored in the corner.
Dhys Faleafaga hit back with a try for Wellington before Bay of Plenty's Lavinia Gould threw a beautiful inside ball to Blyde who was once again too fast, scoring under the posts. Bay of Plenty led 19-7 at halftime.
After the break Kororia Heyblom added another try for Bay of Plenty, slicing straight through a gap to put the game out of reach for Wellington. Autumn-Rain Daly-Stephens showed great pace to add Bay of Plenty's fifth try, under the posts.
Blyde put the cherry on top with her side's sixth try, her third of the game.
Meanwhile, in the women's third place play-off, Auckland beat Counties Manukau 24-0.
3.45pm In the women's seventh place playoff, Otago have beaten South Island rivals Canterbury 10-5.
The Southland women's team have finished the tournament on a high, beating North Harbour 25-0 in the Bowl final to finish ninth overall.
Hawke's Bay have beaten Poverty Bay 17-0 in the women's 11th place playoff.
3.20pm We have our Cup finalists in the men's tournament - Waikato and Tasman will contest the national title at 6pm.
In the semifinals, Waikato trailed early as Wellington opened the scoring, but they found their feet and romped home, scoring four unanswered tries to win 22-5.
In the other semifinal Taranaki and Tasman went blow for blow. Tasman's Glen Ballam opened the scoring before Taranaki's Liam Blyde hit back. Tasman scored a second, through Christian Kelly to lead 10-7 at halftime.
In the second half Taranaki captain Warrick Lahmert threw a superb dummy to stroll over untouched and give his side a 12-10 lead. Tasman did not give up however, keeping the ball in hand after the fulltime hooter before captain James Lash scampered over to score the winner and book a spot in the final.
Men's Cup final:
6pm - Waikato v Tasman
2.40pm The Bay of Plenty men's team have secured a spot in the Plate final after beating Manawatu 26-7 in their semifinal.
Teddy Stanaway has been a try-scoring machine for Bay of Plenty today and he was over the line again after 30 seconds in the Plate semifinal. Manawatu received the kick-off, but Stanaway stripped the ball and strolled over under the posts.
Right on halftime Stanaway was involved again, this time inside his own 22 as he forced the ball loose with a great tackle. Ngarohi McGarvey-Black saw space in behind and booted the ball down field. He outran the Manawatu defenders to regain possession before passing to Luke Masirewa for one of the easier tries he'll ever score. Bay of Plenty led 14-0 at halftime.
Liam Mitchell hit back for Manawatu straight after the break, to reduce the deficit to 14-7.
Bay of Plenty scored another, through Bailey Simonsson, before Josh Coward put the cherry on top with a breakaway try from halfway. Bay of Plenty will play Auckland in the Plate final for fifth place overall, after Auckland beat neighbours North Harbour 19-14 in their semifinal.
Southland and Northland will battle it out in the men's Shield final. In the semifinals Southland beat Mid Canterbury 32-24 and Northland beat Wanganui 38-12.
Counties Manukau and Canterbury will contest the Bowl final at 4.40pm. In the semifinals Counties beat Hawke's Bay 40-5 and Canterbury beat Otago 22-12.
Men's Shield final:
4.15pm - Southland v Northland
Men's Bowl final:
4.40pm - Counties Manukau v Canterbury
Men's Plate final:
5.05pm - Auckland v Bay of Plenty
1.40pm The women's Cup final, at 5.35pm, is sure to be a cracker as two teams in hot form, Waikato and Manawatu, battle it out for the national title.
Waikato were dominant in their semifinal, laying on four tries in a 26-0 hammering of defending champions Counties Manukau, while Manawatu took down the previously unbeaten Auckland side 14-12. Auckland led for most of the game but Manawatu captain Selica Winiata scored under the posts and converted her own try in the dying minutes to snatch the win.
Auckland will play Counties Manukau for third place at 3.50pm.
Meanwhile, the Bay of Plenty women will look to defend the Plate they won last year when they take on Wellington in the final at 3.50pm. Bay of Plenty were too good for Canterbury in the semifinal, after leading 12-5 at halftime they kicked on to win 29-10. Wellington won their semifinal against Otago 33-0.
Women's Cup final:
5.35pm - Waikato v Manawatu
Women's Plate final:
3.50pm - Bay of Plenty v Wellington
Women's Bowl final:
3.25pm - North Harbour v Southland
12.50pm A Teddy Stanaway hatrick was not enough as the Bay of Plenty men fell agonisingly short of the Cup semifinals, losing 24-17 to Taranaki.
Taranaki started strong, with Declan O'Donnell crashing over in the opening minutes to open the scoring. Bay of Plenty hit straight back as Teddy Stanaway found space on the righthand side, showing great speed and strength to break two tackles to score. The score was locked at 5-all.
Taranaki finished the half strongly, however, as Liam Blyde, brother of Bay of Plenty's Michaela, scored and O'Donnell added a second to lead 19-5 at the break.
Bay of Plenty opened the scoring in the second half. Taranaki's man of the moment, O'Donnell, was yellow carded for entering the ruck illegally and Stanaway scored his second from the resulting tap to make it 19-10.
He completed the hatrick with a great show of speed through the middle, from the halfway line, but it was too little, too late. Taranaki sealed the win with a try right on fulltime.
Taranaki will meet Tasman in the semifinals after Tasman beat Manawatu 24-12.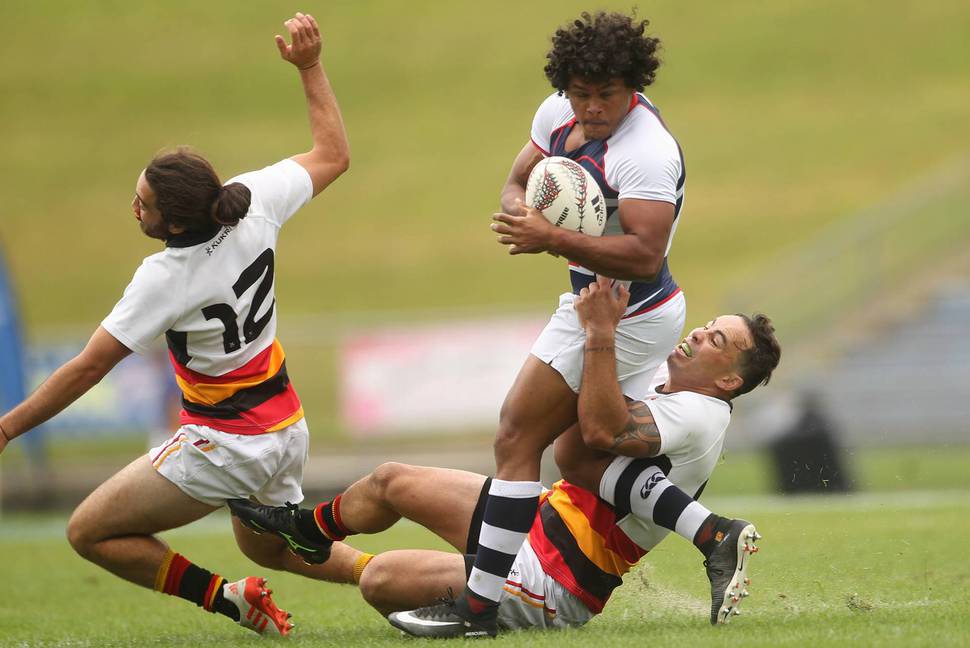 The other men's Cup semifinal will be between Waikato and Wellington at 2.40pm. Wellington fought off a North Harbour comeback in their quarter-final to win 15-17. Zac Guilford's Waikato were too good for Auckland, winning convincingly 35-7.
The women's Bowl final will be contested by North Harbour and Southland after they won their semifinals against Hawke's Bay and Poverty Bay respectively.
Men's Cup semifinals:
2.40pm - Waikato v Wellington
3pm - Tasman v Taranaki
Women's Cup semifinals:
12.50pm - Waikato v Counties Manukau
1.15pm - Manawatu v Auckland
11.30am Bay of Plenty fans may feel they are suffering from deja vu after watching their women's side get knocked out in the Cup quarter-finals for the second year running.
To use an old cliche, their quarter-final against Counties Manukau was a real game of two halves. Bay of Plenty led 21-5 at halftime, but lost momentum in the second half and went on to lose 22-21.
Bay of Plenty opened the scoring in the first minute of the game, Lavinia Gould made a bone-crunching tackle near halfway, which knocked the ball loose. They spread it left and Mahina Paul stepped inside before racing away to score.
The key to beating Counties is to shut down global superstar Portia Woodman and Bay of Plenty's Michaela Blyde did just that for the second try, smashing her in a tackle to force a penalty. Blyde scored herself after a quick tap to extend the lead.
Blyde scored a second before Counties' Arihiana Marino-Tauhinu scored right on halftime to keep her side in the game.
The second half was all Counties Manukau as Bay of Plenty struggled to get their hands on the ball. Woodman started to find some space and she made it pay as she set up a try for Renee Wickliffe before scoring one herself to make it 21-17.
With one minute left to play Counties scored the match-winner, as Larissa Lima E Silva threw a brilliant dummy to stroll over in the corner.
Bay of Plenty will play in the Plate semifinals against Canterbury at 12.50pm.
Counties will play Waikato in the Cup semifinals at 12.50pm, after Waikato cruised to a 26-0 win over Canterbury. Canterbury defended well in the first five minutes of that game, holding Waikato scoreless, but once Terina Te Tamaki broke through to score the floodgates opened.
The other Cup semifinal will be between Auckland and Manawatu at 1.15pm. In the quarter-finals Auckland beat Otago 33-0 and Manawatu beat Wellington 24-14.
In the men's bowl quarter-finals, Counties Manukau got over the shock of being knocked out of the Cup yesterday by beating Mid Canterbury 38-7. They will meet Hawke's Bay, who beat Southland 31-0, in the Bowl semifinals at 1.55pm.
The other Bowl semifinal will be a battle of the South between Otago and Canterbury at 2.20pm. In the quarter-finals Otago beat Northland 24-0 and Canterbury beat Wanganui 29-10.
EARLIER:
Day one of the 2018 Bayleys National Sevens provided all the huge hits, sizzling steps and tremendous tries you could ask for. The prospect of even more action to come on day two should have fans more excited than Thor at a two-for-one hammer sale.
The big shock yesterday was the Counties Manukau men, who were the 2016 and 2017 champions, being knocked out in pool play. They came up against superb Waikato and Taranaki sides in Pool A and will play for the Bowl today.
Auckland were the standouts in the women's pool play. They won three out of three games in Pool C, scoring a combined total of 99 points and conceding just five.
Meanwhile, both of the host sides, Bay of Plenty men and women, got the job done in pool play and will play in the Cup quarter-finals today. The men play Taranaki on field one at 12.30pm and the women play the defending champions Counties Manukau at 10.25am on field two.
Waikato, Taranaki and Bay of Plenty are joined in the men's Cup quarter-finals by Auckland, North Harbour, Wellington, Tasman and Manawatu.
In the women's Cup quarter-finals, Auckland, Counties Manukau and Bay of Plenty will be joined by Waikato, Canterbury, Otago, Manawatu and Wellington.