Earlier this week, NZME revealed the Pakuranga-based school, which has won three of the last four Auckland First XV titles, has been boycotted by First XV rivals over its player recruitment programme.
St Kentigern College was ostracised by 10 other Auckland schools, after admitting to recruiting senior elite players from rival teams to strengthen its squad for the upcoming season.
Since then, all of the schools in the central North Island's Super 8 Rugby competition, which includes Rotorua Boys' High School and Tauranga Boys' College, have followed suit and refused to play St Kentigern's.
The other schools in the Super 8 are Hamilton Boys' High School, Palmerston North Boys' High School, Hastings Boys' High School, New Plymouth Boys' High School, Gisborne Boys' High School and Napier Boys' High School.
While those teams wouldn't normally come up against St Kents in the course of a season, if they were approached for a game they would all be declining the offer.
Rotorua Boys' High School principal Chris Grinter said secondary school sporting success had always been cyclical and the poaching of players developed by other schools did not allow those schools to have their "moment in the sun".
"It does not allow the natural order of events to express itself, schools run development programmes and those programmes take time to work. Success comes in cycles, so this recruiting by one school counters this natural process where different schools go through successful periods.
"Schools with no junior rugby development process, you have to question the degree to which they're entitled to just buy in a top team."
Grinter said Rotorua Boys' High School has had a top player recruited by St Kents in the past. He rubbished the idea that young players needed to go to Auckland to be noticed.
His school has a rich rugby history, winning four national championships (1998, 2002, 2003, 2015) and the prestigious World Rugby Youth Invitational Tournament on two occasions.
Last weekend, at the Condor Sevens, there were no Auckland schools involved in the finals. Rotorua Boys' played Hamilton Boys' High School in both the Open and Under-15 tournaments.
"I'm satisfied that the top rugby players and top sportsmen at Rotorua Boys' High School get sufficient exposure to pursue any professional opportunity they want.
"Our success in rugby is significantly superior to St Kentigern's, so what's the point of moving out of the district to go in the Auckland 1A competition.
"The headmasters and principals who have spoken out on this have said they don't want that heavily monetised aspect of professional sport to creep into secondary school sport. That's another objection.
"Sure, we know there is a bit of movement in the new-to-school environment. Students do move from one school to another if they want to develop a particular skill or talent, but there are rules around that. We know what those rules are and schools live within those rules.
"The idea that secondary school sport jumps into this professional era that the person with the most money can secure a certain player, I just don't think schools want that to continue at the extent it exists now," Grinter said.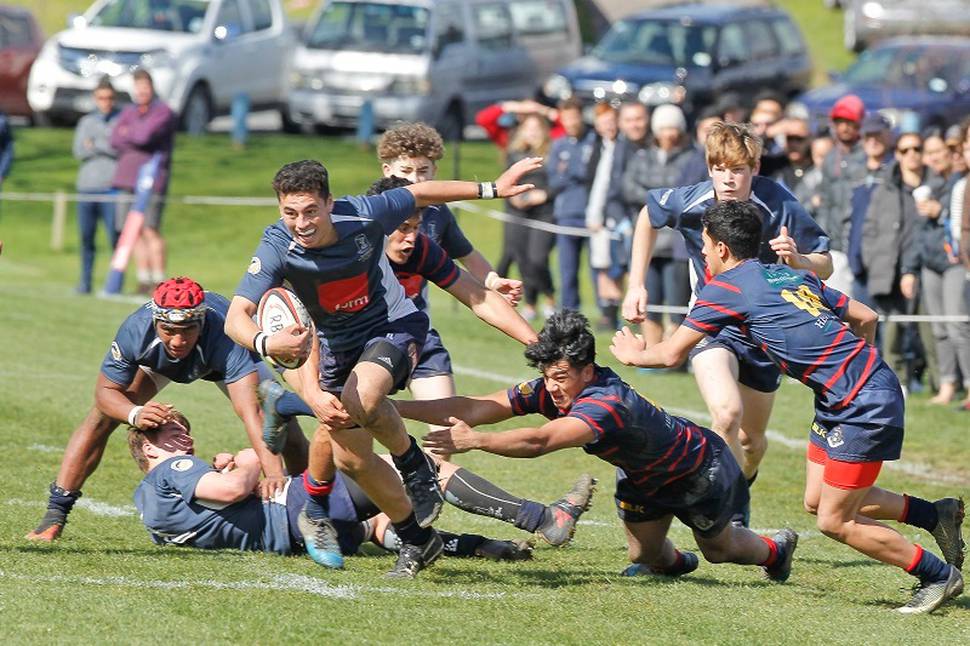 Tauranga Boys' College principal Robert Mangan was also right behind the decision for Super 8 schools to boycott games against St Kentigern's College.
His school has felt the effects of targeted recruiting in recent years, the latest example being Carlos Price, who was in the Tauranga First XV in Year 11, before moving on to St Kents for his final two years of school.
Price now plays for Wellington in the Mitre 10 Cup, has represented New Zealand Under 20s and is in the Hurricanes' wider setup. Next weekend he is representing Bay of Plenty at the TECT National Sevens in Tauranga.