Baby clothes pegged to a makeshift clothesline were held up on Cameron Rd today.
The words "save midwives" were written in thick, black letters across the tiny garments as about 20 midwives and other medical staff created a picket line facing Tauranga Hospital.
More than 100 unionised midwives employed by the Bay of Plenty and Lakes district health boards have been involved in nationwide strikes over the past two weeks.
Across the rest of New Zealand today, midwives were holding two two-hour strikes, but these were cancelled for Tauranga and Whakatane hospitals after a staffing dispute between the union and the health board and a subsequent urgent Employment Relations Authority ruling last week. The strikes will resume tomorrow and Wednesday.
Midwifery Employee Representation & Advisory Service (Meras) union co-leader (midwifery) Caroline Conroy said midwives were unhappy the Bay of Plenty District Health Board had spent money on legal fees to take the dispute to the authority, instead of using the funds to help resolve the long-running pay dispute.
The health board had effectively removed midwives' right to strike by requiring higher than usual staffing levels during strikes, Conroy said.
Further mediation would take place on December 7, and Conroy said the union was hoping for a new offer.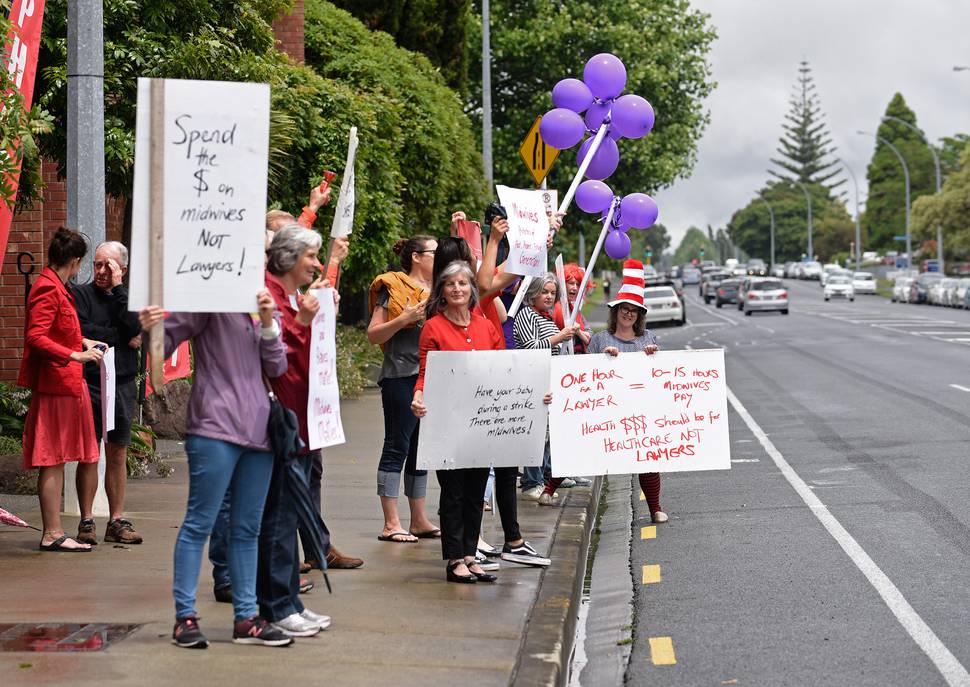 Bay of Plenty DHB chief executive Helen Mason said the health board was disappointed legal action was needed to "ensure the safety of mothers, babies and staff".
The DHB respected midwives' right to industrial action and if employees were not rostered to work or contracted to perform duties, they were free to picket or protest action without giving notice to their manager, she said.

"We continue to work with Meras for the provision of Life Preserving Services during the planned strikes on Tuesday and Wednesday."
Local midwife Deb Boyd said protesting on the street was about creating public awareness and gaining support for the industry.
Boyd had been a midwife for 12 months and said she loved her "amazing" job, but she wanted to see safer staffing levels and to be paid fairly for the services midwives provided.
She hoped people studying to be midwives and those considering joining the industry would continue to do so.
"Hopefully we are pathing the way for better conditions. At the end of the day, we will be there for mums and babies."