Within three weeks, more than $20,000 and 4700 food items have been donated to the Tauranga Community Foodbank, and it couldn't come soon enough, says manager Nicki Goodwin.
The Bay of Plenty Times launched its Christmas Appeal to help raise funds and food for the foodbank on November 10.
Since then there have been substantial gifts of money, food and simple kindnesses like a pair of new running shoes for recipient-turned-volunteer Barney Tamanui.
On Thursday this week alone, the foodbank had given out 41 food parcels before 2pm.
Goodwin said it had been very busy but not just with demand for their services.
"It has been phenomenal. The phones have been going all day. The emails have been going all day. All with people offering help and asking 'how can we help?'. We've had more substantial donations including $2000 from First Mortgage Trust.
"We've also had three teenage girls come in because they said they had nothing to do today. So they made up lunch boxes for kids. And these are beautiful lunchboxes to give out."
Goodwin said an anonymous person also gifted volunteer Tamanui a new pair of running shoes, after his efforts in last month's Omokoroa Coastal Challenge.
Tamanui, who was once a recipient of the foodbank and is now a volunteer, jogged 10km to raise money for the service. Read more about him here. His efforts were rewarded with the unexpected gift.
"Today, as busy as we are, it's just been oozing good vibes," Goodwin said.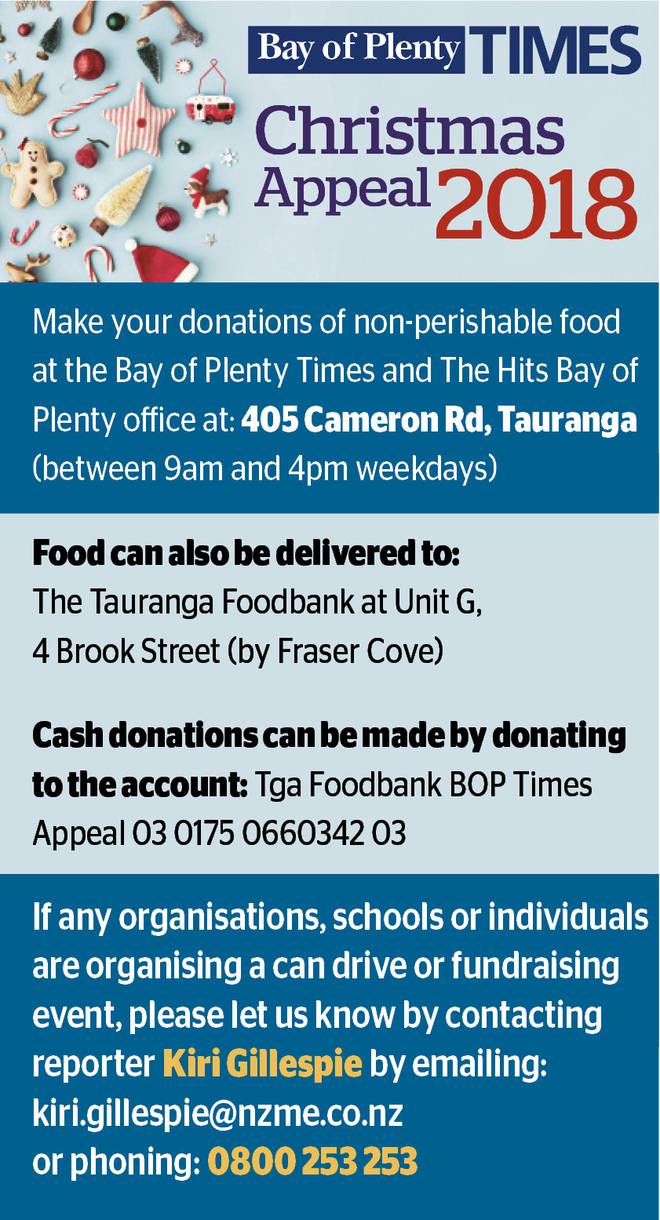 Of the "substantial" donations was one from Coory Charitable Trust.
Marie Coory said it was the least the family trust could do.
Coory said she was partly retired now and wanted to do something meaningful.
"We are doing it for love. That's our reward.
"That's what it's all about. We've had six children. We know what it's like to have nothing."
Coory said through their church they often helped various causes throughout the year and now "we wanted to help in our community".
"Rather than send money overseas. There's a lot of need here so why not start in our own backyard.
"I'm just a personal person. I like to help."
The family trust has also offered a donation to Homes of Hope.
How to apply for a food parcel?
You will need to visit one of the Tauranga Community Foodbank's approved referral agencies to obtain a "food parcel referral". Just take along some form of ID and they will be able to get things sorted. They will give the foodbank a call so that they know you will be visiting for some help. That way the team at the foodbank can have everything ready when you arrive.