As an eager 7-year-old, Buddy Mikaere reenacted a death scene at the Battle of Gate Pā with plenty of fervour, completely unaware he and his school friends were being taught an incorrect history of Tauranga's most pivotal battle.
When Mikaere later learned the true history of the bloodshed, the genesis of a life-long project began. Tonight he launches the result of that goal - a book he co-authored with military historian Lieutenant Colonel Cliff Simons PhD, Victory at Gate Pā? The Battle of Pukehinahina - Gate Pā: 1864
Mikaere said since he was told by his teacher that all the brave Māori warriors were killed in the battle, he had wanted to create an accurate account of its history and what followed.
In the Battle of Gate Pā, up to 32 Māori were killed and about 25 were wounded, compared with 31 British killed and 80 wounded. The casualties spurred retaliation from the British and in the Battle of Te Ranga weeks later, 108 Māori were killed. Another 43 were taken prisoner, 32 of them wounded – 15 later died from their wounds. Of the British, 13 died and 39 were wounded.
It was the Battle of Gate Pā's 150th commemorations in 2014 which spurred Mikaere to achieve his goal. There, Mikaere met Simons, who had a similar goal, and together they delved into the impact the battle had on Tauranga today and on iwi.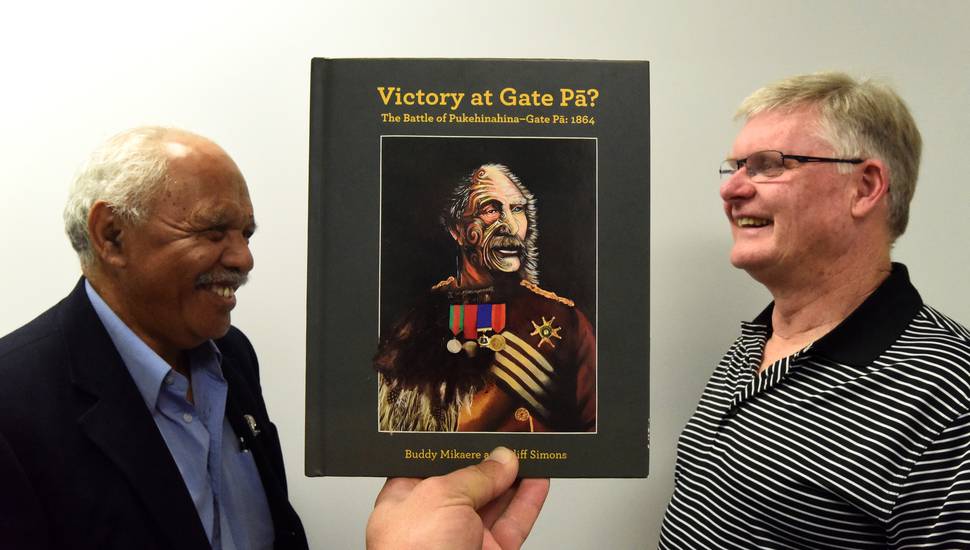 "We researched how successive generations have had to cope with the whole outcome - confiscation of land, being squashed up into tiny battle reserves, the fact that the Government were taking 50,000 acres. They didn't say that would be all in one place. That is the city of Tauranga," Mikaere said.
"Where all the other hapu and iwi that participated in the battle had most of their land returned over time, my people Ngai Tamarawaho didn't. That's why we have this city here today."
But Mikaere is keen to move on from the past as "you can only fix things by going forward".
"People have a better understanding of how things are when they have that knowledge behind them. I mean, this is the only city that has an actual battlefield in the middle of it."
Simons said the book was the first real account of the Battle of Gate Pā and Battle of Te Ranga, and its impact.
"I think we've come up with some new ways of looking at it," Simons said.
Victory at Gate Pā? will be launched tonight at St George's Church, Gate Pā from 5.30pm.
What was the Battle of Gate Pā?
The Tauranga Campaign was a six-month-long armed conflict in New Zealand's Bay of Plenty in early 1864. It was part of the New Zealand wars that were fought over issues of land ownership and sovereignty. At the Battle of Gate Pā, also known as Pukehinahina, on April 29, 1864, British forces suffered a humiliating defeat. They saved face seven weeks later by routing their enemy at the Battle of Te Ranga. It is believed the British landed in Tauranga to disrupt iwi support for Waikato Māori in the wars.
Sources - Battleofgatepa.com and Lieutenant Colonel Cliff Simons PhD