A freak accident involving a logging truck and a car has left one motorist with stitches after a small log from the truck he was following penetrated his windscreen.
Pictures of the extremely close call on the Te Puke Highway have been posted to a popular Facebook motoring page.
The poster, who wishes to remain anonymous, said he and the driver, a colleague, were driving to Te Puke when a small branch flew out from the undercarriage of the truck around 11am yesterday.
"Missile came out of the undercarriage, straight into his chest.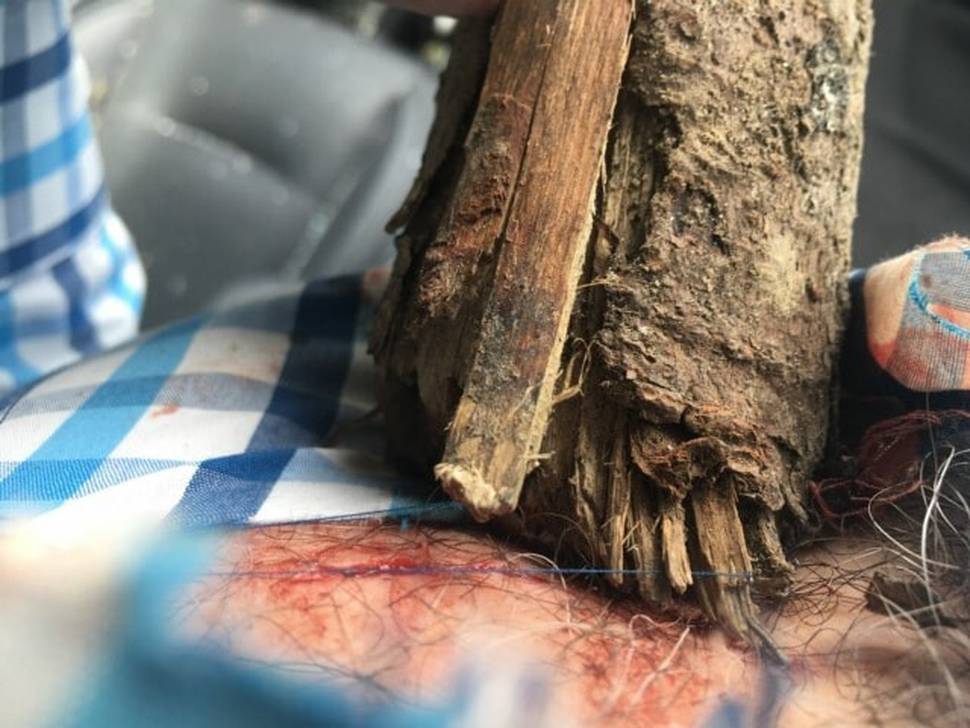 "Ended up in a ditch, 7 stitches and shoulder damage."
The incident was a "freak accident" and the pictures had been posted as a word of warning to motorists.
In 2016, a woman and her son-in-law had a close call after a large branch fell on their car.
Video will play in
Play now
Don't auto play
Never auto play
Tim Yandall and his mother in law Dallas Hargreaves discuss their ordeal as they both escaped virtually uninjured after a massive tree fell on Tim's car as they were standing beside it at Cornwall Park on Sunday.
Dallas Hargreaves, 72, and her son-in-law Tim Yandall were standing by his car in the carpark at Cornwall Park when they heard a crack about 2.15pm.
"Then we looked up and all I saw was this massive tree falling towards us. It was probably halfway down by then.
Yandall braced himself by the door on the driver's side of the vehicle, while his mother-in-law dived into the passenger's seat and crouched to take the impact.
They were taken to hospital in shock but relatively and miraculously unscathed. Yandall suffered scratches and bruises to his head and Hargreaves had bruising on her legs.
The tree, which landed on four cars, smashed the windscreen of Yandall's vehicle and mangled the bonnet, writing it off.