Soon after Tiana-Breeze de Mooij was born the Mount Maunganui teenager was unknowingly getting primed for a professional surfing career.
But for most of the 18-year-old's life it wasn't something she wanted, nor was it something she had any interest in despite her father's best efforts.
Dad Peter de Mooij was a keen surfer who wanted to share his passion with his daughter - but his efforts weren't always supported by mum Alison.
"Dad used to always try and get me into it when I was like super young, but I wasn't having a bar of it," Tiana-Breeze says.
"I wish I had a nice story of like getting into it from like groms, but no I didn't like it," she says.
The prep work started early but the Western Bay born and raised professional surfer has no memory of it. She can't even remember the first time she got on a surfboard, saying it is likely to have been around five or six years old.
"[Dad] told me that when I was super young, like newborn, instead of bathing me he'd put me in a shower to get me used to the ocean and stuff, like waves crashing on me.
"There's a story that he put me on a boogie board when I was less than a year old and pushed me into a wave, and I actually came off. He had to find me in the water and mum was not impressed," Tiana-Breeze jokes.
Eventually though, she found her way back to the ocean with the help of a like-minded school friend, and the rest, as they say, is history.
"I met a girl down at the beach and we just started surfing together every day. We both got matching surfboards and then we both entered a local competition, and I won my event and she won her age division as well."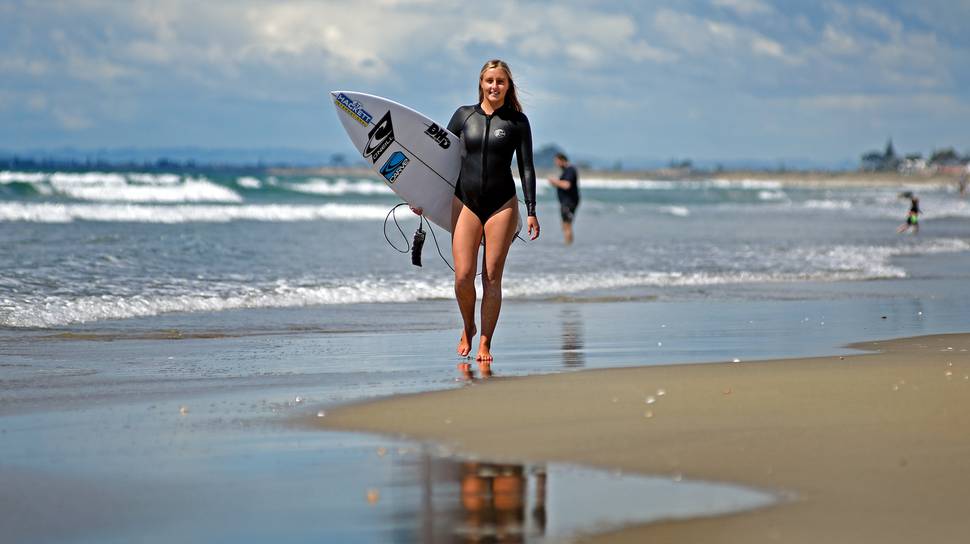 Now, she can't imagine life without surfing, finishing school early to follow her dream.
"Surfing is honestly my life. I couldn't imagine what I would do without it, but if I'm having a little break I catch up with my friends and spend quality time with my family because I'm hardly ever home."
When Tiana-Breeze was halfway through Year 12 last year she scored a major sponsorship deal from AJ Hackett International Bungee and said she was asked "what would you rather be doing, surfing or staying in school, so I picked surfing".
Four weeks later she was off to Europe to compete on her first world qualifying series event.
"It was kind of crazy you know. I was jumping divisions, going into open women's so the girls were seasoned pros. I was a very little fish in a big pond."
It wasn't an easy trip, given it was her first time travelling and competing, but Tiana-Breeze says it was "an awesome learning experience".
"I got really sick before a few of my events but I wasn't super nervous because I didn't have the pressure. It was just like see how you go against these girls."
That was in August last year and since then, Tiana-Breeze has been hitting the World Surf League's Women's Qualifying Series, and has competed in up to 15 competitions in France, England, Indonesia, Australia, Florida, Hawaii, South Africa and Tahiti.
While in South Africa, Tiana-Breeze says she was thrown off a bit competing against former world champ, Peruvian Sofía Mulánovich. Now she understands it's just part of her job.
"I think I need to be more aggressive. I know there are no friends in the water. If I see a big name in my heat I just gotta brush it off, it's just another colour in the water."
At such a young age Tiana-Breeze has reached many highs in her career already - and many of them have happened in Indonesia.
In August, Tiana-Breeze competed in the Nias Pro and gained fifth place. Held in Nias, part of the Indonesian archipelago, Tiana-Breeze says this is her favourite place she has ever surfed.
"I love Nias. It's a perfect right hand barrel point break. The water is so warm and it's just an amazing place.
"My dream location [to surf] has always been Bali, which I have already surfed, but it's a dream. Every time I surf it the surf is incredible, the culture and the people are amazing."
It was also while in Indonesia in August that Tiana-Breeze received the news she had reached her biggest career highlight to date - being selected for the travelling New Zealand 2018 Junior Team for the first time.
"I actually had just landed in Bali and I got the call that I was in the team.
"I was kind of like 'woah, like it's finally happening'. I've been waiting so long to get in the team. I try every year, every year I'm like a reserve or something so I was super happy.
"I'm really excited. I've been working really hard to make this team, so it's a big achievement."
As part of her selection she gets to compete at the 2018 VISSLA ISA world junior surfing championships at California's Huntington beach. The champs are the largest junior event in the world and she can't wait to represent New Zealand at the competition between October 27 to November 4.
"The last year I've been surfing on the world qualifying series so that's good practise for this.
"I know it's a pretty big deal, especially now that California's been known as the surfing capital. My expectation is just like any other comp I guess. Obviously I'm trying to win so it will be awesome to get on the podium for sure."
With all of her travels, it's no surprise Tiana-Breeze doesn't get to spend a lot of time at home in Mount Maunganui, or see too much of her family, including her "retired surf mum", "retired surf dad", and siblings Plunket nurse Chloe Nottingham, 26, and aspiring rapper Lucas Anderson, 22.
But even when she is at home, it's not all R&R for Tiana-Breeze.
"When I'm at home I do gym training two to four times a week with a personal trainer, Brad Fleming, and then when there's surf I'll surf all day, every day and I do coaching sessions as well with Daniel Kereopa. I've only done a couple of sessions with him because I'm never really home now, kinda living out of a suitcase at the moment."
But it's all for a good cause. She's a focused young woman, who knows what she wants.
"I've been working super hard just trying to get more power and I think I've improved a lot, just being in water every day, especially because I was living in Bali a lot this year, surfing a lot and then competing a lot.
"I'm still learning but I'm definitely going up, so that's good.
"My goals, they'll be changing every year but my goal for this year is to try and crack the top 100 on the world qualifying series. So that will allow to me to get into higher rated events, and then from there I just want to keep improving on my results and hopefully get even closer to qualifying on the championships one day and finally make it ... and obviously my big goal is to be a world champion."
And with an international surfing career, there are, as expected, costs involved, which is why she is trying to raise $6000 to help with her next trip, setting up a crowdfunding webpage at: givealittle.co.nz/cause/isa-junior-worlds-surfing-team.
She doesn't deal with the costs alone.
"AJ Hackett International Bungy funds all my competitions all around the world which is absolutely incredible. There is no way I would be doing this without his support."
And Tiana-Breeze has her manager to thank for successfully gaining endorsement deals, and it's no surprise that main driver is the same person responsible for priming her for a professional surfing career - her father.
Dad was always around at the beach right from the moment her interest in the sport was piqued. He would watch her in the waves, coach her and film her skills, she said. Now, he's a Tiana-Breeze's fulltime manager.
"We were actually going over the footage a couple of days ago when we were super young.
"I was very blessed having a dad that knew how to open doors with sponsors."
While it seems dad's influence in her career led the way, mum's plans for Tiana-Breeze's future is well catered to, too.
"Mum didn't really get a choice," Tiana-Breeze says jokingly about her career path, "but she always wanted me to just be happy in whatever I was doing".
And she is.