Stage Right Theatre Trust are bringing Shrek the Musical to the big stage.
But this is just the beginning. This is the first time the loveable ogre Shrek will be seen on stage in New Zealand.
The aim is to become the Shrek go-to hire for other groups and theatre societies across the country.
The set is large scale cloth and props to depict scenes of swamps and castles, purpose built for this production. The costumes are high quality, intricate and created from scratch.
"It's been a massive challenge," says director Toni Henderson. "There is a certain level of expectation."
Shrek the Musical costuming complies of an ogre, a donkey, a dragon, little pigs and lots of other little animals and critters.
The dragon costume alone is 10 metres long and is person operated (built and designed by Ben Hambling who also designed the set).
Costume design and creation team are Nikola Spedding and Marlise Hughes who have made most of the costumes themselves.
"The prosthetics for Shrek were purchased from the United States — he has a natural coloured latex rubber head — which we have painted."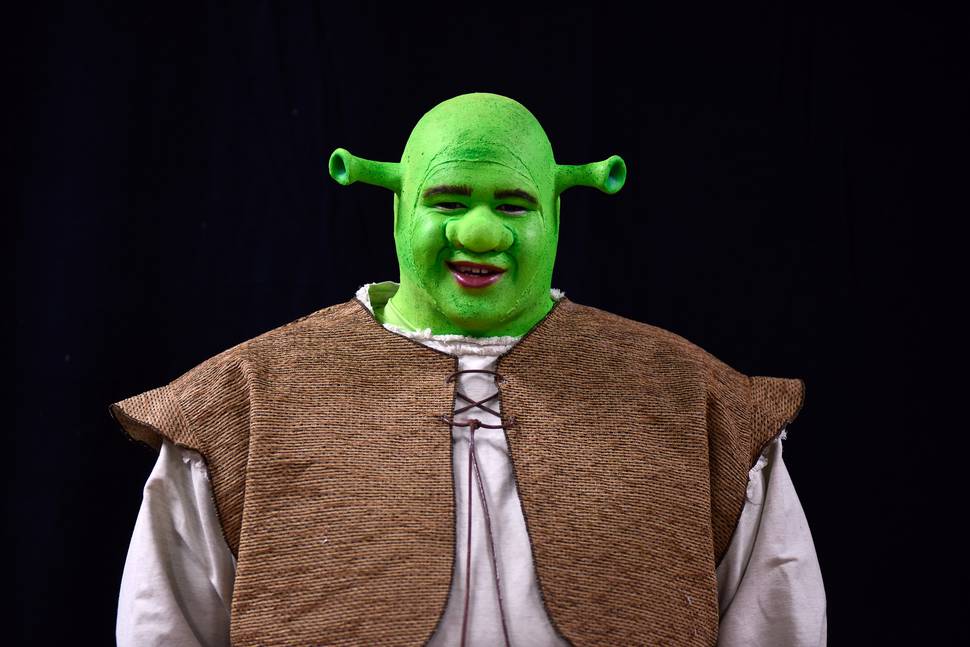 Shrek the Musical follows the Stage Right production Blood Brothers last year.
Toni describes Shrek as a great family show which appeals to a wide range of audiences.
"It's actually very, very fun and it's high energy. Although it is obviously suitable for children but it is an adult cast Broadway production and it appeals to adults as well."
There 35 in the cast, a 20-strong backstage crew and 15 in the orchestra. Shrek the Musical is known for its big chorus, original score (apart from I'm a Believer).
Murray Mason organised a local orchestra.
The cast and crew are family-strong with husbands and wives, their children and one family has three generations involved.
There's underlying messages in Shrek, Toni says.
"This is an unconventional love story and it also the highlights the value of true friendship. There is a lot in there, like it's what sort of person you are, not how you look. Shrek is often judged before people even know him, which is one of his lines in the story."

the fine print
What: Shrek the Musical
Where: Baycourt
When: September 22-29
Tickets: Ticketek