It's the best Rippa Rugby school in the Bay of Plenty.
For the third time in five years Te Akau ki Pāpāmoa (TAKP) Primary School will send a 10-strong squad to Wellington for the National Rippa finals. The school finished third in both 2014 and 2015.
The 670 pupil school is justifiably proud of its wonderful sporting record. So much so that principal Bruce Jepson, just back from a marketing and recruitment trip to Korea, is ribbed by his colleagues from other schools about it.
Read more: Rippa rugby: Te Akau Ki Pāpāmoa win through to nationals
Maungatapu School win BOP Rippa Rugby finals
"The say to me are you going to teach reading soon?," he jokes.
He can have the last laugh. On the day the Bay of Plenty Times called in for a training session, one of the players, Eden Tapsell, missed the first part of practice because she was in the school hall winning the Mount cluster primary school speech contest.
But back on the football field, coach Andy Munn makes sure that mistakes are kept to a minimum as they play a five-on-five game.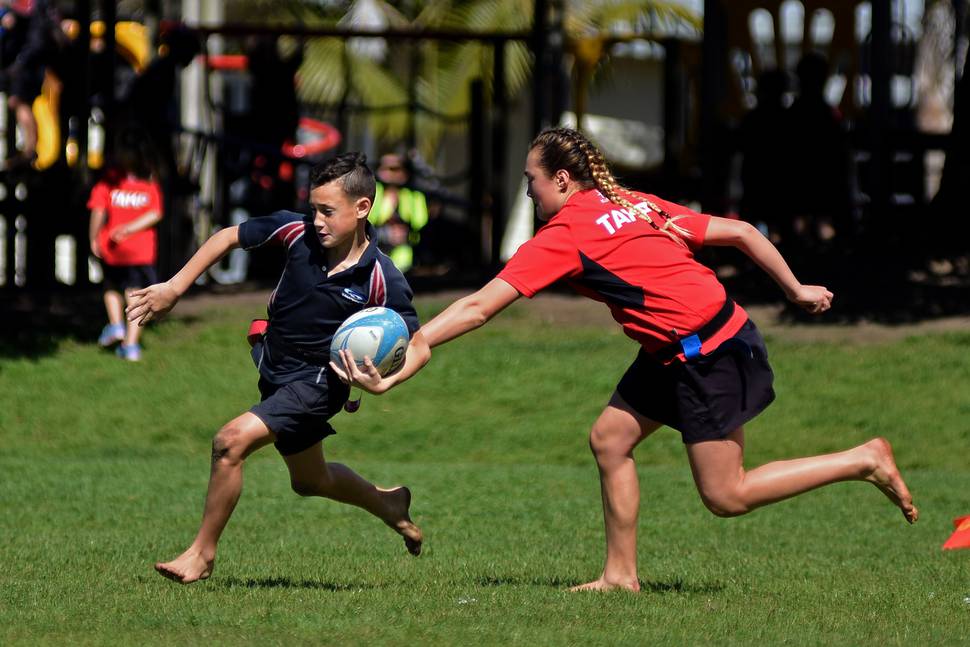 It's hard to believe these kids are in Years 5 and 6. That means they're 9, 10 and 11 years old.
They were on the training field at the start of their lunch break at 12.15. A few warm-up exercises and then into a practice game.
Running, passing, catching, ripping, dodging, side stepping, changing pace – the range of skills exhibited is staggering. In 45 minutes of virtually non-stop play, the kids drop the ball perhaps five times.
This is what regular training, practice and good coaching can produce.
Munn, known to his team as "Matua Andy," is one of a sizeable male contingent on the teaching staff at TKAP.
As we look at the most diminutive of his team, Milendeep Kaur, he remarks quietly "at the start of the year she could hardly catch a cold. Now look at her".
Rippa Rugby is a New Zealand Rugby initiative to involve boys and girls into the game from a young age to learn basic skills without the contact of tackle.
It's like touch, but the kids wear two ribbons on a velcro belt. When a ribbon is ripped off, it's the equivalent of a tackle, and the ball carrier player must pass within three steps.
TKAP have won suburban, regional and provincial tournaments to be the Bay of Plenty representatives again.
The team and two adult supervisors go to Wellington on Sunday. All travel, accommodation, food and expenses are paid for by New Zealand Rugby. For some kids it will be their first time in a plane.
Twenty of New Zealand's provincial rugby unions will have a team there. TAKP will play the schools representing Auckland, Otago, Northland and West Coast in their pool on Monday.
The top two teams in each of the four pools make it to the quarter-finals.
The game is seven-a-side. Each school's squad must have five girls and five boys. There must be three girls on the field at any one time.
At Sunday night's opening function at Wellington College, TKAP will be presented with their blue and gold playing kit signifying their Bay of Plenty representation. It's expected some All Blacks, including Tauranga's Nathan Harris, will be there after travelling from Nelson.
There's a photo of TAKP's 2014 team in the school reception area. The children of that year are with Richie McCaw and other All Black stars of the time.
Another photo opportunity will come up this trip too. But you get the feeling from these delightful young people that they'd like more than just a cool photo with All Blacks.
They'd really like to do their school and their province proud, so that everybody can say "you little rippers."