The rise in the use of dogs not only to guide blind people but also to help with an owner's emotional needs has fuelled debate about what constitutes a working dog. Not every vest-wearing canine is allowed in places such as shops and cafes. Bay of Plenty Times Weekend writer Dawn Picken introduces us to locals whose dogs have become important community helpers
Classroom Dog Lobo
It's just before morning tea time Wednesday when we find Lobo resting on a cushion in Room 5 at Omokoroa Point School.
Lobo isn't being lazy – he's taking a break between duties. It's the labrador retriever's second week at school and he's still in training.
Lobo is 8-year-old Georgie Farrell's disability dog. He's certified to accompany her wherever a guide dog for the blind could go: places like supermarkets, cafes, malls, movie theatres and public transport.
Georgie is sighted, but her father, Matthew Farrell, says his daughter has been diagnosed with global developmental delay and autism spectrum disorder.
Lobo, with his bright blue vest that says "facility dog", is a visual cue Georgie's different.
"Georgie looks normal and you wouldn't know until she opened her mouth there might be something going on there. People might assume she's messing them about."
Before getting Lobo in September 2015, Farrell says his daughter used to step into the road without looking, sometimes putting out her hand to stop cars.
"She's learned to walk with Lobo and transitioned from wearing a belt to using a handle strap. It's getting Georgie to realise she needs to stop and look at the road."
The four-and-a-half-year-old lab has bonded with the entire family, including Farrell's wife, Liz, and sons, 12-year-old Patrick and 11-year-old Jack.
Farrell says Georgie's social behaviour has improved, thanks to Lobo.
"Because they were tied together for two years, she couldn't just grab someone, do what she wanted and dash off impulsively. He'll do what we ask him to do to keep her safe. They're companions … and he's a safety dog for us."
And a delight for the school, according to principal Vicki Knell.
"He's the most gorgeous new entrant. He's an A+ student. He's such a passive, calm dog. We're finding it good with little ones who are genuinely fearful of dogs."
The day we visit, Knell encourages a 6-year-old boy who already likes dogs to give Lobo a cuddle.
"He relates well to the children," says Knell.
"We're aiming for him to have more interaction with all the classes, though his base class is Georgie's class."
Students can sit and explain maths strategies to Lobo, or read to him. Knell says Lobo can also serve as a model to help teach students how to approach dogs in general.
More Money, More Dogs
Lobo came from a non-profit called Assistance Dogs New Zealand Trust.
Co-founder Julie Hancox says she's seen increased demand for disability dogs in the 10 years she and her husband have been running the organisation.
"We can't keep up with demand. Basically, funding is the big issue. We get no government funding and have no assets or income to help with that."
After being introduced to families bringing in dogs from the US to help children with autism spectrum disorder, Hancox created an organisation to provide dogs for a variety of disabilities, including diabetes, autism, Down's syndrome, cerebral palsy, multiple sclerosis, muscular atrophy, Tourette's syndrome and epilepsy.
The trust aims to produce eight to 10 dogs per year. Recipients' families must raise $20,000 of the estimated $60,000-$70,000 Hancox says goes into producing a certified dog. Ninety per cent of canines from Assistance Dogs Trust go to children.
"Sometimes we have a dog that's better with an adult. We can assess those dogs as they come on for training; what environment does this dog want and that will help us with our list of clients waiting."
Applicants must provide medical evidence of disability from a doctor and be able to supply a suitable home for a dog.
Hancox says her organisation is one of just six in New Zealand accredited by Assistance Dogs International, which means they can raise and certify dogs for legal public access.
"They have the same rights as a guide dog, which also has government certification. You can buy jackets and passports online, but unless the dogs come from one of the organisations that has certified dogs, then you don't have legal public access."
Legal Limits
While someone can board an aircraft with a certified service dog such as Lobo, other types of dogs like emotional support dogs, therapy dogs, comfort dogs and psychiatric service dogs must travel in the aircraft hold, according to Air New Zealand's website.
The number of emotional support animals has been rising, as have incidents such as the one earlier this year where United Airlines barred a woman from bringing her "emotional support peacock" on to a US flight.
In 2014, another woman was escorted off a US Airways flight when her pig defecated and squealed before the plane took off. While a growing number of Americans are registering pets as "emotional support animals", the term has no official status in New Zealand.
Hancox fears the fact her charity and others like it can't meet demand for dogs will drive people to get uncertified assistance dogs.
"Eventually one day something will happen and it'll turn into a disaster and will reflect poorly on the services that are doing it properly. I can't help but feel for people who want a dog and can't get one. We've got six here ready to go but just don't have the funding. That's the hard part."
Mobility Assistance Dogs Trust is another organisation whose dogs are trained in accordance with Assistance Dogs International standards.
General manager Jody Wilson says the dogs help people with disabilities such as cerebral palsy, Parkinson's, stroke and spinal cord injuries.
"Quite a few people use the dogs to help them balance. A dog can be quite useful while the person's still ambulant."
Mobility dogs has seven children working with dogs in schools and Wilson says the canines do much more for clients than open doors, pick things off the floor and push medical alarms.
"There's a social benefit. The sense of safety, security, the unconditional love of a dog. It's an icebreaker. You go out in public and suddenly feel more connected."
While the trust is based near Auckland, it has placed dogs in the Bay of Plenty and also runs a puppies in prison programme in Northern Waikato and South Auckland.
Ministry of Justice's Gail Bryce explains why Tauranga has a courthouse dog and why he is so important.
Other Canine Workers
Dogs have long been used in police and Customs work, to follow a suspect's trail or detect drugs.
In addition, the air force uses dogs for security; surf rescue dogs are being trained and trialled; and dozens of dogs work at the Department of Conservation, sniffing out predatory pests.
And then, there's Tauranga's own courthouse dog, Louie.
When we visit the Cameron Rd building Thursday, Louie is back on the job after a five-week hiatus. He's had surgery to remove a malignant tumour on his leg.
Owner Gail Bryce says the 40kg labrador is ready to rejoin his co-workers.
"They've really missed him. I brought him in the other day all bandaged up. He milked it for all it was worth."
I watch as a security guard near the metal detector pats Louie. Another man waves and says, "Hi, Louie," as he passes. "I don't know him," says Bryce.
But everyone seems to know Louie. Crown Prosecutor Anna Pollett stops on the courthouse steps where the lab is posing for photos. She strokes his head.
"So is he gonna be all right?" she asks. Bryce assures her the dog is healing well.
"Good to see you, Louie," says Pollett.
Louie also has his own Facebook page.
Wearing his bright blue Tauranga Court Dog jacket, Louie is more than a greeter.
He's been a support dog for two-and-a-half years. Bryce stays with him -she's the court's victim adviser.
"He comes into court whenever there's a trial involving young people."
Bryce says children normally testify via closed circuit television.
"And Louie will just stay with them at their feet with his head in their lap as they give evidence. It's been fantastic. We've found he's able to keep the children calmer. They're able to give better evidence through having him with them and we're able to get through the trial more smoothly without so many interruptions."
Bryce says these cases typically involve physical or sexual abuse. So far, Louie has taken part in 35 trials.
"There's a lot of waiting around for a trial and the children can become anxious. They can take him for a walk or play with him or sit and stroke him. All of those things help to take the focus off the anxiety while they're there."
''All the lawyers absolutely adore him. He makes a huge difference; it's a stressful environment, especially for people working in the criminal court."
The 9-year-old labrador is not a certified assistance dog; he doesn't detect drugs and gets no government funding. Louie is Bryce's dog and happens to have a nurturing nature.
"He's incredibly friendly and chilled. He seems to have a sixth sense about where he's needed."
Companion Dogs
Some dogs in the Bay provide companionship and joy to people at hospitals, hospices and rest homes.
Canine Friends has 700 volunteers nationwide, including 68 members in the Tauranga area, according to vice president Vicky Graham. She says numbers are growing and Canine Friends receives at least one new application each day.
Dogs receive no special training, though they're assessed for friendliness and confidence. They must also be up-to-date on vaccinations, flea and worm treatments, and in good health during visits.
Bethlehem's Merina Foster has been visiting Tauranga Hospital with her 6-year-old miniature labradoodle, Griffin, the past year-and-a-half.
Foster was already volunteering in the hospital, so she'd been vetted and knew the rules for visits. Each Friday, she and her dog spend an hour seeing patients on their assigned ward.
Foster and Griffin both have ID badges, and the dog must wear his red Canine Friends bandanna during his service.
Foster asks everyone whether they'd like to see the dog before introducing him. Those who say 'yes' can have a pat and chat with the auburn-coloured, tousled-fur pooch.
"A lot of patients can get quite emotional because they have pets themselves and they're missing them. Sometimes they let the dog up on their bed or their knee … It's very rewarding and soul-filling."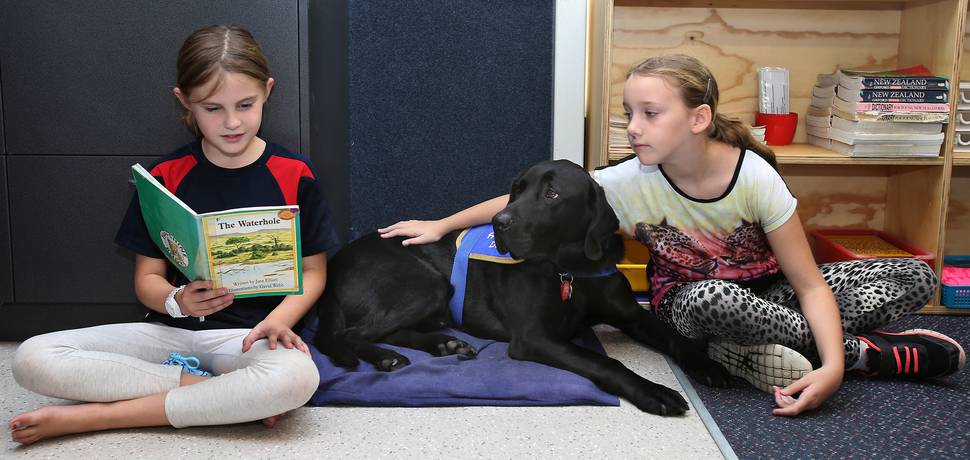 Foster says it's not just patients who enjoy Griffin's presence.
"Staff as well get to know him. As soon as we walk in the door, 'Oh, Griffin's here, Griffin's here.' He's being touched all the way down the corridor."
Foster says the dog is a good de-stressor.
Other institutions such as Toi Ohomai Institute of Technology bring in dogs at key times such as before exams as stress relief for students and staff. Graham says Canine Friends is fielding more and more requests from university campuses for dog visits.
Canine Friends is strictly voluntary. Graham says the charity recently signed an agreement with Mount Maunganui-based Ziwi Peak pet food company to sponsor the dogs' red bandannas and newsletters.

Lobo's Lesson
Back at Omokoroa Point School, Georgie and Lobo sit on the stairs outside the classroom.
"What do you think about being able to take Lobo to school?" I ask.
Georgie responds, "Lobo got a new suit. It's that blue one."
Her father, Matthew Farrell, tells me Georgie didn't start talking until she was 5.
"She called me Mummy."
He and his family are grateful they waited just 15 months for Lobo, because some people wait years for assistance dogs.
Farrell says they raised the required $20,000 contribution for Lobo in about six months, thanks to generosity of people in Omokoroa and elsewhere in the Bay.
"If we hadn't had such a supportive community and didn't have the dog, Georgie might be going to a special school and might not be talking … she's come a really long way. She has a beautiful personality. She's a lovely, bubbly girl, happy girl, and Lobo's been rock-solid."

Access Rights
The Dog Control Act 1996 provides for the authorisation of organisations to certify disability assist dogs. These dogs, which are trained (or in training) to assist a person with a disability, may legally enter any public place or premises registered under regulations made under section 120 of the Health Act 1956. Discrimination against persons relying on or training an Assistance Dog may be considered a breach of the Human Rights Act 1993 and/or Dog Control Act 1996.
Sources: Department of Internal Affairs and Assistance Dogs New Zealand
Online:
https://assistancedogstrust.org.nz/
http://www.mobilitydogs.co.nz/index
http://www.caninefriends.org.nz/
https://www.facebook.com/LOUIE-The-Tauranga-District-Court-Dog-564765753704445/