Props and equipment used to stage the Battle of Gate Pa exhibition will be auctioned on Sunday following a viewing today.
The Battle of Gate Pa Trust has not been able to find a permanent home for the exhibit, which was first shown in 2014 in the Greerton Hall to mark the 150th anniversary of the battle. More than 10,000 people viewed it.
Trust chairman Terry Molloy said storage had been an issue over the years, and it had come to a point where if the exhibit was to be held again it would probably be in a different format - more interactive with more digital elements.
Read more: Replica Gate Pa Battle shotguns up for sale
Battle of Gate Pa stories immortalised in plaque and information panel
He said the main items up for auction were dozens of curved wooden information boards - each about 2m high, 20cm deep and most between 2.5m and 4m long, built by the Greerton Lions and other volunteers.
There will also be a few TVs and a sound system for sale.
Molloy said the boards were built on wheels so they could be cleared to the edge of the hall each night to make way for bowls.
The boards featured blown-up photographs and graphics telling the stories of the May 29, 1864 battle, the events leading up to it, and the people involved - both colonials and Maori.
Some boards have historical photos, while others are modern photographs.
Larry Baldock said most of those posed photos were of "just locals who got dressed up for the day".
He described the exhibition as "some of the best weeks of my life".
"I watched people come out of it in tears."
Molloy said there were many people who felt emotionally attached to the exhibition and might find it hard to see it sold.
All of the intellectual property would be retained and he was confident it will be used again.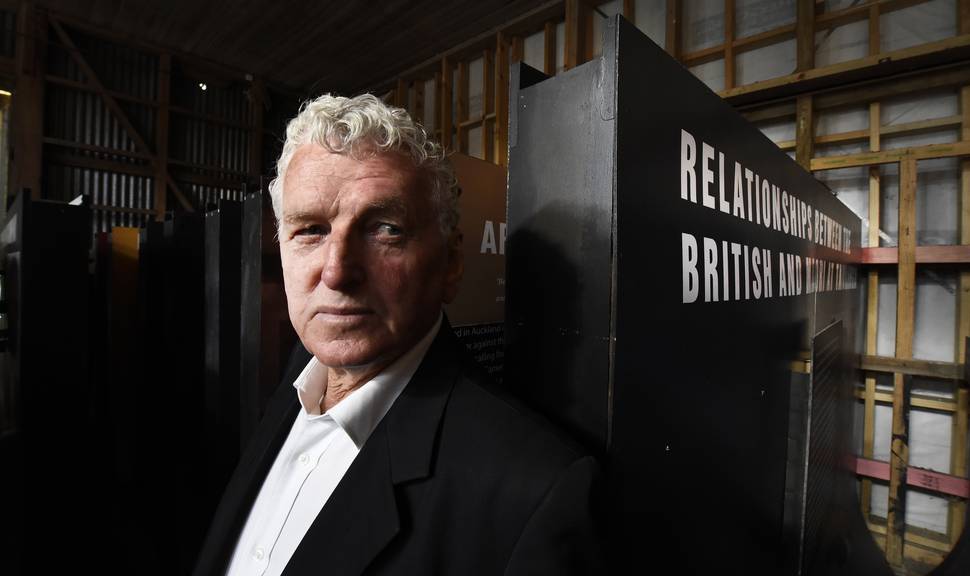 "We will look at doing something at Gate Pa in the not too distant future. I would like to have an exhibition including the Maori land wars and Treaty of Waitangi."
Buddy Mikaere, project director of the Pukehinahina Charitable Trust, also dedicated to commemorating the battle, said it was sad that a permanent home for the exhibition had not been able to be found.
"But I take a view that if we were going to have something like that again that it would be changed."
Mikaere said some of the boards "would look great in school reception areas".
Molloy said potential buyers of the boards might include schools, iwi, libraries, marae, and churches who would like to display a piece of Tauranga's history; or even those who posed for the photos.
He was grateful to Tauranga City Council for allowing the trust to use storage space and the Cargo Shed for the auction.

Battle of Gate Pa exhibition sale
Viewing: this Saturday, 10am to 2pm
Auction: this Sunday, 10am
Venue: Cargo Sheds, Dive Crescent.
Source: Battle of Gate Pa Trust