The community of neighbours and travellers who live and play under the watchful eye of the Mount Maunganui Lifeguard Service will soon see an upgraded facility designed to fit the needs of one of the country's busiest beaches.
The current clubhouse is being demolished to make way for a $3 million building. Bay of Plenty Times Weekend reporter Dawn Picken spoke with past and current surf lifesaving members about the club's nearly 90-year history and plans for its future.
Decades of Growth
A group of Mount Lifeguard Service veterans gather at a table inside, flipping through a photo album. At the start, the club was little more than a shed, says Maureen Habgood (nee Crosby). She points out a prefab hut just big enough for basic gear. Habgood joined in 1953 as a college student because, at the time, she says there were few clubs for girls.
"The population was only 800 people up to Golf Rd and we had no bridges at all ... so we were very much a community, a beachside village community."
The club got its start in 1929 with a few young adventurers. According to the Mount Lifeguard Service website, a pivotal moment came when fishing launch Ranui went down in the harbour entrance in 1950. Twenty-two people lost their lives in an incident that made international news. The tragedy created momentum to expand the surf lifesaving service and cemented the partnership between the club and the professional civic services of Tauranga City.
Habgood, aged 78, and Marge Smith, aged 80, were part of a small contingent of female surf lifesaving volunteers who were trained in rescue operations in the 1950s, Smith says.
"The guys did the rescues, but we could. That's what we were trained to do."
She recalls collecting money in a corner of a big, grey blanket and later bringing her children to the club.
"They all qualified and competed as well. They did their patrols on the beach. It was a real family affair; it kept all our kids together."
These days, women and men patrol the surf together and compete in the same events.
Life member Terry Dell joined the Mount Lifeguard Service in 1960 as a 17-year-old. He was president when the current clubhouse was finished around 1980.
"I think it was valued at $300,000. We had a mortgage of $60,000. We've got a few more zeros on it these days."
Rescue equipment has also advanced significantly since Dell qualified as a lifesaver in 1960. Back then, lifeguards used a system of reels and belts to rescue swimmers.
Dell says a series of lines every 400m were attached to reels with a handle.
A guard would put on gear over his head, attach a belt to a line, run to the water, and start swimming. Three people were required for the job: a swimmer; a line feeder; and a line reeler. Picture surf casting with human bait. It wasn't until the 1970s that neoprene rescue tubes, fins, and sometimes jet boats and helicopters were used to shorten rescue times from hours to minutes, according to Surf Lifesaving New Zealand.
"Now, they hop in an IRB [inflatable rescue boat]." Dell says a surf lifesaving swimming champion once made a single rescue in the same time it took guards with an IRB to complete four rescues. The 75-year-old also praises the quad bikes used for modern patrolling, a major improvement from old Jeeps. "Sometimes, we had to push-start them in the sand."
The club has grown to include professional staff - two administrators and a coach are paid for their work.
Preparing for the Future
It's a blue-sky day with little wind and calm seas Monday as a group gathers to mark the end of one era and start of another. Life member and patrol captain Kent Jarman smashes the ceremonial first hole into the club's exterior.
"After being involved in building quite a lot of it, I'm really reluctant to knock it down," he said during our conversation before the first blow. A builder by trade, Jarman has spent 30 years of his 53-year lifeguarding career helping maintain the clubhouse. He describes the building as leaking and "very tired" - a series of compromises no longer fit-for-purpose.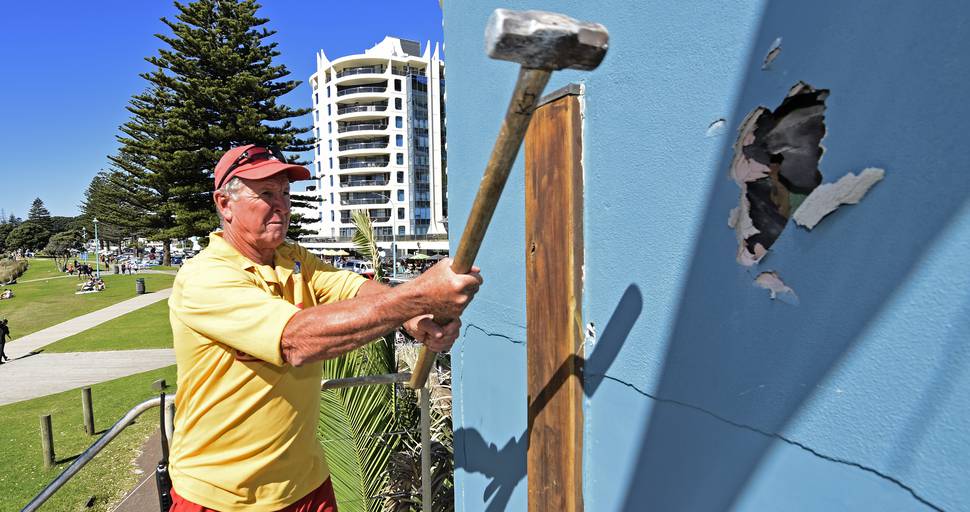 "Excuse me if I have to answer the radio," says Jarman, who's still on-duty before the ceremony. A call has come in about two people needing help on Mauao. "It's probably 50 per cent of our work. Very seldom a week goes by that we don't have to respond to something that goes on either up or around the Mount."
The climbers were feeling unwell, says Jarman. Members of the lifeguard service gave them a ride down and no ambulance was needed.
The first demolition blow coincided with the last day of voluntary patrols for the 2017-18 season. Builders have taken over the site. The new building is set to open in December.
Club chairman Paul Manning says the $3 million facility will be state-of-the-art and have the ability to multi-task. It means someone could host a wedding reception while the rescue base was open. One remaining challenge, he says, it raising $700,000 needed to complete the building.
"We'll be reaching out to our membership and to the community at large."
The club has a membership of more than 500 people, including junior members.
"We're always trying to improve our people, we're always trying to have fitter, faster lifeguards who can give back to the community as volunteers, and this is just one of the resources to help us achieve that."
Manning says health and safety has always been a priority. "If this can give us an advantage of keeping the beach community safer and our lifeguards safer, then we've got to embrace that."

Recent History
Bay neighbours and visitors have woven themselves into the story of the Mount Lifeguard club by taking part in events such as wedding receptions, memorial services and parties in the hall. The club celebrated its 75th jubilee in 2004 and responded to the Rena oil spill in 2011. A worldwide audience also watched rescue and recovery efforts such as the three-week search for 5-year-old Jack Dixon, washed off rocks near the base of Mauao in 2014. While unsuccessful, the search for Jack mobilised surf lifesavers, and the community, too.
Kent Jarman was part of the search effort for Jack, as was fellow lifeguard Hamish Rieger. Nearly 16 months later, Rieger was swept to sea from the end of Moturiki (Leisure) Island. Jarman helped recover the 17-year-old's body the next day. He told the Bay of Plenty Times in November he had watched the teen grow from a young nipper to a lifeguard. The recovery of the teen touched a nerve because it was someone close to him.
"I am sure that any young people who join surf lifesaving don't buy into the fact that one day they might have to deal with a tragedy. It is the nature of what we do."
Jarman says in all his decades of surf lifesaving, he's feared for his life just once. Several years ago in July, three young men were paddling outrigger canoes from Maketu to Mount Maunganui during a storm.
"It was probably gusting 50 to 55 knots ... the sea was running at seven metres."
Jarman and a younger guard dressed warmly and searched in an IRB from late afternoon until after nightfall, with winds gusting around 60 knots.
"I thought, this is crazy and if we stay out here, we're going to die, as well."
They called off the search for the night and went out the next day after the storm had passed. Jarman says one man's body was found that day in Bowentown.
"The ethos for all lifeguards is you actually put yourself out there but you have to consider your own personal safety, as well, and that's critical."

New Leaders
Patrick Bird says his mum started bringing him to the Mount club when he was 5 years old. He has progressed from the Nippers programme to the men's under-19 competition level. Bird returned from National Surf Lifesaving Championships in Gisborne last month, where his team earned second place in the taplin relay. Mount won best overall club.
Now aged 17, the Year 13 student at Mount Maunganui College says he's been inspired to study marine biology at university.
"It's helped me to see a wider range of what's out in the world, what dangers lurk out there and how much fun the outdoors can be for people."
Bird helps train younger club members and volunteers as a lifeguard. He says he helped rescue two kids from Rabbit Island on a stormy day three years ago. And now, he, too, is looking forward to the next version of the place that's shaped his childhood. "Something new's gonna come and it's a good change for the club."

Mount Maunganui Lifeguard Service achievements
• The first fully operational dedicated beach patrol vehicle
• The implementation of a year-round, 24-hour rescue call-out squad
• The implementation of a patrolling rescue boat
• The first club to install a 'can buoy' rescue system along the beach
• The first club to establish a rescue radio network

Tauranga-area beach Rescue Statistics
*Provisional from Surf Lifesaving New Zealand
Papamoa Surf Life Saving Club also in building mode
Papamoa's Surf Life Saving Club is also raising funds for a new rescue base building. Members say they need just under $4 million to replace the current building, constructed in the 1990s, when the surf club had a membership of 150. The facility was extended in 2001, but the organisation's website says the building's functionality and layout have become compromised, and large rooms serve multiple purposes. "Space is now at such a premium that expensive training and rescue equipment is stored outside in railway containers, or in hallways, changing rooms and even at members' homes."
Provisional rescue stats for this season
Mt Maunganui: 48 rescues and 78 assists
Omanu: 14 rescues and 57 assists
Papamoa: 26 rescues and 23 assists