The first few weeks of the challenge have been tough. I thought exercise would be the hardest part, but it was the effort to turn myself from a chocolate eating, coffee slurping hungers, into a protein shake pro. And I am thinking of getting a chicken I am eating so many eggs.
Challenge members do a minimum of five 45-minute sessions a week including cardio and resistance. Some do more. One ambassador, Abby Barlow, in training for her Bikini Athlete competition, stunned me when she did Athletica, a midweek cardio hell burning up to 800 calories, for her 'rest day'. Gulp.
Myself and training bud Amy Diamond have managed five a week, and also done Sunday yoga.
Provided for all challenge members and run by Ana Viera from House of Yoga in the Mount, it's one of my favourite parts of the week. We get to lie down on our yoga mats, with lots of breath work and stretching. After five gruelling sessions, you need that recovery time.
We go to class at 6am which means early rising. I am discovering a whole new side of Tauranga pre-dawn. My whole body clock has rewired. I now get up at 4am, do some writing, social media, and housework, go to class and walk the kids to school with the dog — who is also being stunned into a new fitness regime. Then work. Home, more housework, homework and I am in bed asleep by 8pm. Fun times.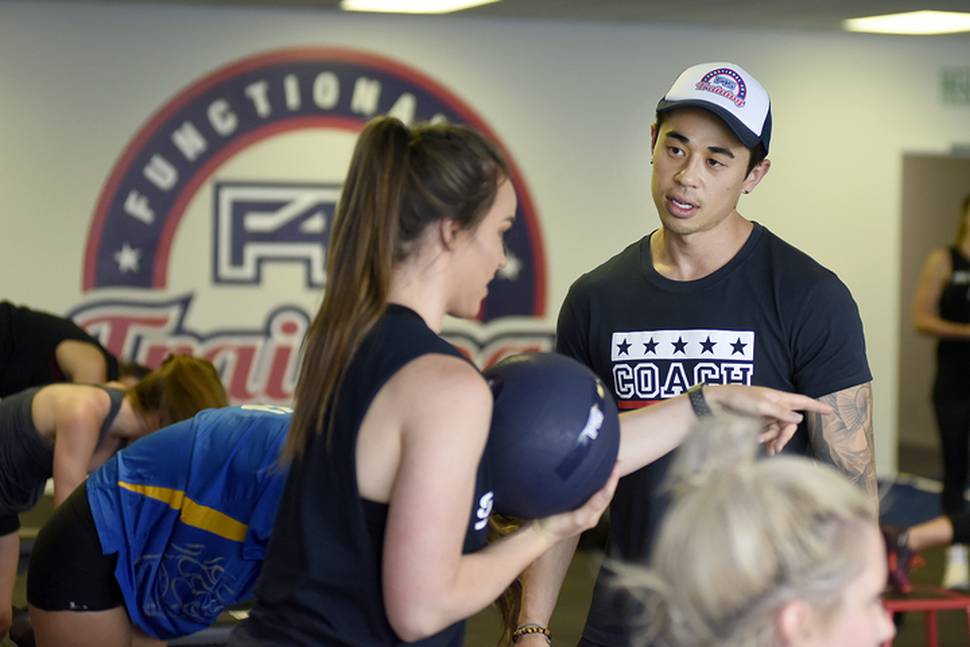 Meals are planned out for you on the app in great detail with a weekly shopping list. The nutrition plan is designed by the F45 team of health scientists and nutritionists. It's divided into three phases of two weeks, four weeks, and two weeks.
The first two weeks were a detox with alkaline foods and no caffeine. Coach Shal advises us to drink green tea X50 instead, which while still contains caffeine, is in smaller doses, helps increase water intake and for those who have upwards of 3-4 cups of coffee a day, lessened the blow. I found this hard to stomach so went cold turkey on the caffeine.
I've read reports that giving up caffeine is harder than giving up heroin. I don't know if it was the combination of no caffeine and the new diet but the first 10 days I felt strange, as though my brain was made of cheese. If it was cheese I would have wanted to eat it.
Headaches, reduced energy, hunger and mood swings are all common side effects of the detox weeks, says Shal. I got to the point one time of standing by the coffee machine sniffing, almost in tears. I didn't have it bad as one challenge member who is a barista. But we are all in this together - supporting each other not only in class but on the challenge's online group. Even after being allowed caffeine in week three, I haven't gone back to my daily flat whites. I even found myself in Delicacy Café in 11th ave one morning instead of ordering a moccachino and sticky caramel slice as I usually would, I had an almond milk latte and a spinach omelette. Who is this person?
I haven't noticed any changes in body yet, although I can do more in the sessions than I used to. I don't own scales but other challenge members report dramatic changes already.
Some meals I have substituted out — with recommendations from Shal — and some meals replaced with V on Wheels, a local vegan delivery service. I am also going to try some of Art and Matilda's new Plate Up paleo meals.
Mostly I am good apart from Valentines Day where someone sent me dark chocolate. I took it in and out of my work drawer looking at it. Figured I had burned calories and built biceps doing that alone. It was organic, 80 percent cacao, had saffron in it. Practically a vegetable.
Energy levels have improved, though I had a slump in last Saturday's Hollywood class, a one-hour cardio and weights mix of 24 stations. I spent the first 12 stations grumbling to trainer Paora about my legs which felt sore from so much leaping around. He gave me adaptions.
Then owner Shal said great All Black Sam Cane was doing a session. Let's just say my poor old knees made a miraculous recovery. Sam is in the house. Those burpees don't seem as hard now, as I am listening to the music, and telling myself in my head, "I am actually working out with an All Black".