A woman raped by two well-known Kiwi music producers says she felt like "a piece of meat" during their trial and believes more needs to be done to ensure victims of sex crimes are not re-victimised.
Last month well-known hip hop music industry identities Mark Arona and Peter Chambers were found guilty of two charges each of sexual violation by rape and sexual violation by unlawful sexual connection in the Tauranga District Court.
The jury took three hours to come back with unanimous guilty verdicts.
Chambers was charged as the principal offender in the rape charge and Arona as a party to that offence.
The woman gave evidence that after having too much to drink and taking a puff from a cannabis joint she blacked out and her next memory was waking up naked in a Tauranga motel room with one of the men violating her.
The other man then joined in, and she was powerless to resist and "felt like a rag doll", she told the jury.
Arona, who is the chief executive of the independent record label and entertainment company Illegal Musik, is also well known in the industry as MC Patriarch of the hip-hop group Ill Semantics.
Chambers, aka DJ CXL, also teaches music to young people and mentors up-and-coming artists.
Illegal Musik is the company behind some of New Zealand's biggest names in the hip-hop music scene.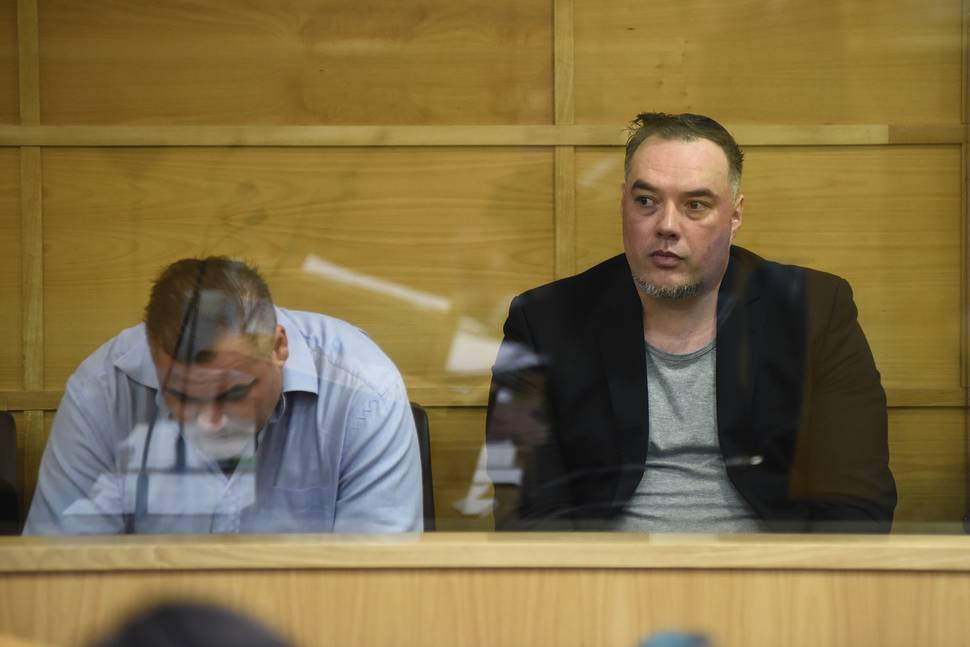 During the nine-day trial, it was put to the woman that she was a liar, that she had dressed in a skimpy dress to impress the accused, and had gone to the motel with the intention of having sexual relations with them or their associates.
Speaking exclusively to the Bay of Plenty Times Weekend, the woman said she had expected tough cross-examination from the two defence lawyers during her three to four days in the witness box giving evidence.
But nothing prepared her to have her "honesty, integrity and reputation" scrutinised in the way it was, she said.
Described as "a lady who had form" and a "groupie in every sense of the word" by Chamber's lawyer Moana Dorset to the jury was "hurtful and degrading", the woman said.
"It made me feel like a piece of meat. I felt like they could say anything and I couldn't respond.
"I was absolutely shocked by this line of cross-examination. As a woman, I was disappointed that they could accuse me of these things and suggest I was up for this.
" It was like I was the one who was on trial," she said.
That included when Ms Dorset asked the woman to explain a series of 15 photographs downloaded from her Instagram account either depicting her consuming alcohol or with a glass in her hand, including one taken at her sister's wedding.
The complainant said those photographs were taken over a four year period.
Judge David Cameron took issue with some of the questions put to the complainant by the defence lawyers.
The woman described Judge Cameron as "lovely" and said she could also not speak highly enough about Crown solicitor Anna Pollett who had done an "amazing" job.
When told Arona and Chambers had been found guilty on all charges she wept for three hours, she said.
"I had mixed emotions. I was so relieved the jury believed me, but at the same time, I was overwhelmed by what I had gone through to get to that point. It's been harrowing.
It was like I was fighting a war of truth and the truth has prevailed."
"The jury's guilty verdicts have allowed me to take back my dignity and my power," she said.
The complainant said despite what Arona and Chambers did to her she does not want to be described as a victim and wanted to work towards forgiving them not for their sake but her own.
"I'm not a victim. I'm a survivor and a conqueror," she said.
The complainant said it was her faith that had given her strength to get through her harrowing ordeal.
"What they did to me did not break me or take way my self-respect. Telling the truth has set me free," she said.
The woman said she hoped speaking up would give the "next generation of girls" and other women the courage to lay complaints with police and testify against their abusers to ensure they were held to account.
"I feel heavy and bad for Arona and Chambers' families, but I could not stand by and let them get away with it."
"I hope one day I can put this all in a bottle, and just like a message in the bottle, I'd throw it into the sea, or put it into a time capsule which is never opened so I can move on with my life."
The complainant's mother described Arona and Chambers as "appalling, disgusting people".
"They can lie all they like, but the truth always comes out in the end. Even if they had been found not guilty they would have had to face God at the end of their lives, and held to account for what they have done," she said.
Her daughter was "an amazing young woman" who had shown "incredible, courageous and strength" in confronting her abusers. and hoped other victims of sexual crimes would come forward to the police, she said.
Victims' advocate:
Louise Nicholas, an advocate for survivors of sexual violence crimes, said she accepted defence lawyers were entitled to robustly challenge and test a complainant's evidence on behalf of their clients.
"But unfortunately in some courts across the country, these lines of questioning are typical of some of the rape myths that still exist. They're often put into the mix to try to get a jury to form a specific opinion about the complainant, she said
Ms Nicholas said it should not matter what the complainant was wearing or how much they have had to drink, but this type of cross-examination was deliberate to try to rattle a complainant.
"But I always tell complainants you know your truth and do not embellish your evidence as the truth will prevail. This sort of theatrics employed by some defence lawyers is absolutely brutal. It's dehumanising and wrong, and should not be allowed," she said.
"It's important that judges do step up to ensure defence lawyers do not overstep the ethical boundaries as they fight to get their client off. But unfortunately many times this line of questioning is adopted," Ms Nicholas said.
The defence lawyers:
Arona's lawyer Rebekah Webby said under Section 92 of the Evidence Act, she had an obligation to robustly test the complainant's evidence as in line with his instructions and she would be subject to a complaint if she had failed to do so.
Ms Webby said the issue of what the complainant was wearing only came into play in the trial because the woman claimed she was wearing trousers and black top that night but under cross-examination conceded she had been wearing a dress.
Chambers' lawyer Moana Dorset said how the complainant feels was not unexpected.
Ms Dorset said as a defence lawyer it was her job to intensely test these sorts of serious allegations on behalf of her client, and the Crown, which must prove the charges, had the same opportunity to cross-examine the defendants and witnesses.
"It's a long walk up to the witness box, whether you are a complainant, a defendant or another witness in a trial, who are subject to robust cross-examination by the Crown and defence lawyers," she said.
Ms Dorset said she did not want to comment further as the matter was still before the courts.
Law expert:
Steve Bonnar QC, the convenor of the NZ Law Society's Criminal Law Committee, told the Bay of Plenty Times Weekend that Crown prosecutors and defence lawyers were subject to ethical and professional rules which governed their conduct during trials.
Mr Bonnar said he could not comment on the facts of this particular case.
"But subject to compliance with those ethical and professional rules, defence counsel were under a duty to cross-examine any witness in a criminal trial to test their evidence in accordance with their client's instructions as to the facts of the case.
"The reality is that it may inherently be an unpleasant experience for a complainant to be challenged as to their evidence, particularly in the case of alleged sexual assaults, and some complainants may feel that they are the person on trial. But of course, that is not the case," he said.
Mr Bonnar said the presiding judge was the umpire in any trial and it was their responsibility to control the conduct of the trial to ensure questioning of any witness is not improper or irrelevant and to ensure that it does not break the rules.
"What someone was wearing or whether they consumed alcohol or drugs may potentially be relevant in the circumstances of a "particular case. Similarly, aspects of their conduct may be relevant on the facts of the case.
That may be so in trials involving allegations of serious sexual assault just as in other types of cases. But it all depends on the particular allegations and what may be in issue at the trial", he said.
Mr Bonnar said if a lawyer broke the rules their examination of a witness can be stopped by the judge, or they can be the subject of a complaint to the Law Society and potential disciplinary proceedings.
Police
Detective Inspector Dave Kirby said it was recognised that the adversarial style of the court process in New Zealand can be challenging for the witnesses involved.
"Police and specialist agencies work closely with witnesses to ensure they're supported where possible throughout the process," he said.
"We encourage anyone who has been a victim of sexual assault to contact police. They will be treated with empathy as we support them through the process."
Crown:
Crown solicitor Anna Pollett, who also raised objections to some aspects of the defence lawyers' questions during the trial, declined to comment.
Arona and Chambers will be sentenced in January.