William Trevor Martin, who umpired 15 test matches for New Zealand and was awarded an MBE for services to cricket, had his first back fusion operation when he was just 15 and a second one about a decade later.
It meant the Nelson-born lad could not bend his back, but that did not stop him from getting involved in the game he loved.
Trevor, as everyone knew him, was farewelled at Woodhill Funeral Home in Tauranga on Thursday after he died on August 4 at Tauranga Hospital, aged 92.
His son, Graeme Martin, said the Matua man lived "a full innings" and told the Bay of Plenty Times about some of it.
After his second serious back operation, Trevor could not play cricket and it was his wife, Dawn, who suggested he take up umpiring.
"He never listened to anybody in his life, really, but he took up that advice and ran with it and he had a passion for it, but he also had a gift for it," Graeme said.
Trevor was in his late 20s when he started umpiring - first club cricket, then first class Plunket Shield.
"He used to umpire in Wellington a lot and Wellington can get pretty miserable with the weather," Graeme said. "He used to come home wind burnt and red in the face. But he just loved it."
He made his test debut in the second test between New Zealand and England at the Basin Reserve in Wellington in March, 1963.
Later that month, he also umpired the third test between New Zealand and England, at Lancaster Park in Christchurch, where English fast bowler Fred Trueman took his 243rd test wicket.
Graeme said his dad thought Freddy Trueman was the greatest quick bowler he had ever umpired.
Trevor would go on to umpire 15 test matches in total, as well as six List A one-day games.
He umpired the first test against South Africa in Wellington in February, 1964 - a game notable for being disrupted by damage to the pitch caused by anti-apartheid demonstrators.
Graeme said his dad was quite proud of the fact that he had umpired to South Africa, "because they were banned shortly after that and they didn't return to the international cricketing scene until the 1990s".
"He, at the time, umpired every international [cricketing] nation in the world in his day. So he was quite proud of that fact," Graeme said.
He said Trevor could not bend his back and so had a "funny stance" when umpiring.
"He used to have this lean on your knees, stick out your bum thing which was kind of unique. It was a metre and a half across so he sometimes had to stand back from the wickets."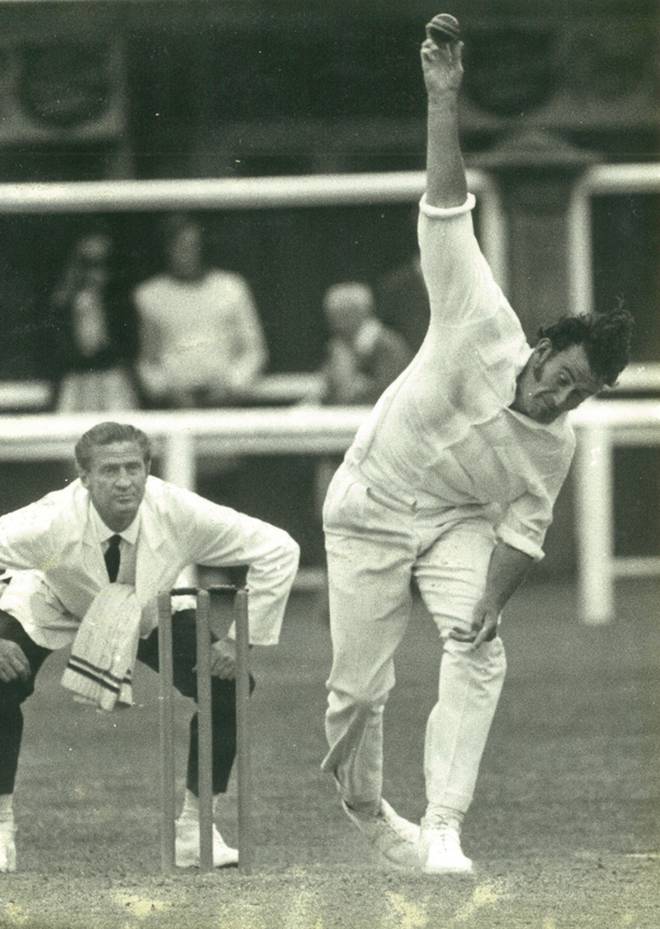 But there was also a theory behind it, Graeme said.
"New Zealand had very slow and low wickets, not the bouncy stuff they have these days, and his theory was that he could see the height of the ball when he was down at that level - whether it was going to go over the stumps or not - and would be able to give better LBW decisions based on that angle."
Trevor was made a Member of the Order of the British Empire (MBE) in 1978 for his services to cricket.
The award came as a "total surprise", Graeme said.
"He just had no idea. It was a special moment in his life, for sure ... that recognition of all he'd done and all he'd tried to do."
Cricket was a passion that would last his whole life.
"He was plugged into Sky Sport from the day he retired pretty much. He couldn't believe his luck really," Graeme said.
Trevor spent all of his working life in Wellington, where he was a civil servant for 44 years.
He moved to Tauranga in 1987 and spent the last 30 years of his life there, mostly in Matua.
He married Dawn Whilmshurst in Nelson in 1951 and they were together until she died, aged 81, in 2010.
Trevor leaves behind two sons, four grandchildren and one great-grandchild.