Not all superheroes wear capes. This one wears a lilac shirt and striped purple tie.
Rob Lemoto uses his intellect, detective skills and physical prowess to fight crime.
Give him half a chance though, and quicker than The Flash, he'd whip on some shorts, grab a pie, and head out for a snapper fish.
The 42-year-old Tauranga Police Detective Sergeant, host of TV2's Police Ten 7 programme, and all round nice guy, is a policing superhero. I say that because there's not much he can't do.
In fact, he pretty much interviews himself. "I've got no problems talking."
Police Ten 7 is now in its third full season with Lemoto as host and, like most stars, has his admirers. Unbeknown to him, one search on Facebook finds he's compared to good-looking singer Ricky Martin.
"Oh really? I don't have social media. Every now and then, Lizzy, our production co-ordinator, she'll cut and paste stuff and send it to me. It's usually the dumbest take-the-piss comments, or something completely inappropriate from a female."
He can't see any likeness to Martin - "Isn't he Latino? I'm half-Tongan" - but they're both dancers.
Lemoto and daughter Anya took part in the "running man" dance craze that hit the nation last year. The challenge is simple. Take the 1996 song My Boo by Ghost Town DJ's and bust out some moves.
Lemoto did The Snake, Caterpillar, and Dolphin Dive.
Did he have to practise?
"Nah, you ask anyone at the police bar, they'll tell you those moves are all legit."
He grew up on the mean streets of South Auckland. He never wanted to be anything but a cop. He joined the force as a fresh-faced 19-year-old. Since then he's had somewhat of a stellar career from community cop and iwi liaison officer, to working in the Criminal Investigation Branch (CIB), seven-and-a-half years in the Armed Offenders Squad and seven months in Bougainville, Papua New Guinea.
Lemoto talks about policing like one might talk about their pet. He's protective, loyal and a bit mushy.
"When I first got out of police college, I'd look at the clock and go: 'Ooh, I've only got four hours left.' I don't know who counts down their workday. All I wanted to be was a policeman."
He would've declined the Police Ten 7 role if it had required him to leave the force.
As it is, he's had to give up his role in the Armed Offenders Squad for lack of time, and is envious when he sees the team suit up. "I miss it dearly."
He spends two days a week overseeing admin for child protection, and three days working on the show. On Thursday night when the show airs, he coaches Tauranga Under 14 Girls' water-polo. He's a regular MC at charity events.
He joined Police Ten 7 in September 2014, taking over from Detective Inspector Graham Bell.
"I had no idea how much hard work went on behind the scenes," he says of his foray into television. Every Thursday night, the show reaches on average 642,000 people on air.
With no filming of Police Ten 7 over last Christmas and New Year, he asked to work as a Tauranga shift commander.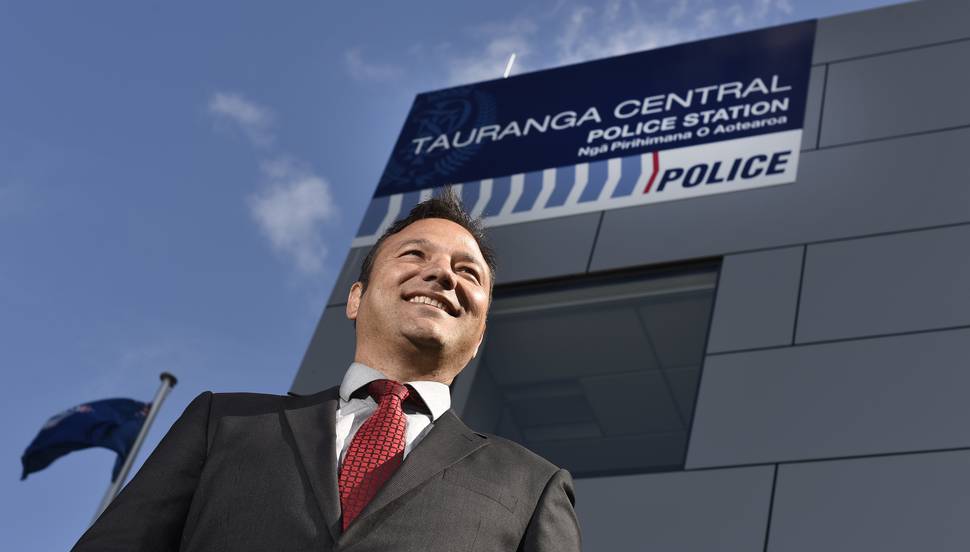 "I've worked in serious crime for a long time and I wanted to get back on the street ... It was awesome."
He says this, even though a gang member nearly pulled a hammer on him while Lemoto patrolled an unlit street, alone.
He hasn't become hardened and hasn't become bored. In fact, he's pretty friendly and pretty optimistic.
"I know criminals who will tell you I'm not a nice guy, and I'm not a relatable person," he says smiling. "I have no issues with that whatsoever. I just love going through the door with someone else who thinks they're in charge of someone else's life and letting them know 'you're not'. (It happens) few and far between these days but I still love to get amongst it."
He has zero tolerance for gangs in particular, but approaches everything with an open mind.
"I'll always start at a low-level and if they want to talk about things and explore options (I'll do it). A lot of people forget our job isn't to send people to jail, it's to help people stop committing crime.
"You want to be the bad boy or the bad girl, no problem, we'll police you until the cows come home. But so many people make mistakes who are genuinely good people. I don't know any police officer that sees someone in a bad social situation and doesn't feel compassion."
It's this attitude that endears you to him.
He regularly gets asked for selfies. He's happy to oblige but won't give one to people known to police unless they can prove they've been out of trouble for a year. He declined a photo on a wet night in Auckland last week.
"This car comes screaming up ... We (both) came to the lights on the Expressway. I wound down my window, flashed by badge. 'I'm sorry, boss,' the young driver said. Then a pause. 'You that fulla on TV? Can I get a photo?'"
He declined the photo, but laughs at how life has changed. Most officers do their best to remain inconspicuous. Lomoto is public property.
He has the odd humbling moment, like when another motorist frantically waved for his attention. Tired and in a hurry, he got ready to force his celebrity smile, but the driver simply looked at him and said: 'Hey buddy, your tyre's flat'.
"What a dick," he says of himself. "There's been a couple of moments like that."
His family keep him grounded.
Married to Kath, they have two girls, Anya, 17, and Ash, 14. He knows the time his two daughters were born. "My oldest, 3.04am and my youngest, 6.42am ... Those are really important milestones for me."
He and Kath celebrate 20 years of marriage this August.
He's going to have to pull something big out of his hat, I warn.
"Yeah, I am. We're going to Hawaii ... but it's with a sports team unfortunately, but that counts. Ha ha."

He has planned a surprise, but we can't print it.
"My wife is outstanding at role-modelling for our kids ... My kids are very lucky. They've got a mum that's just a superstar. I'm not even a close second to her. I've had some pretty low points and she's been my rock."
His lowest was when father, Ani, died of cancer in 2007. "He was super special to me."
"Dad was very involved with all of us with our sport and I was no great sports athlete. But he kept us (four kids) in a lot of spirit."
A police guard of honour at his dad's funeral meant the world to him.
The coveted contract role for host of Police Ten 7 is renewed each year. Would he be disappointed if he didn't get it again?
"You know to be honest, we'll see. Ha ha. I love the role and the team at Screentime. I head to Auckland in the early hours once a week."
Is that what puts him off?
"Yeah, very much, but you know, there are truck drivers who do that every day. They fly me to Wellington and I have to sit in the Koru Lounge. It's about perspective."
Putting life into perspective is what officers must do daily.
"As a supervisor, my teams gets smashed. When I went to child protection I didn't want to go (because) I had young children, but we make a difference."
Is there anything that keeps him awake at night?
"Yep, and it shouldn't. I try to leave work at work but ... We deal with some horrible things. I feel sorry for my wife because I'll go home and say: "I can't believe someone would do this to their child'. It just makes me so angry. It sorts of builds up, so I'll vent.
"It's not that it keeps me up with nightmares, you know? But you can't help run through things in your head. There are times when you think about things you'd really rather not think about."
He's had to work at not being overprotective with his two daughters.
He tells the story of how he jokingly tricked his eldest daughter into thinking she was being followed on a date by plainclothes colleagues in special tactics, who were doing covert training.
"I try not to be (overbearing) but I can't help myself at times. It's hard for them too because as a teenager I had a lot of anonymity growing up and they don't. Everyone knows who you are in a small town."
But who is Lemoto outside of work?
He loves to fish on his jetski. He loves sport. He coaches water-polo but can't swim. "If there was a marine rescue, I'd be the last to go in the water."
He watches The Simpsons "religiously".
"It's ridiculous. It's really annoys my mother-in-law. When I first met her I had earrings and I watched The Simpsons. So the earrings are gone ... but The Simpsons are still there. She lives with it because I give her fish. Ha, ha."
He enjoys video games. He plays Plants vs. Zombies on the iPad. "Even though you're shooting Zombies, there's no blood."
No shooting of police officers?
"Yeah, no Grand Theft Auto. No, no, no."
Musicwise, he's "brainwashed" by his daughters. "My walkman from my run this morning had nothing from my era or my genre. So plenty of One Direction, Bieber, Timberlake, Katy Perry."
He skips a few songs. "Flo Rida, I can live with that. Something with a bit more of a beat to it."
He runs two to three times a week because he likes to drink (responsibly).
"I've got my handle at home with my number on it (from the old Tauranga Police Station bar)."
He drinks Beer and rum. "Anything, I'm not fussy. I grew up on Lion Red."
He's not fussy with food either: "You know, I love pies."
"I grew up in Clendon in South Auckland and Min (local baker) to this day, he still knows my order: One pork bun, one bacon and egg slice, one donut. Terrible eh?"
No Coca Cola too?
"Ooh, nah. I don't drink tea or coffee.

"Great guy (Min, the baker). There's a picture of me and him on his bakery wall."
Lemoto loves small communities and the people in them. He's complimentary of his time as a community cop and iwi liaison officer in Te Puke 14 years ago. Describing those who live in the Kiwifruit capital as the "salt of the earth".
He wants viewers to watch Police Ten 7 and see it's not all bad on the blue side.
There's bad eggs, but "there are so many good people in New Zealand".