A petition has been launched to fight Tauranga City Council's bid for a $256.1 million Government loan to help the region cope with its ballooning population.
The petition was created yesterday and had attracted 53 signatures by 4pm today.
The original application asked for $245.6m but this was updated to $256.1m after the council met on Tuesday.
People signing the online petition said they were already paying for water, rubbish collection and toll roads and were concerned the loan would be another financial burden.
The petition organiser said: "We all need to put our foot down and let the council know we don't want more debt, let's get these things when we can afford to!!"
Papamoa pensioner Gerd Matthesius said he signed the petition as he was concerned the loan would result in increased rates he would struggle to pay.
"I'm on a fixed income and they are spending money left, right and centre. However, I don't get more money so I'm slowly facing the scenario that I probably can't afford to live here," he said.
"At the moment I'm alright but if they carry on with this, the increases they lumber us with, the time will come where I'll have to move to Tokoroa - which I don't want to do."
Mr Matthesius questioned why existing ratepayers would be forced to pay for future ratepayers.
"More costs should be more targeted at those responsible for the growth, rather than us who are already here."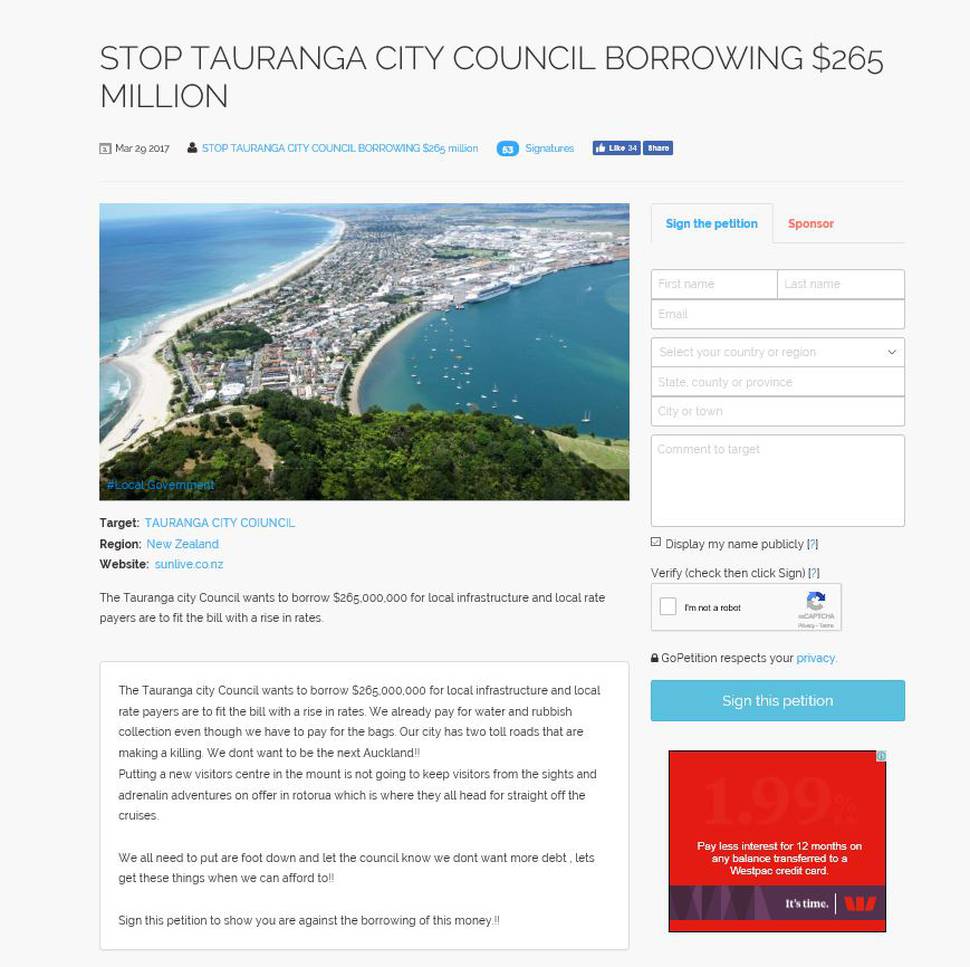 Tauranga Mayor Greg Brownless said he was not without sympathy for the petition's supporters. However the "I've paid my way, why should I pay for future growth" attitude did not wash.
"I don't blame them but we've got to think of our children and grandchildren."
Mr Brownless said the council did not have a choice as providing the future housing areas was a Government order.
"It will cost a lot of money and there's an interest-free loan for 10 years to help. Even though it has fish hooks, that we've identified and are working with, do we completely ignore it and do what the petition asks? I don't think so."
Other supporters of the petition expressed upset at money spent on cycleways and the Tauranga waterfront revamp.
The loan would come from the newly-established Government Housing Infrastructure Fund, which offered up to $1 billion to councils in high-growth areas.
However it was likely it would blow out the council's debt-to-revenue ratio and subsequently hamper projects in the council's Long Term Plan.
The money was expected to help fund four major infrastructure projects consisting of:
• Waiari Water Treatment Plant ($114.6m) - city-wide
• Te Maunga Wastewater Treatment Plant upgrade ($55.9m) - city-wide
• Infrastructure for Te Tumu urban growth area ($39.8m) - Eastern Corridor
• Infrastructure for Tauriko West urban growth area ($45.8m) - Western Corridor
The petition can be viewed on the GoPetition website here.