New images of the yet-to-be-completed Tauranga tidal stairs offer the first glimpse of the $2.8 million project four months into construction.
Drone images released to the Bay of Plenty Times have captured the ongoing work on the waterfront development by The Strand.
The facility includes 49 metres of tidal stairs, a new 27m pier and a new 24x3m floating pontoon.
So far 1500cu m of Mudcrete had been used with 128 precast units making up the tidal stairs. Twenty precast units - weighing 0.5 - 10.5 tonne) have been installed per day.
The tidal stairs are expected to be completed in April 2017.
Read more: Tidal stairs to be ready in two weeks' time
In October last year, newly elected mayor Greg Brownless turned the first sod at the site.
"It's going to bring a bit more life since the Coronation Pier was demolished. I think people have missed having a wharf. This is going to be just as popular," he said at the time.
Safety features would include fencing the pier with pool gates at the end and information signs about the risks associated with water and the water flows. Ladders from the water to the pontoon would be provided to enable people to return to the pontoon. There would also be a handrail and rescue equipment on both the tidal stairs and the pier, and the geometry of the tidal steps would allow wide-stepped platforms.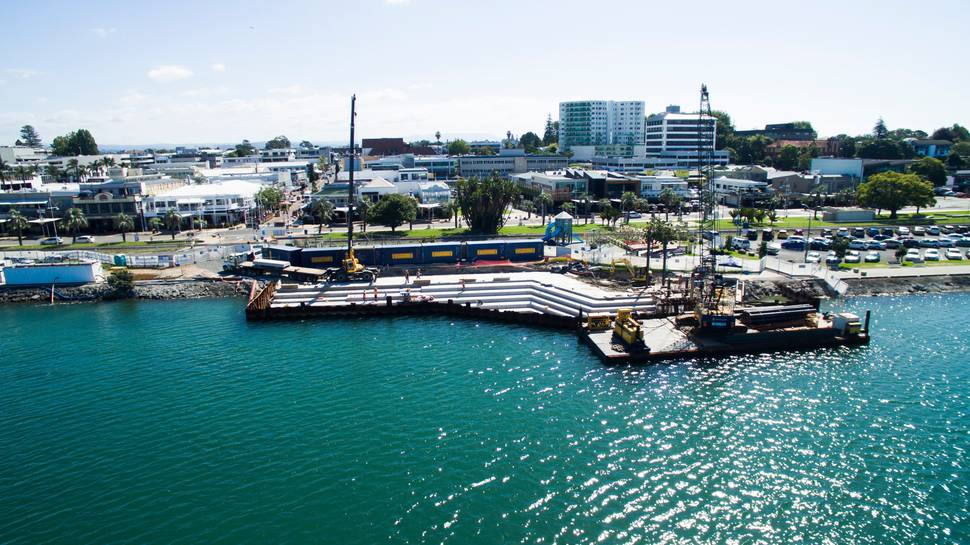 A row of seats would provide a physical barrier between the walkway path and the tidal stairs. The tidal stairs would be set back into the waterfront to create a semi-enclosed harbour space reducing exposure to waves and current. There would also be an anti-slip treatment on the tidal stairs.
Tidal steps safety features- Signs about risks and water flows.
- Navigation signs for boats
- Anti-slip treatment and regular cleaning of stairs
- Handrail and rescue equipment on the pier
- Ladders from water to pontoon
- Lighting at night
- Child safety gate to the jump platform and pontoon
Source: Tauranga City Council