Tauranga Boys' College student Louis Grindrod suffered a horrendous neck and spinal injury one month ago today, after being tackled in a second XV rugby game. Doctors have called his quick recovery a miracle with the 16-year-old back home in Tauranga already, only having spent 13 days in the Otara Spinal Unit. Bay of Plenty times reporter Ruth Keber checked in with Louis at home yesterday.
Louis Grindrod gets up and walks towards the glass ranch slider of his home to welcome visitors.
Dressed in shorts and a blue Bay of Plenty rugby jersey, for someone who isn't supposed to be walking, let alone be out of hospital - he's doing pretty well.
Louis is back home in Tauranga after astounding his doctors, parents and those closest to him by being up and about in weeks after a horrific rugby accident.
He had been rushed to hospital on July 25 after sustaining a neck injury in a high school rugby match in Napier.
He spent the next two weeks in Middlemore Hospital and was then moved to the Otara Spinal Unit where he was supposed to spend the next six to eight weeks undergoing intense rehabilitation.
He spent just 13 days there.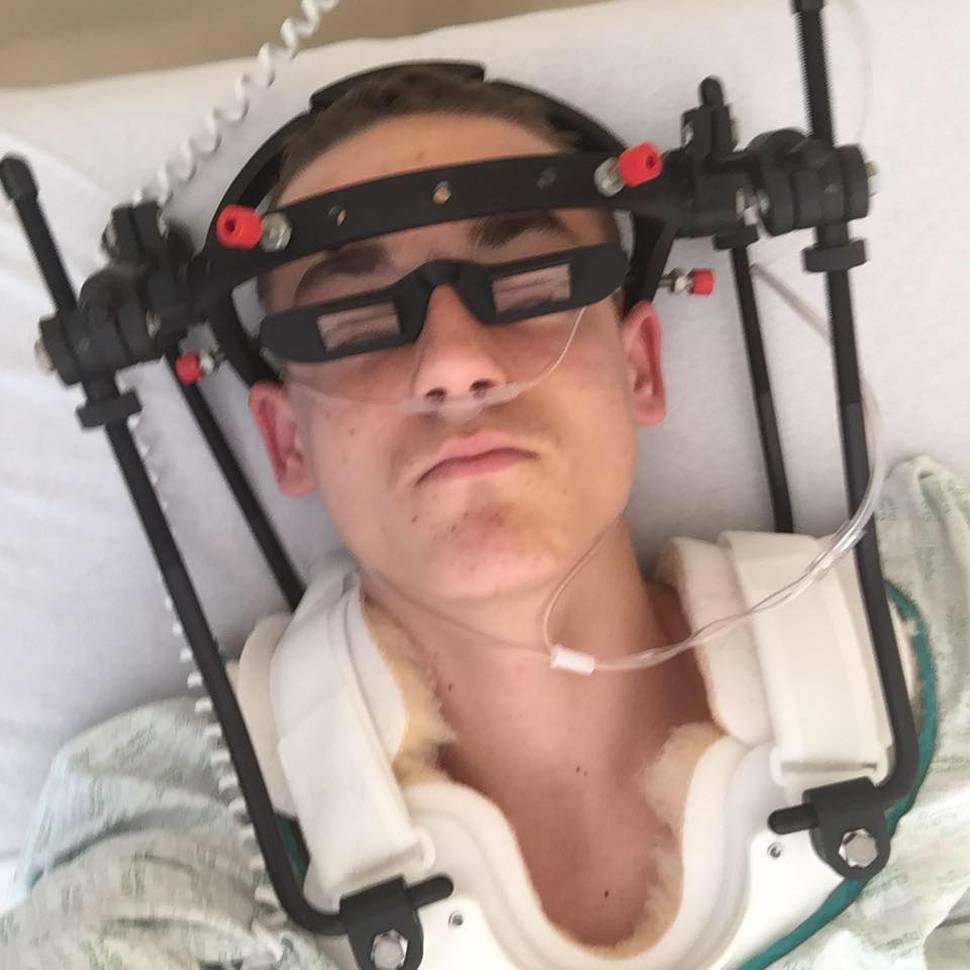 Louis arrived back home on Thursday this week, his father's 44th birthday.
Louis said he was stoked to be home. The best part of it was sleeping in his own bed and eating proper home-cooked food.
This morning, he would be back on the field - watching the Tauranga Boys' College First XV and Second XV teams playing rugby.
The Tauranga Boys' College Second XV rugby player had sustained a dislocated vertebrae in his neck after he was tackled five minutes into the match against Napier Boys' High School.
The 16-year-old picked up the rugby ball, ran from the back of a scrum, was tackled and fell on his shoulder and neck.
He was admitted to hospital immediately and rushed into theatre. On June 27 he was airlifted to Middlemore Hospital and underwent another surgery on June 29 to fuse two of the vertebrae in his spine.
Two days later he was up and trying to walk.
Not being able to go far, he felt sick, and quickly had to sit back down. But every day he made progress and now he almost has full motion back in his body.
Louis said he still had pain in his left shoulder but had come off all pain medication except paracetamol.
He could not wait to get back to school, hang out with his friends and get on with life, he said.
Louis' mother Alicia Sloan said they could not believe the progress he had made in such a short amount of time, given the severity of his injuries.
"Louis is a miracle, he's astounded the surgeons in Auckland."
"Considering it was supposed to be six to eight weeks - he's done pretty bloody awesome.
"The doctors said it's because he is young, fit, strong-willed and determined. I think it has had a lot to do with it as well. He doesn't want to lie in a bed, he wants to be up walking around, doing things.
"He's back and raring to go."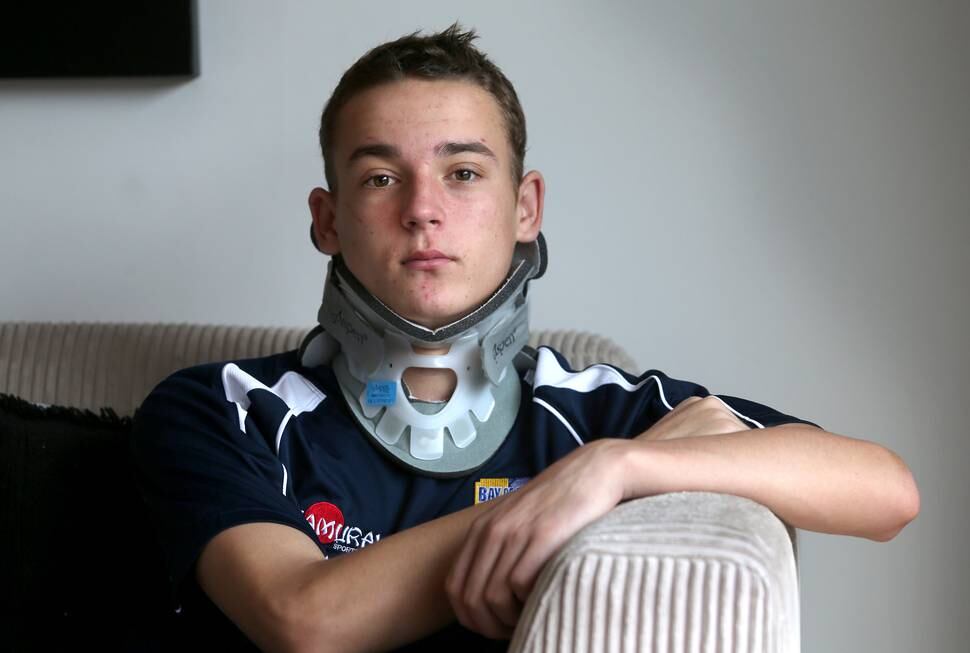 Louis still had to wear a thick plastic neck brace to support his neck, which he would probably wear for another month.
Throughout their ordeal the New Zealand Rugby Foundation had been incredible with assisting the family in Auckland, Mrs Sloan said.
While the family had been commuting to Auckland to see Louis in hospital the organisation had paid for hotels, taxis and flights, she said.
Former All Black Bryan Williams had also paid the family a visit.
Mrs Sloan said the family were over the moon to have Louis home so quickly.
"I don't think it has really sunk in yet, I don't think the whole month has sunk in. I'm just on autopilot. I haven't really thought too much. I am just stoked my boy is up and about."
Louis' father Peter Grindrod said they were equally as gobsmacked as his doctors with his progress.
"We are all blown away but he is young and determined."
Louis had not made a full recovery yet but doctors were expecting him to, he said.
"There would be lots of strength, conditioning and intense rehab over the next few months."
Words could not explain how happy he was to have his son home, he said.
"You see some people up there and it just brings tears to your eyes. We had visitors with the same injuries and they have lifetime carers and have to pee and crap in a bag for the rest of their lives.
"We are so happy, he's dodged a bullet big time. It's is like winning Lotto."
Louis said he wants to use the money donated to him via the Givealittle page set up for him to fund a law degree at Otago University. He wanted to use the degree to become a sports agent.
Louis will head back to school at Tauranga Boys' College next Wednesday.
Doctors have told him no contact sport for at least six months. The family had decided together Louis would not play rugby for at least a year.
But after a lifetime spent playing rugby, having played the sport since he was 5 years old, Louis was itching to get back on the field.