For many local runners, completing a single marathon isn't enough. These days, they're ticking off dozens of 42.2km races while training for ultramarathons of 50km - or more. 48 Hours reporter Dawn Picken (a runner herself) asked road and trail athletes what they've gained and lost while going the distance.
Tiki Tutu Tour One of the most prolific marathon runners in New Zealand is a tutu-wearing Tauranga realtor.
Ross Steele often stops for photos and a chin wag en route to the finish line. He completed his 94th marathon in Wellington last month and aims to knock off number 100 in Hamilton next March. "It took me 21 years to do the first 50, and I thought, I'm not gonna get to 100 unless I get my A into G."
Ross started running in his early 30s. "My spare tyre around my waist was starting to get too big." He has run marathons in New Zealand and around the world for nearly three decades. "There are some amazing people in the running community. I go to events and it's like going to a family reunion."
While I had run with Ross before, I'd never been to his home. It's decorated in an orange and running scheme, with two monarch butterflies clinging to the exterior. A bright orange garage door greets visitors. A Christmas tree in the lounge is decked with race bibs and medals.
Ross plans to complete his century of 42.2km races two and-a-half months after he turns 60. He chose the Kirikiriroa Marathon in Hamilton because it's close to home and one of his favourite races. "This year, a third of the field were first-timers, and that's what they encourage. On the banks of the Waikato River, it's really scenic."
Ross ran the race this year with his niece, a first-timer who left him at the 18k mark. "She was over the moon."
He plans to do number 100 as a fundraiser for Alzheimer's Tauranga, in honour of his best friend's father, who has the disease. Ross anticipates "more than one or two supporters there", including seven mates from Wellington who did the Great Wall of China Marathon with him last year and friends from the Tauranga Road and Trail Runners club.
He's shoeless and wears bright striped socks. He often runs in tutus, "because I can ... I did the 100km Tarawera [ultramarathon] in a yellow tutu, just for something a little bit different".
He says he's had Achilles issues and "loose bits of ligament floating around in my knee", but has pushed through them. The father of two said his grown daughters encourage his passion. "Both of them do a little bit of running, which I encourage ... and it's good for my grandies to see mum's out walking, exercising ... "
Lining the hallway are framed photos and race bibs from marathons on all seven continents. He has "seven" tattooed on his left calf. New York City was special, Ross says, because a million people turned out to watch the race just seven weeks after the 9-11 terrorist attacks. Africa's Kilimanjaro was special because two local boys ran the last half of the race with him. The 11-year-old named Lucky wore jandals.
I ask Ross if he has a favourite race. He expels a long sigh and repeats my name three times. Like I've asked him to name a favourite child. "Antarctica was certainly my most unique. I trained for that in the cool store at Sanford's at the Mount."
Ross said he moved among mackerel and other frozen fish to get a feel for running in minus 10 degree temperatures. In Antarctica, he slogged through snow and was pipped at the finish line by two penguins.
Ross's sole DNF - did not finish - happened at the Kaweka Mountain marathon in 2013. The rugged, 45km course features steep climbs, descents and multiple stream crossings.
You've just got to be mentally strong. That's what marathon training has taught me.

SHARE THIS QUOTE:
He missed the cut-off at the 38km mark, stopping after 10 hours, 25 minutes. "That was the most brutal, tough event I've ever done ... but it's just part of the journey. In a funny kind of way, I'm quite proud of my DNF."
His quickest marathon, in Rotorua, was 3 hours 17 minutes (he has run Rotorua 23 times). He ran his slowest race through mud and over hills on Waiheke Island, clocking 7:45. " ... there was great scenery. I stopped and got plenty of photos. It didn't worry me."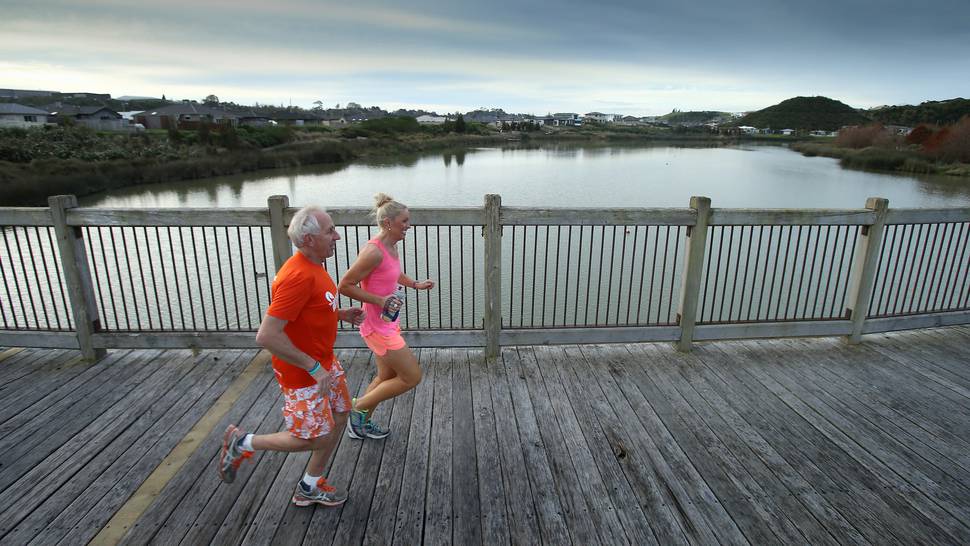 Ross said his fastest times are behind him as he focuses on helping new runners and running ultramarathons: he's done four ultras so far, including the 100km Tarawera last year. "I've signed up for Tarawera 100 again next year, because I can."
Fast lane Another Tauranga road and trail runner, Shelley McKay, has run 21 marathons the past seven years. She initially wanted to tick off a marathon before age 40. "I loved it.
I thought I'd like to do another one and can probably go a little bit faster." The 44-year-old has moved beyond marathons, completing all three distances at Tarawera - 65, 80 and 100 kilometres. "100 was this year. It was just the most amazing experience. The weather was quite a challenge, and the mud. It never crossed my mind that I wouldn't finish ... You've just got to be mentally strong. That's what marathon training has taught me."
The Year 8 Aquinas College teacher is up before five most mornings to run 12 to 18 kilometres. She's married with two children, ages 11 and 14, and balances fulltime work with family commitments. "I do try to run when the family's sleeping ... it's probably the sleep that I sacrifice."
Shelley says she's had a few "niggles" but no major strains or injuries. And though race entries for marathons can stretch to more than $150, and ultras to $400, Shelley says it's worthwhile. "I tell my husband it's a really cheap sport to be part of. I weigh it up with the health benefits and the joy of the friends I've made ... what it's given me is so much more than what I ever could've paid out."
Injuries and prevention Physiotherapist James Mooney of Papamoa Family Physio says he's noticed in the past few years a big increase in people taking on ultra races (longer than 42.2 kilometres). James says runners must build up to greater distances, and running groups can help athletes stick to a programme.
Loading the body too quickly can cause stress fractures or Achilles tendonitis, he says, and the longer you run, the more muscle imbalances are revealed. "There's a lot of people in their 60s, 70s and 80s doing these events. I think the biggest thing that limits people is the mind rather than the body."
Brad Dixon, a physiotherapist and sport coach at Everfit in Mount Maunganui, said in an email, " ... when done with patience and listening to the body then we can all run large distances ... ". He cites a 2006 article in The Journal of the American Osteopathic Association stating, " ... it appears that long-distance running does not increase the risk of osteoarthritis of the knees and hips for healthy people who have no other counterindications for this kind of physical activity. Long-distance running might even have a protective effect against joint degeneration."
Coach Craig Kirkwood is his own case study, running every day for at least 30 minutes the past 550 days. He's aiming for a 1000-day streak. "The body's hardened a bit to the running. I haven't had as many niggles as in previous years, particularly in my calf muscles. The more I run, the less issues I have."
Craig is a former Commonwealth Games marathon representative and Ironman who says fast runners require more recovery time after marathons than slower runners. "If you do it in five hours, you can do one every other week, and it's not as rigorous on the body."
Ross Steele says he'll keep plodding after marathon 100. He's especially keen to help newbies go the distance. "I've taken lots of first-timers to the finish line and they'll be at the finish line in tears, and it is so cool to see."