Bay of Plenty employees at the bottom of the wage scale have seen their pay rise to $15.25 an hour, but advocates for a living wage have set the 2016 rate at $19.80.
Living Wage Aotearoa New Zealand says the voluntary rate takes effect on July 1. The group says the rate reflects basic expenses of workers and their families such as food, transportation, housing and childcare.
The country's new minimum wage took effect on April 1. For an employee working 40 hours a week, it equated to $20 more per week before tax.
Tauranga Budget Advisory Service manager Diane Bruin said that extra 50 cents an hour made a difference, " ... particularly in the hospitality industry, which normally pays the minimum ... Tauranga is one of the leading places in the country in terms of the economy. We know there are a lot of people who have moved into Tauranga and that's also put extra demand on employers and on the workforce; they don't have to pay more ... We need to work towards a better level of payment and that comes with the economy and the expertise of people applying."
Tauranga City Council last year explored a living wage for staff, but ultimately decided against it. Mayor Stuart Crosby told the Bay of Plenty Times Weekend it was up to employers to remunerate employees based on skills and productivity. "But I do believe the minimum wage should be targeted so that people can actually live on it in the New Zealand context. You also have to consider the various taxation and benefit regimes that underpin someone's net income over a year."
Online, the Working for Families Accommodation and Childcare Assistance Calculator provided numbers for our hypothetical example: a solo Tauranga parent with two children paying $440/week in rent working for minimum wage. He or she could be eligible for $149 per week in accommodation subsidies and might get up to $5 per hour for child care, according to the site.
Read more: Stress shaves two years off life
"Government help is one of the first things we look at when working with clients," said Ms Bruin.
Business owners said increases in minimum wage were only sustainable when overall productivity was up. Retail NZ General Manager Greg Harford said his organisation estimated a very small proportion of all retail employees were paid the minimum wage rate.
"But increases in the minimum wage rate can have a big impact on the retail sector, because they can create pressure on wage rates across the board."
Tauranga Chamber of Commerce chief executive Stan Gregec said he did not think many local small businesses had issues paying $15.25 an hour.
"Good employers will recognise the value of attracting and retaining good quality staff - and not only pay competitive wages but also provide other job benefits and conditions. It's not just about the money."
Read more: Search for home a big problem for tiny horses
Hospitality NZ general manager of operations and advocacy Tracy Scott said rising wages were something businesses must absorb. "We don't push our own prices up, so it's a cost to the business, though revenue doesn't go up." Ms Scott said the organisation advised members to raise prices incrementally each year, rather than enact a bulk increase every three to four years.
University of Waikato Management School professor Mark Harcourt said while economic assessment of the minimum wage used to be mainly negative, more recent studies show little effect on purchasing power and employment.
"Certainly, increases in the minimum wage have been positive for those at the bottom of the income spectrum. The effect on family incomes is partly offset by the fact that a lot of young minimum wage workers live in middle-class households with their parents."
Professor Harcourt said impact on prices was extremely small, since minimum wage labour constitutes a tiny percentage of value added. "These workers earn a tiny fraction of labour income. In addition, employers have all sorts of ways of absorbing the cost which include intensifying the pace of work and making other savings."
Rental costs eat up solo mum's pay
Otumoetai resident Tania Green said she made nearly $25 per hour working in the education sector, but struggled to make ends meet.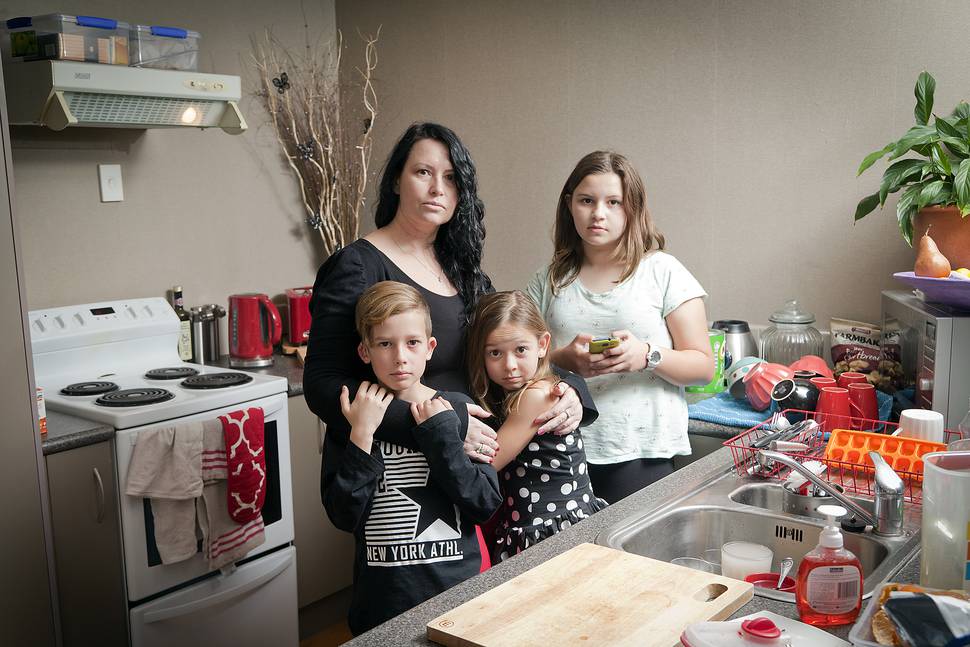 The solo mum of four kids (ages 7, 9, 12 and 19) paid $420 in weekly rent on a four-bedroom home. Her mother used to live with her to share expenses, but now her mum was in hospital.
"The landlord put the rent up and I had no options. I looked at downsizing ... but I can't do that, as there's nothing cheaper."
Ms Green said, after paying taxes, her student loan and KiwiSaver, she was left with $690 each week.
"How am I supposed to live on that?" She said she got an accommodation supplement, but also paid $180 per week for childcare.
"I hope to ask for a pay rise to get by. It's a hard place."
The cost of renting in the Western Bay has increased on average by $60 a week (to $440/week) in the past year, according to Trade Me Property. Tauranga rents have risen $4000 a year since February 2014.