More than $8.5 million in speeding fines have been racked up by Western Bay drivers during the past five years - with 76 motorists caught doing more than 41km/h above the speed limit in 2015 alone.
Data provided to the Bay of Plenty Times under the Official Information Act showed that between the start of 2011 and the end of January this year police had issued 95,671 speeding fines worth $8,571,530 in the Western Bay of Plenty.
The 2015 total of 17,730 tickets worth $1,482,680 was down on 2014's total of 25,981 tickets worth $2,080,020 but similar to other years.
Western Bay of Plenty road policing manager Senior Sergeant Ian Campion said the difference in the 2014 figures was because police engaged two extra speed camera operators on a temporary contract during that year which was not renewed meaning there were three speed camera operators working in the region in 2014 and only one in each of the other years.
In December last year another speed camera operator was hired in Tauranga, he said.
Acting national manager of road policing Inspector Peter McKennie said there was one mobile speed camera which operated throughout the Western Bay of Plenty. Fixed cameras were rotated throughout the country but there had been none in the Western Bay of Plenty in at least the past year.
Mr Campion said other mobile speed cameras based at the Bay of Plenty police headquarters were sometimes used in the Western Bay.
Last year in the Western Bay, 76 speedsters automatically lost their licences for exceeding the speed limit by 40km/h or more. Six were snapped doing more then 50km/h over the limit. Most, almost 10,000, were doing between 11km/h and 20km/h over the limit.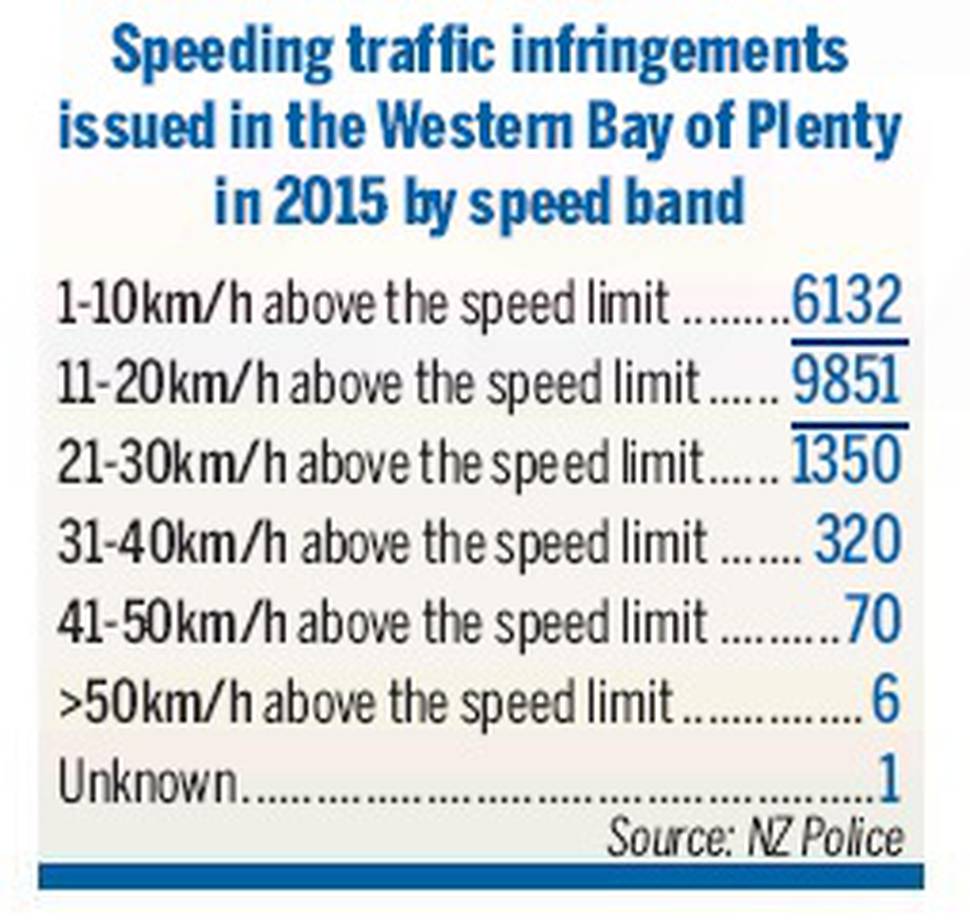 "There are a small percentage of drivers out there that do continue to travel at high speeds. I'm not sure how we get the message through to those drivers," Mr Campion said.
"The vast majority of people do travel at a safe speed most of the time."
Mr Campion said the message remained the same - "the faster you go the bigger the mess".
"It comes down to physics - drop an egg from a couple of inches and it may not crack, drop it from a foot and it will shatter into pieces.
"The motoring public has the ability to make our roads safer."
AA spokesman Dylan Thomsen said it was not just in the Bay that ticketing numbers were consistent - this was happening throughout the country, which was disappointing. "Our view is what we want to see is the number of tickets decreasing because what that means is less people going over the speed limit and putting themselves and others at risk by travelling at high speeds.
"If we're not seeing the number of tickets going down, there's a role for the authorities to be asking those questions about why numbers aren't going down, and do we need to be looking at other approaches?"
Mr Thomsen said AA would like to see signs notifying drivers of a speed camera brought back, as these signs were placed in areas with a history of speed-related crashes.
"They are blackspots for want of a better term, and we should be doing more to get people to slow down at those sites rather than them getting a ticket that comes two to three weeks later and they've already gone through the speed zone."
He believed a lot more work needed to be done on getting people to understand the risks that came with speeding.
Caroline Perry, New Zealand director of Brake: The Road-Safety Charity, said speed was a factor in all crashes because it determined the severity of the outcome.
"Speed can be the difference between someone's life and death. It's shocking to see how many people are breaking the speed limit, but also the number of people who are drastically breaking the speed limit by a significant amount."
Ms Perry said there were potentially many drivers getting away with speeding and more speed cameras were needed. She said she would like to see more fixed speed cameras in the Western Bay.
Enforcement was a key prevention tool but Ms Perry also believed there was more that could be done to help people understand the issue.
"If you hit a pedestrian when you're going 30km/h, they have a 90 per cent chance of surviving. At 45km/h, less than the most common urban speed limit of 50km/h, their chance of survival is 50 per cent."