A Katikati pensioner whose only grandchild suffered horrendous facial injuries in a dog attack wants urgent action to phase out pitbull-type breeds.
Laurie Anderson has watched with a growing sense of outrage as child after child has suffered similar injuries to those of his granddaughter Carolina in 2003.
"These dogs should be phased out because the attacks go on and on and on. These poor little children with tender skin are so vulnerable."
Carolina was only 7 when she was mauled by an unrestrained American staffy/lab cross as she played in an Auckland park.
With one eye hanging out and her nose displaced, father John had to hold her face together on the drive to hospital.
Mr Anderson, 88, has taken the step of going public with his concerns after the latest attack when another 7-year-old Auckland girl Darnell Minarapa-Brown needed 100 facial stitches after an attack by a pitbull. "Please make this stop," he said in a call for action.
He was frustrated with the hand-wringing by politicians, without any reaction to get rid of the breeds responsible.
Mr Anderson issued a public appeal for people to contact politicians and ask for urgent action to restrict, eradicate and neuter the dangerous breeds.
"Imagine the trauma, the agonies and the worry should it occur to one of your own family or indeed any child in our beautiful and caring country."
Mr Anderson said his family was devastated by the terror unleashed on Carolina 13 years ago.
However, after 19 operations and plastic surgery, she was now a confident, intelligent and educated young woman nearing her 21st birthday.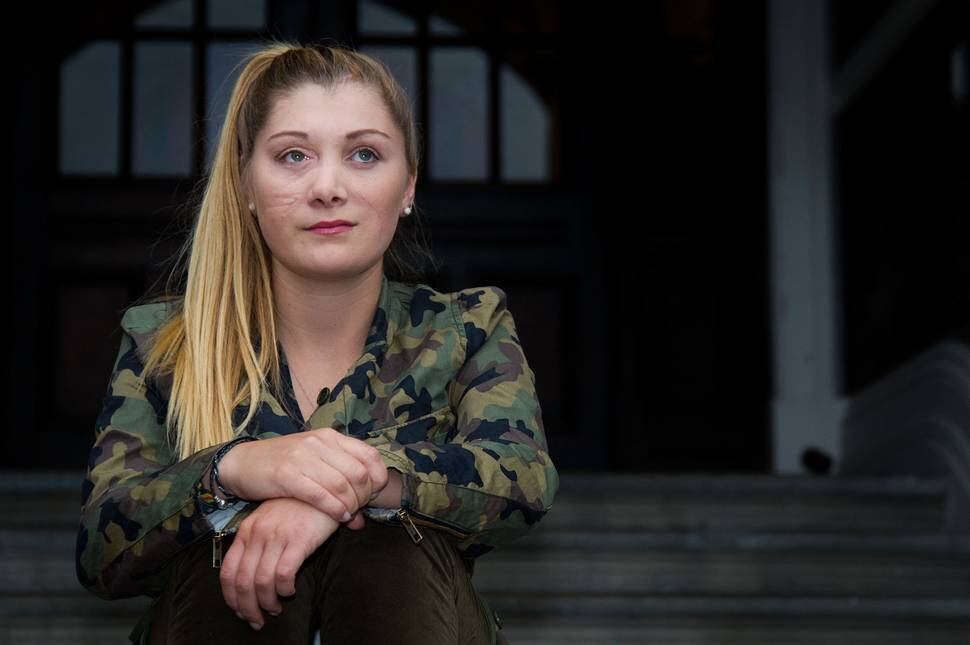 Carolina is in her mother's homeland of Italy studying for an architectural degree. "She is a personable and attractive young woman. Some scars remain but she has retained her eyesight."
Mr Anderson recalled his concerns when she entered adolescence, with the sensitivity that girls felt about their appearance.
"She weathered all of that and overcame all the obstacles. She is on her way and having a happy life - and that is grand."
But despite the happy ending for Carolina, which included being a Zumba instructor, he said it did not alter the fact that the dogs kept inflicting injuries on children.
It prompted him to issue a public plea: "Unless you, the public, also show your concern, this dreadful danger and attacks will continue. Will you help please? Together we can do it."
Mr Anderson paid tribute to health services, especially the work of surgeons at Middlemore.
Mandatory neutering could curb dog attacks
Western Bay of Plenty animal authorities are considering mandatory neutering of menacing dogs in an effort to help curb dog attacks in the region.
In Tauranga city there are 185 dogs classified as menacing and 25 classified as dangerous from a registered dog population of 11,316.
As at the end of last year Western Bay District Council had classified 132 dogs as menacing and 18 as dangerous from a total registered dog population of 8282.
A proposal for the mandatory neutering of repeat roamers as well as menacing dogs is now out for public consultation from Western Bay of Plenty District Council.
Tauranga City Council would put its Dog Control Bylaw review out for consultation later this year.
"We will be recommending that dogs classified as menacing by breed must be de-sexed," Tauranga City Council team leader animal services Brett Lincoln said.
"De-sexing at an early age generally lowers the aggression in a dog and leads to a healthier dog with fewer issues.
"We'll be asking the public what they think of this proposal as part of our review."
Menacing dogs are chosen by either breed or deed.
Currently dogs automatically classed as menacing in Tauranga because of their breed are American pitbull terrier, Brazilian fila, dogo Argentino, Japanese tosa and perro de presa canario.
The Western Bay District Council hopes to also add perro de presa canario to its menacing list.
However, any dog which the council considered posed a risk to people or animals because of its behaviour was also classed as menacing.
"These are dogs that have attacked a person or other animal, but for various other factors have not been classified as dangerous or the owner prosecuted," Mr Lincoln said.
From July 2015 to January 2016, Tauranga dogs attacked people 33 times and other animals 52 times. In the Western Bay there were 97 attacks on people and 223 on animals in 2014/15 - 25 more than the previous year.
Dogs are classed dangerous if the owner has been convicted of an offence under the Dog Control Act, the dog has acted aggressively and the council believes the dog is a threat to people or other animals or the owner admits in writing the dog constitutes a threat to people or other animals.
This week Auckland City Council announced it was discussing banning dangerous breeds but Mr Lincoln did not believe banning breeds was an answer.
"It would lead some people to choose another dominant breed of dog. It would also lead to owners trying to hide their dogs, which would in turn lead to less socialisation and exercise and a more aggressive dog," he said.
"Tauranga City Council believes education is the key to ensuring community safety."