More Bay women are opting to pursue a career in the trades as traditionally male-oriented occupations become more welcoming.
The Bay of Plenty Polytechnic said while the number of women enrolling in 'traditionally male' courses remained low it was increasing.
Sean Squires, group leader for automotive at Bay of Plenty Polytechnic said there had been an increase in women wanting to learn automotive technology.
This was possibly due a shift from the work being less "grease monkey" to "more technical", he said.
Six women were in their first year of the course while four were in their second.
There was no trouble finding work experience for female students.
Fleur Wait, a second-year automotive technology student, spent two days a week doing work experience at Bay of Plenty Honda.
The 39-year-old, who had always loved cars, decided to pursue her interest when her children left home.
She loved the work despite her small stature, "it's all about technique, and about making something happen no matter your size".
Although at times she had to work "a little harder", the people she worked with were "very, very supportive".
Honda foreman Kevin Partridge said there was "no physical reason" why women could not be involved in automotive technology, and it was "always good" to see women coming through industry.
Building and carpentry were areas that had struggled to attract women.
Brian Dillon, the group leader of carpentry at the Bay of Plenty Polytechnic said there were usually "one or two" women a year spread across the classes in the last 10 years.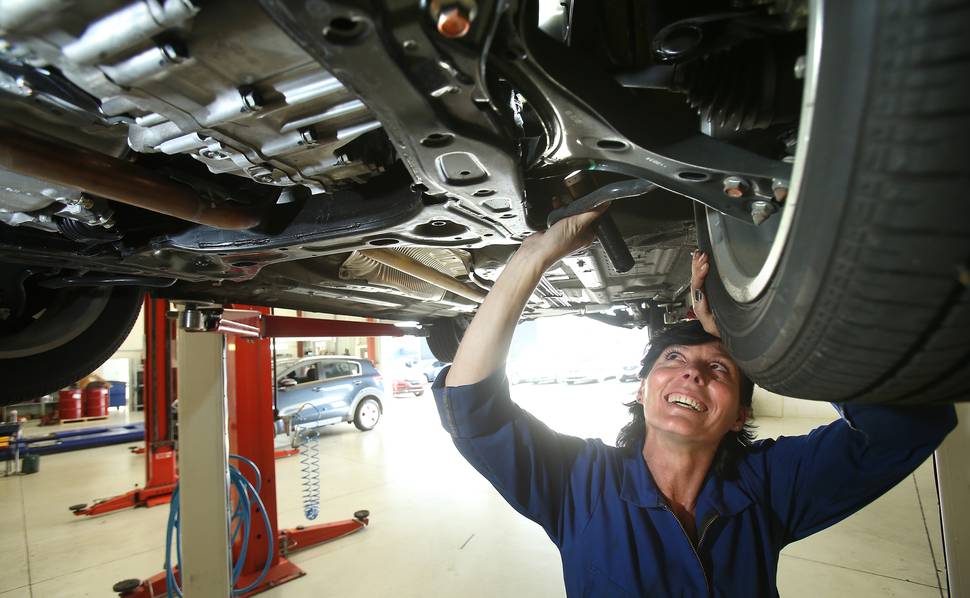 However, DJ Edwards and Holly Morrison were two "exceptional" students training in one carpentry class, according to tutor Brett Jimmieson.
"They're top students, they hold their own.
"They're not scared to get involved," he said.
Ms Edwards said she "didn't really care" about the prospect of going into a trade where she could possibly be the only woman on site.
"It's good skills you can keep forever," she said.
Ms Morrison had spent time making dog kennels and chicken coops before she started the course, so already knew it was what she wanted to do.
"I'm more of a hands-on person," she said,
"There's not a big gap between males and females," Ms Morrison said.
Lifting weight guidelines in the industry and the introduction of lifting tools had made it easier, she said.
"No-one seems to care we're girls. We're just another person."
Kate McLaughlin, group leader for architecture and construction at the Bay of Plenty Polytechnic said when she studied in the 1990s, occasionally when a woman put their hand up, the tutor would not answer.
It was "equal now", she said.
Read more: Bay students surpass NCEA average
"It's perfectly fine for women," she said.
Although some companies were male dominated, female graduates had the same chance as their male counterparts of getting a job .
Student Jessica Rood said she studied quantity surveying as it was "everything I'm interested in, it's better than sitting at a desk".
Ms Rood said "in a way" they had to work harder, due to some males having prior knowledge of the subject.
Taryn Jackson said she studied "all the typical girl" subjects, such as beauty therapy, make-up artistry and massage, when she realised "this is not me".
Shelley Wallace said one of the draw cards of studying architecture was the career prospects it opened up.
"There are so many opportunities at the moment," she said.
Ms Wait said she would recommend other women going into one of the traditionally male roles if they were passionate about it.