Tens of millions of dollars will be pumped into the construction of new apartment complexes in Tauranga, real estate agents say - while figures reveal sales volumes in the sector jumped 68 per cent last year compared with 2014.
Real Estate Institute of New Zealand data showed 89 apartments sold in the city in 2014 for an average median price of $610,000 compared with 150 sales in 2015 for an average median price of $462,500.
Colliers International Tauranga residential projects manager Grant White said SNG Investments No 2 was close to sign off on the redevelopment of the former Golden Grove camping ground on Girven Rd at Mount Maunganui into 66 quality apartments and town houses.
The project, which would cost more than $40 million, fell under Tauranga's Housing Accord as a Special Housing Area and was waiting for the final green light from the Government.
That decision was expected within the next three weeks, he said.
Most of the design work was complete and the complex would include a childcare centre, cafe, village green and extensive landscaping.
"There is going to be a very good selection of high spec housing that will be a mix of townhouses and apartments. They will all be at least two levels while the apartment block is three levels with prices ranging from $400,000 upwards."
Mr White said the developers were extremely confident about the Tauranga marketplace and were responsible for the development at 850 Cameron Rd that incorporated a medical centre, pharmacy, cafe, motel and childcare centre.
Professionals NRG Realty Tauranga principal Neville Ruske said it was working alongside RCP Tauranga which was the development co-ordinator for three major apartment projects.
Mr Ruske said 29 unique mezzanine styled apartments had sold off the plans at the Kombi development beside Blake Park on Mount Maunganui Rd for "around the $359,000 mark", and sales totalled just less than $11 million. The site works had already started and that sellout, which was achieved within three months, had encouraged the developer to launch another project in Judea.
"We have 26 apartments at Montgomery Rd right on the harbour edge. They will have views to the city and over the harbour to the Mount and beyond so it is a very lovely spot."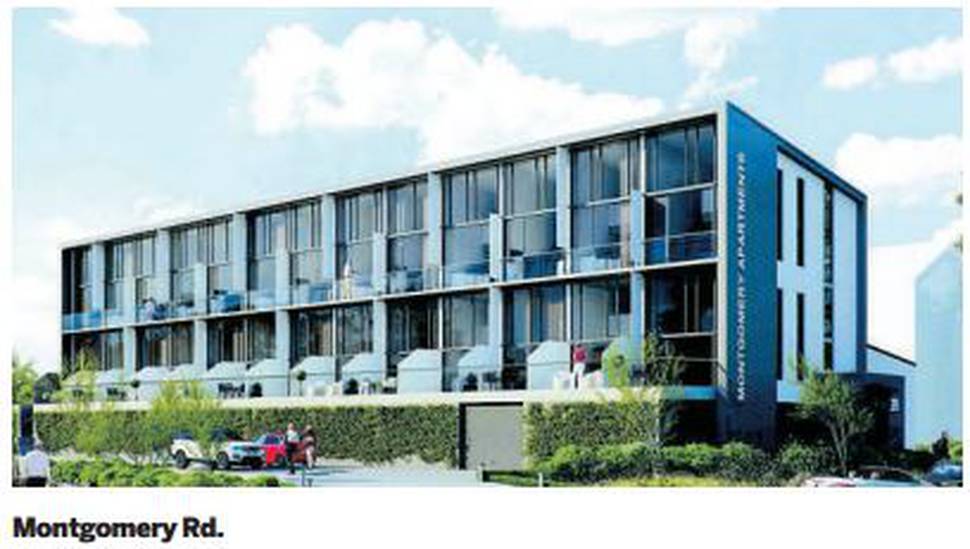 The base price would start at $369,000 which included covered carparks and large storage units, he said.
Inquiries had also been "very good" on eight apartments being sold off the plans priced from $520,000 to $630,000 at 99 Spring St in the central city that was being developed by Awaroa Properties.
They were expected to be completed in July 2017 and would be comprised of two bedrooms, two bathrooms and decks.
Originally it started off as a commercial development, however, after consultation with various experts the developer approached Professionals about apartments.
"They decided to talk to us about putting in a couple of floors of apartments and we were quite confident we could sell them. The ground and first floor is designated for offices at this point."
Last year Professionals was involved in more than 20 apartment sales in Miro St and Mr Ruske said "the apartment market is here and doing really well".
Tauranga Harcourts general manager Nigel Martin said the apartment market had picked up significantly in the past six months.
Read more: Controversy over Easter trading
It was selling across the board from $200,000 to $2 million at Mount Maunganui with downtown properties in new complexes fetching the best prices while re-clad apartments with new codes of compliance were also now on the radar.
"The number of apartments that are actually for sale has halved over the past six months and we are starting to see a little bit of a price increase. For example at The Pacific Apartments, there is lot of activity and we sell everything we list in there."
Auckland baby boomers and locals who were downsizing were actively looking, he said.
Eves and Bayleys Real Estate sales and marketing manager Karen Worley said there had been some great sales at Mount Maunganui particularly in the $550,000 to $800,000 range.
"It has certainly strengthened and, furthermore, some of those big ticket apartments that have been sitting for a while are starting to move too. What I have also been told is people are buying them as homes too as opposed to holiday homes which was traditionally where a lot of the purchases had come from."
Priority One projects manager Annie Hill said there was a resurgence of multi-unit developments in 2015. Its statistics showed last year 24 multi-unit developments were built valued at $22,558,733 compared with 14 valued at $8,777,360 in 2014.
"It would be great to see more apartments developed as there is a shortage of this type of accommodation, particularly more affordable apartments with one to two bedrooms.
"The development of inner city apartments is a sign of the maturity of a city, and I think we are at a stage where these are becoming increasingly popular, particularly in light of migration of people from Auckland to Tauranga." A Tauranga City Council spokeswoman said there were no current or recent building consent applications for apartment buildings in Papamoa.
However, Sunshine Paradise lodged a resource consent application this month for a qualifying development in accordance with the Housing Accord and Special Housing Areas legislation on the corner of Domain Rd and Papamoa Beach Rd.
The application was for 30 residential apartments, 12 residential duplex-style townhouses and 1250sq m of commercial space and once the application had been processed, the developer would go through the building consent application process, she said.