A weekend medieval battle saw transtasman knights smash it out for glory.
Knights fully kitted out in padding, armour, helmets and an array of fierce-looking weapons battled it out for the prestigious historical medieval battle prize, the Tattoo Cup.
There was a large turnout of fighters for the two-day event and though the crowd was on the thin side on Saturday afternoon, it soon built up once the spectacle of the four-on-four group fights began.
The teams, including the Tauranga and Waikato team the Steel Blacks, pounded each other in a small arena outside the Queen Elizabeth Youth Centre.
Knights received hard blows to the head, back of the neck and body with swords and axes as they fought fiercely to get the opponent to the ground until the last man was standing.
The crowd was both hollering and wincing at each vicious blow.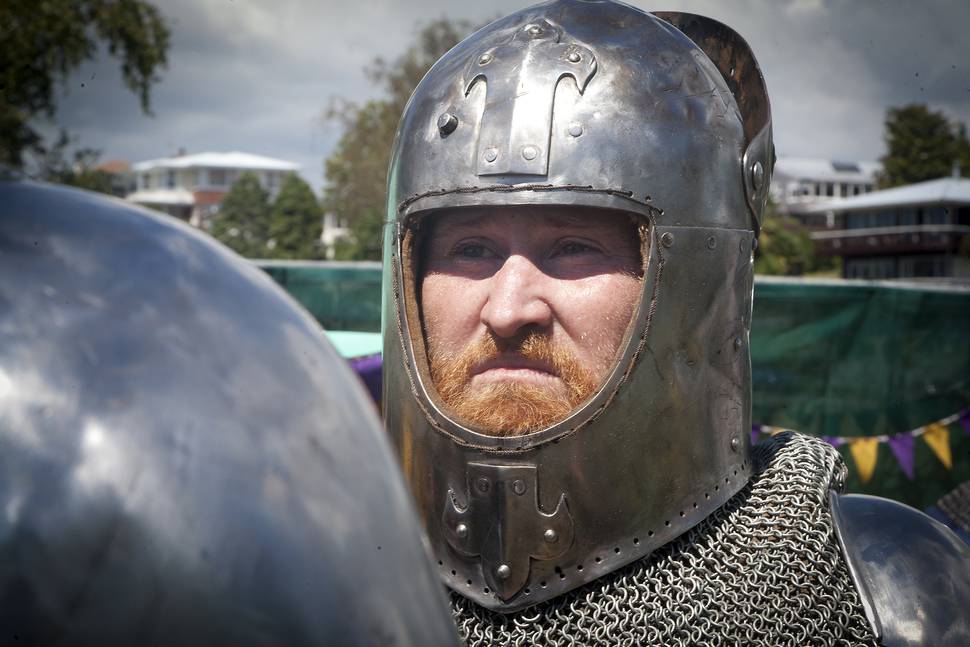 "People occasionally get hurt, mainly strains and sprains. It's similar but less harmful to playing rugby," said Charlie Tapsell, a member of the Steel Blacks and Tauranga Armoured Combat captain.
Half the battle was staying upright in the hot weather, as wearing the heavy gear was like "being wrapped in ten woollen blankets", Mr Tapsell added.
"We're all dealing very poorly with the heat. It's very, very hot in here."
Eighteen Australians, including one woman, travelled over for the event to join 18 New Zealand medieval combat fighters.
"The people here come from all walks of life," Mr Tapsell said.
IT techs, engineers, students, forestry workers, armed forces and others all gathered to battle it out old fashioned-style.
"There's no one type of person.
"Worldwide it's a huge sport with fight nights like they do in boxing. It's slowly taking off in New Zealand.
"We're trying to raise money to send a team to the world championships, which are in Prague this year but it's up in the air whether we'll send a team," Mr Tapsell said.
Raising money to go to the world championships, which are in May, was the main obstacle.
"As it is not a widely known sport in New Zealand it has been hard to come by sponsors," Mr Tapsell said.
The money raised from ticket sales at the two-day event would go towards funding the trip.