The Bay's economic outlook has not looked this optimistic for six years, according to the latest Westpac McDermott Miller Regional Economic Confidence survey.
The survey saw the region's residents ranked as the most positive in the country for the third quarter in a row, with 41 per cent of households upbeat about 2016 - the highest level since December 2009.
Westpac industry economist David Norman cited the recovering kiwifruit industry, strong house price growth, falling unemployment, high electronic card sales and increasing guest nights as contributors towards economic optimism.
Mr Norman said the Western Bay of Plenty was looking "more rosy" than the east.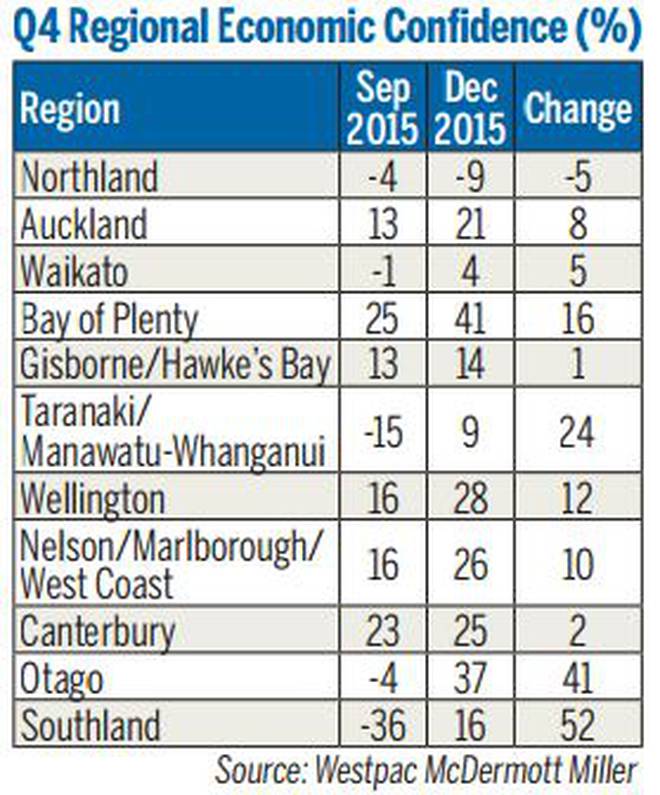 Tauranga Mayor Stuart Crosby said the findings agreed with the feedback he had been getting.
"I would also include general business confidence all around.
"The key, of course, is to sustain that. No doubt, 2016 is going to be a busy year for everybody, including the council.
"Our role is to create an environment to create a strong economy not just for one year, but a strong, sustainable economy."
Mr Crosby said all the people he had spoken to had said 2015 had been increasingly busy and 2016 should be no different.
"These people often cite low, stable interest rates as a key issue. That gives people the confidence to invest rather than put their money in the bank for a rainy day."
Chief executive of economic development organisation Priority One Andrew Coker believed a record level of building consents also contributed to the region's positive outlook.
"We're seeing a huge lot of investment in new housing."
Mr Coker said there had been significant investment into the city centre, with more to come.
"There is a genuine vibe at the moment that we are out of the issues that came with the Global Financial Crisis, with Psa and the Rena that all happened in 2011 and 2012.
"We're really starting to hit our straps and things are really positive."
Mr Coker said everything was going well across the board rather than some sectors doing well while others suffered.
"Our stars are aligning."
Tauranga Chamber of Commerce chief executive Stan Gregec said: "This squares up with our own picture locally, which is that economic activity is still booming and business confidence in the Western Bay is still at historically high levels. We don't see any signs of a slowdown anytime soon.
"I think a big part of the regional outlook is very much due to what's going on here in Tauranga - but we know that things are also looking good for Rotorua.
"Businesses have started 2016 in good heart and with a reason to be confident it's going to be another cracker year."