A Tauranga family has been dealt more than its share of hurdles but has courageously faced them all. The Manning family is fundraising for life-changing surgery for 7-year-old Austin, who has brain damage and asymmetric spastic quadriplegia, while Mum Helen is battling breast cancer. She's had a double mastectomy, chemotherapy, radiation therapy and is now facing reconstructive surgeries. Reporter Ruth Keber tells their story.
Propped up in his standing frame in the middle of his family's Matapihi living room Austin Manning downs a glass of milk and then slowly chews on an apple.
The 7-year-old has been at school and has been placed in the frame to stand him upright after sitting and wheeling himself around in his spiderman wheelchair all day.
When he sees me, he instantly knows who I am and refers back to the first story I wrote with him; "where I was in the paper with Phil Rudd", he laughs.
Austin is a very special little boy, charismatic and cute to boot.
He is also one of 7000 New Zealanders with cerebral palsy.
He suffers from periventricular leukomalacia (a brain injury), asymmetric spastic quadriplegia and has problems with his vision.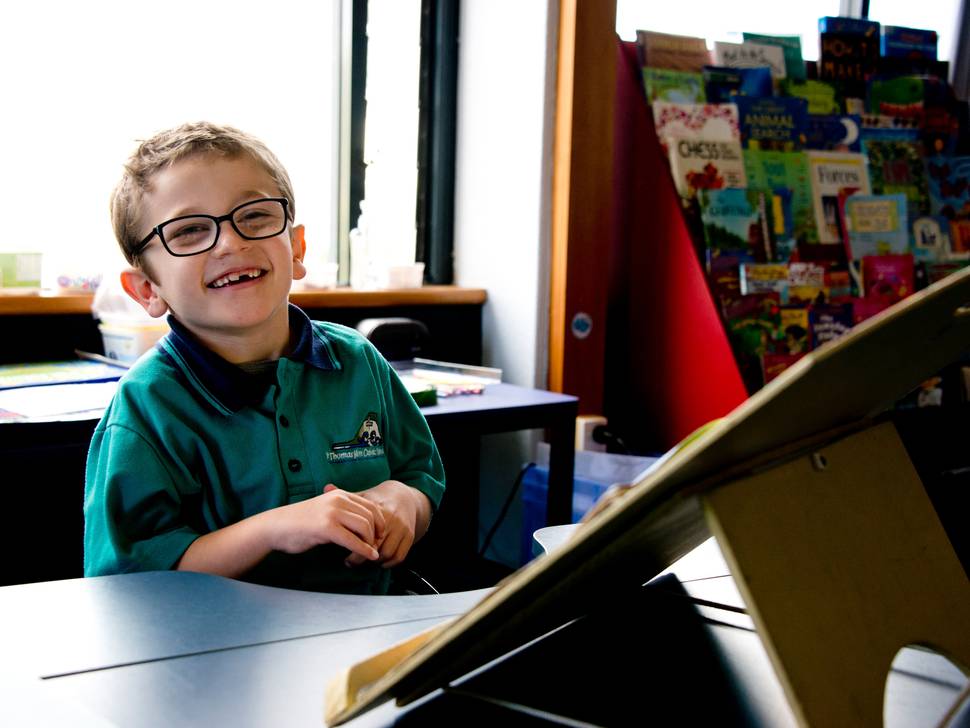 His family started fundraising for him earlier this year so next May they can take him to America for life-changing surgeries. So far his Givealittle page has reached just over $20,000.
The race is on to raise enough money over the next six months.
But while Austin was recently named the 41st Waikato Chiefs player for the upcoming season his mother, 44-year-old Helen Manning, has been through her own journey battling breast cancer for the past four years.
"It was triple negative and I had a huge tumour. It just came from nowhere, it wasn't oestrogen based or caused from hormones or anything else," Mrs Manning said.
The lump and breast was quickly removed and she underwent rounds of chemotherapy and radiation.
After learning how aggressive the cancer was, she had her other breast removed.
Mrs Manning said she would not wish the journey she had had with cancer on her own worst enemy.
"The whole journey. You lose your hair, your eyelashes, your dignity. You lose everything."
She did not want to scare her children when her hair fell out because of the chemotherapy, she said.
"As soon as it started happening we went into the bathroom, we got the clippers and shaved it off.
"But we did everybody so it was like we were all just having a haircut."
Read more: 'Mummy, why can't I walk?' Bay boy's desperate fight for surgery
Family pledges to raise funds for life-saving trip
Mrs Manning has been in and out of hospital for reconstruction surgeries while juggling her part-time job at Downtown Pharmacy Mount Maunganui, looking after her family and fundraising for Austin.
"We've had a pretty hard time but we found out about Austin's operation about halfway through my journey and knew it worked best for the age he is now.
"We thought right, yes, we have to do this for Austin."
Mrs Manning said she got through her ordeal with her positive attitude and "just getting on with it".
"I don't let anything [stop me], I tried to work as much as I could, tried to be positive. I think in a way more people got more upset than I did, which made me stronger.
"I've just got on with it."
Yet, the mother-of-two said she could not have done it without the support of her husband Brett, close family and friends.
"There was always someone saying, 'oh can I do something, can I help, can I come and sit with you while you have chemo today?"'
Mrs Manning was thrilled with Austin being named as the 41st Chief, the "supersub", for this year's rugby season, especially after Austin's 14-year-old brother Thomas was named the Western Bay of Plenty U14 Player of the Year earlier this year.
"He is a Richie McCaw, he's a really good rugby player but it's quite quirky his little brother has made the Chiefs before him."
Austin's announcement with the Chiefs comes as they are working with the Manning family on different fundraisers for him over the summer and early next year.
Austin was able to recently meet up with five other children who had received the same surgery he will have next year.
"They were all standing up while Austin was in his wheelchair, one of the mothers sent Doctor Park [the surgeon who will operate on Austin] in America a picture. He said 'we will get that boy out of that wheel chair'.
"Austin too has started saying 'when I walk, I will be able to..'"
Walk for Austin A superhero fundraising walk will be held for Austin Manning on November 15 to get him life-changing surgery in America. Dress up as your favourite superhero in support of Austin's cause. Register from 1pm on Mount Maunganui main beach near the surf club. Adults $10, children, $5, families $25; or on Austin's Facebook page.