One hardy branch of our police force is expected to head into situations any right-minded person would turn and run from. It's a good thing for us, KIM FULTON reports, these four-legged police recruits are well trained and ready for action.
"I often joke that you see more of your dog than you do your wife and your family, because you're working with them and then you're at home with them."
Inspector Todd Southall, the national co-ordinator of police dogs, says a handler and their dog are together 24 hours a day, seven days a week.
All police dogs live at home with their handlers, go to work with them and attend to jobs when required.
Mr Southall says a lot of handlers' work is high risk. They attended incidents most members of the public would run away from.
"Our dogs have got to front those. So they rely on each other to look after each other. That certainly increases that bond that they have."
Police attend thousands and thousands of jobs a year across the country.
"On a daily basis we're attending jobs where, without the dog teams, we wouldn't have been successful in apprehending or actually even preventing crime."
He says frontline police staff hold the dog section in high regard for the work it does and the section has a lot of successes.
One of the section's main jobs is tracking people who have committed a crime and absconded.
"Those people are people that don't want to be caught. So when we do catch them, it can be a quite difficult situation," says Mr Southall.
The offenders could have weapons or a mental illness. They could be on drugs or drunk.
The dogs also engage in prevention activities including bail checks and patrols around hotspot crime areas.
A dog's shift varies from eight to 10 hours. In the big centres, handlers work all hours. In some of the more provincial areas they work shifts but are on call a lot of the time.
On their day off, their handlers take them for a run or the dogs chill out at home, says Mr Southall.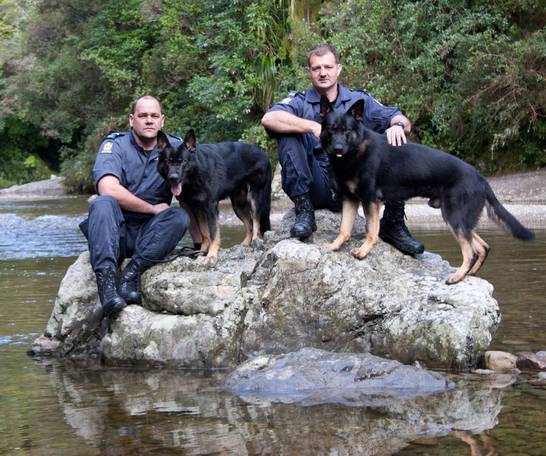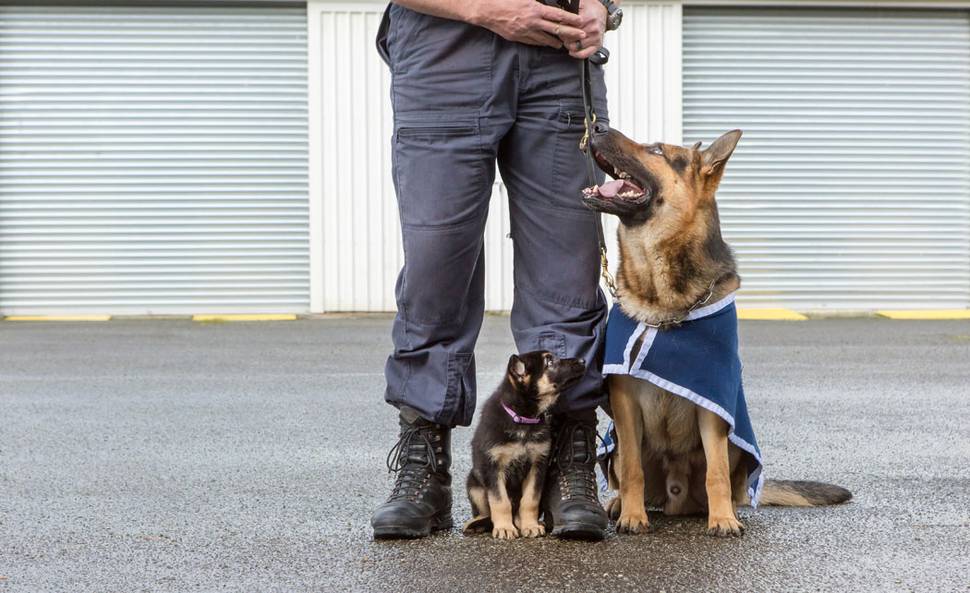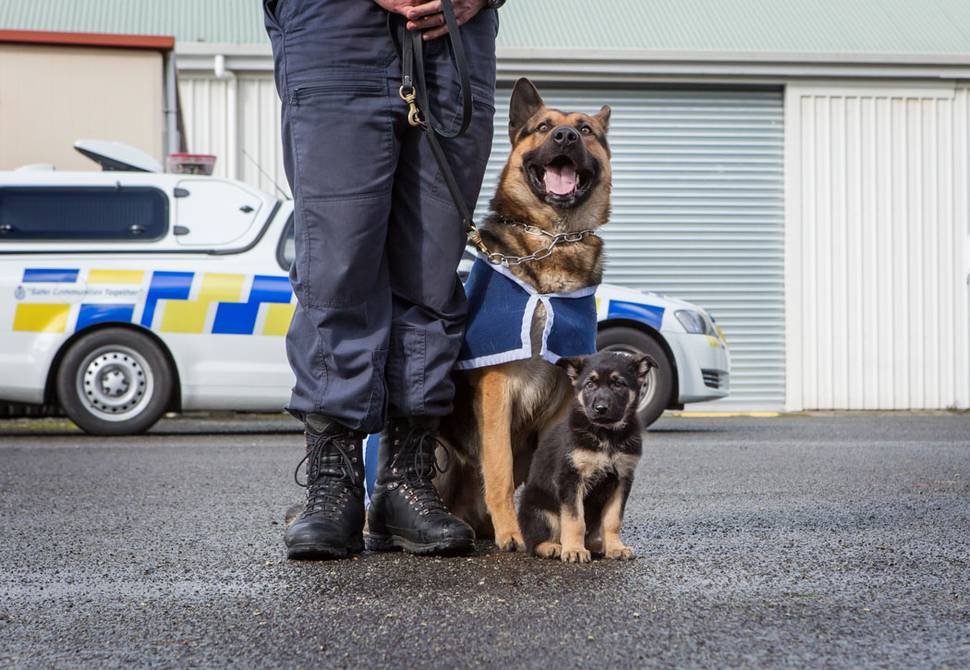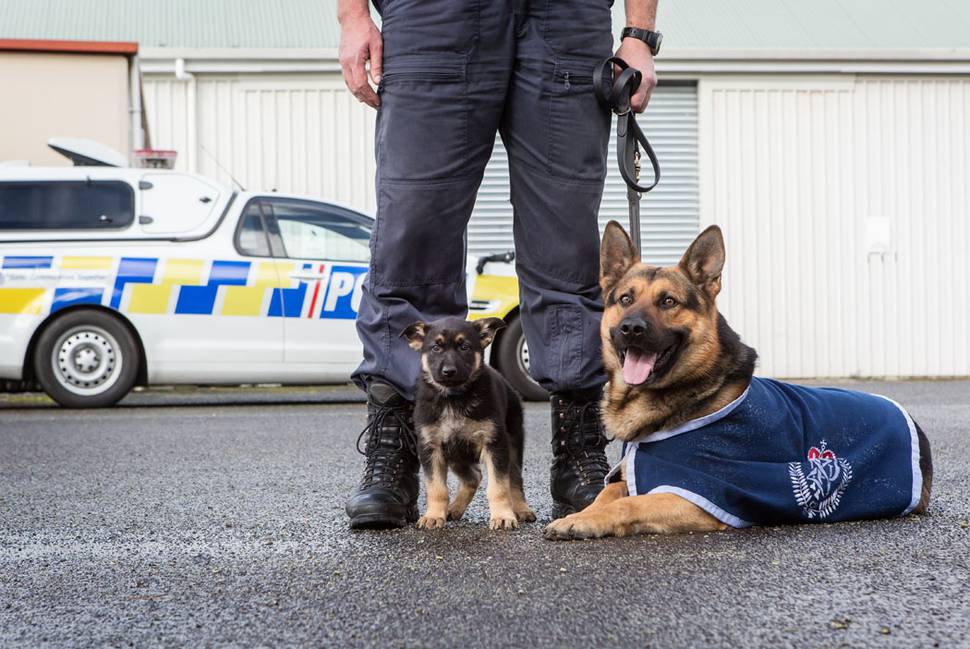 Puppies are born at the police dog training centre and find foster homes after about eight weeks. Those foster homes can be with current dog handlers whose dogs are due to retire, or with police staff who want to become dog handlers, or with members of the public.
The dogs start 32 weeks of training at about nine months of age. During an initial course, they learn the basics of police dog work - tracking, scent work and obedience.
Mr Southall says young dogs begin by tracking in paddocks, then move into bush areas and residential streets, then through towns. They also learn about searching buildings.
"It's just a natural progression as we go through the training to get them up to a level where they are capable of being deployed operationally."
Next comes consolidation training, followed by a three-week intermediate course, then more consolidation training.
Mr Southall says police need to ensure the dogs are mature enough and strong enough to cope with the rigours of being on the front line.
"The older they are, the more they can cope with it."
At the end of training, the dogs wear ceremonial coats to a formal graduation, which families attend.
"It's just rewarding the teams for doing a good job and graduating," says Mr Southall.
All dog teams undergo annual certification. If a handler retires, is injured or leaves the force, the dog can be allocated to another handler. That handler has to undergo full certification to make sure they're up to speed with the dog.
Once somebody becomes a patrol dog handler, they can specialise for the armed offender squad or search and rescue work.
Mr Southall oversees national training and ensures the operational deployment of all dogs is up to standards and adheres to policies and procedures.
He also oversees the Pacific police dog programme which trains Samoan, Cook Island and Tongan drug detector dogs. It has a project under way to set up the Fiji detector dog programme too.
Mr Southall is a past handler but his current role is more about managing and overseeing the dog section across the country, visiting the districts and checking teams.
RUFF JUSTICE
There are about 132 police dogs currently operational in New Zealand and about nine in training.
Training a police dog costs about $50,000. That cost takes into account handlers' salaries, the cost of raising the dog including breeding, food, kennels and vet bills.
The training period for drug, currency, explosive and firearms dogs is a bit shorter than for a typical police dog at nine weeks.
Patrol dogs are German shepherds and detector dogs are a variety of breeds including German shepherds, labradors, springer spaniels and cross breeds. Police dogs retire at the age of eight. By the age of seven, the dog is shadowed by a puppy who will eventually take over duties. Police dogs graduate at about 18-months-old.
The New Zealand Police Dog Charitable Trust receives donations and bequests to help the acquisition and training of dogs and to improve the bloodlines of police dogs.
Police say the safety and well-being of police dogs is very important and that is reflected in a very low number of injuries dogs sustain - about five a year - compared to the high number of incidents they are involved in. Police dogs respond to more than 30,000 incidents each year.
Over 80 per cent of patrol dogs are involved in tracking, often over long distances and in all weather conditions, so injuries can happen.
A police dog named Thames grabbed national headlines in May when he went missing during a training exercise in Wairarapa - sparking a week-long search before he was found safe in Tararua Ranges.
Five years ago this month, Gage took a bullet for his handler, Senior Constable Bruce Lamb, during a call-out in Christchurch.
Gage was posthumously awarded the PDSA Gold Medal - the animal equivalent of the George Cross, or the New Zealand Cross for outstanding bravery and exceptional dedication.
The use of protective vests for police dogs was investigated in 2009. It found vests were not practical and would compromise the effectiveness of police dog teams due to the conditions they work in. The investigation also found vests would not have offered any protection to any of the police dogs killed in New Zealand or any of the serious injuries in recent years.
Police say a dog's best defence is natural speed, agility and strength - accompanied by safe deployment practice by a handler.
PAW AND ORDER
You can make a donation at any Westpac Branch to:
The New Zealand Police Dog Charitable Trust
Westpac Wellington
Account number 030251 0040111 00
- Source: NZ Police.