A Tauranga man who lost his son to suicide says 569 suspected suicides in one year is a "national tragedy".
Statistics released by Justice Minister Amy Adams to New Zealand First leader Winston Peters revealed in the 12 months to May this year, there had been 569 suspected suicides throughout the country.
This was the highest number of suspected suicides in the country since the coroner began publicly releasing statistics in 2007/2008.
In the area covered by the Bay of Plenty District Health Board, there were 31 suspected suicides in this period. Seventeen were from Tauranga and nine were from the Western Bay.
Matapihi's Graham Skellern started up the Matt Skellern Bipolar Trust almost two years ago in memory of his son, who committed suicide aged 30 in 2012. The trust is seeking funding to research gaps in the mental health system.
Mr Skellern called New Zealand's suicide rate a "national tragedy".
"That's one-and-a-half people every day taking their life in New Zealand. It's getting almost double the road toll."
Mr Skellern wants a service that provides peer support to people living with mental illnesses. He would like to see a safe, relaxed place created where people do their own thing while being supported by peers they feel comfortable talking to.
"With our family, Matthew had all the support in the world. But we were his parents and sometimes they don't want to listen to the parents. He didn't want his condition known in his position as a town planner and he didn't want his mates to know.
"He pretended to disguise the turmoil that he was going through with bipolar, but if he had found someone who had been through it before, which we have found since, he could have just talked to that person on a mate-to-mate level and who knows what could have happened. We may not be in this situation talking about this now."
After Matt was diagnosed with bipolar, Mr Skellern said he and his family did not know where to turn. Matt attended psychiatric appointments once a month for 15 minutes and would answer the questions the way he thought the psychiatrist wanted them answered.
"There is a vacuum between the traditional health system and being allowed back into the community. It becomes a bit of a wide-open canyon."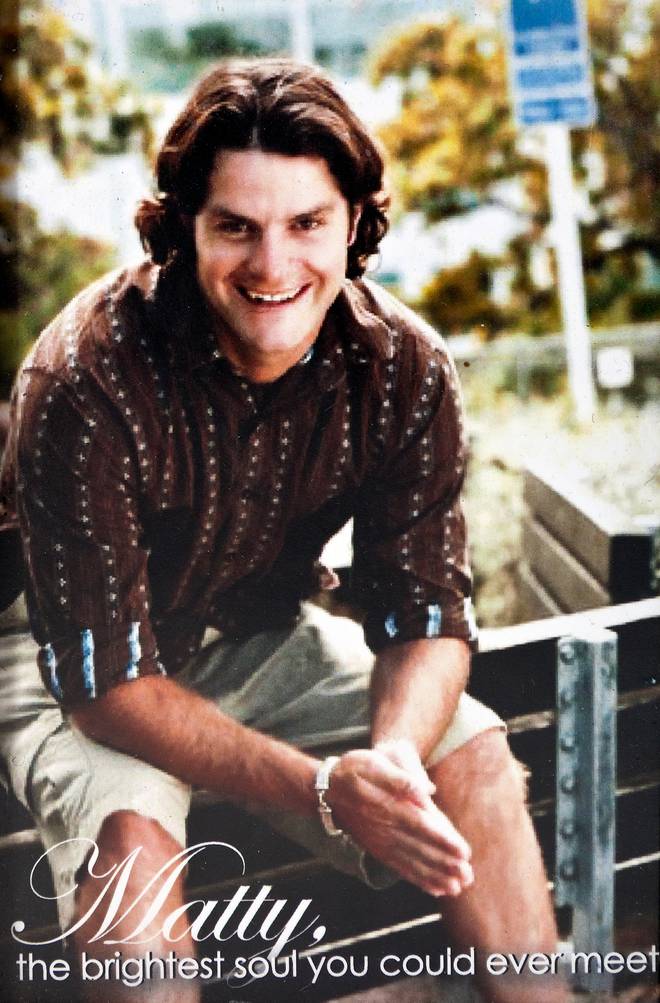 Since Matt died, other people whose loved ones had committed suicide have shared their stories with Mr Skellern and his family. They would say afterwards they felt much better after talking to someone. "That tells us that talking about suicide simply should not be a taboo subject.
"The more you talk about it, the more people can understand and, hopefully, they might be able to help someone else out.
"Those who were thinking about suicide were thinking of themselves and not how their death would affect friends and family.
"By talking about it, someone who might have suicidal thoughts might hear that conversation then he or she may not do it because suddenly, it's not just about me. It's about the family and friends I could be leaving."
Last week, Mr Skellern and his wife and daughter were filmed for a documentary about suicide, travelling to Cape Reinga with four other families from around the country who had lost loved ones to suicide.
The footage covers their two-week journey.
Grief Support Services Tauranga team leader and senior counsellor Janet Baird said the service had a contract with the Bay of Plenty District Health Board to provide support to people bereaved by suicide and who were affected by suicide, meaning the person who died may not be a loved one but their passing affected them.
The service provided a free counselling service and held support groups two or three times a year.
A statement from Tauranga City Council's communications team said the council had recently provided a small grant for the Kia Piki Te Ora National Maori Suicide Prevention Hui, which was held in April in Tauranga and was attended by two staff members. Further discussions had been held with the trust that organised the hui about future collaboration on programmes and events to raise awareness among young people and resources that highlight where to go for help, like the Mental Health Foundation, Lifeline and Rainbow Youth.
Tauranga Moana Safe City runs a website called Teen Tools to provide information and advice on a range of issues including depression and suicide, and gives information on where to go for help.
The Mental Health Foundation of New Zealand and Barnardos New Zealand did not want to comment.
Where to get help
•Youth services: (06) 3555 906
•Youthline: 0800 376 633
•Kidsline: 0800 543 754 (4pm to 6pm weekdays)
•Whatsup: 08009428787 (noon to midnight)
•Depression helpline: 0800 111757 (24-hour service)
•Rainbow youth: (09) 376 4155
•If it is an emergency and you feel like you or someone else is at risk call 111.
What do you think?
Have your say below or email
, go to our
, text 021 241 4568 BOP (message) or write to Private Bag 12002.
Response may be published.