Gone are the days when brows were plucked to the finest lines. Big defined brows are a thing, and ever since supermodel Cara Delevingne became famous for her thick statement brows, the trend has grown as fast as our brow hair.
With it has grown the rise of permanent makeup, known as eyebrow tattooing.
It seems an attractive proposition to have a permanent shape and colour to the brow, but recent horror stories in the international media about brow tattooing gone wrong, resulting in beauty disasters such as four brows, highlight the fact it is important to do your homework.
We caught up with brow artist Sarah Cameron of Cosmetique Skin and Ink in the Mount, soon to be located in the Cashmore Clinic rooms on Dee Street. Cameron, a beauty therapist who has completed training in brow artistry, is passionate about how brows can enhance a person's whole look.
"I have always loved working with men and women to help enhance or correct their natural features. There is something special about the eyebrow that frames the face while redeeming some of our youth. I especially love doing brows for people who have lost theirs through over plucking, age or illness etc.
As we get older, there are some not-so-glamorous changes that happen to our bodies - we grow hair in places we don't want it and lose it in others. Giving someone something back and making their morning routines easier gives me so much pleasure."
Cameron says well shaped eyebrows frame the face and if done correctly, can act as an eye lift and make us look more youthful.
Similarly an incorrect brow placement can make us look sad and tired, so it is vital to choose a qualified artist and talk through the look you want to achieve and how.
Cameron says she helps clients to be realistic about looks that they can achieve.
"Any form of cosmetic enhancement should suit your lifestyle rather than follow trends. It is good to remember you must wear your new brows to the supermarket and out for dinner. They must be able to move through all aspects of your lifestyle."
A person's face shape must also be taken into account for what type of brow suits them.
"A smaller heart-shaped face will want to steer away from the bold brow trend. Because of the petite jawline and emphasis on upper portion of face, it is important to keep eyebrows tidy but not too full. A rounder shaped face can pull off a more arched brow, creating the illusion of a defined facial structure that may be lacking."
High brows can also be enhanced with appearance medicine procedures but Cameron recommends doing the brow treatment first.
"It is much easier for us to create the perfect brow shape with your natural face. Botox wears off in three to six months and we don't want the symmetry of your brows misplaced when this happens. I myself have both Botox and semi-permanent makeup and love the results. For infection reasons you will want to wait to see your cosmetic nurse or doctor at least two weeks after your tattooing treatment."
Different effects can also be achieved with different techniques. For example, microblading suits people who might have little or no hair, whereas powder brow or ombre brow fills in existing brows.
"Microblading is a technique where the colour pigment is implanted using fine hair strokes with a manual hand tool. The goal is to create a natural looking brow by mimicking the hairstrokes. An ombre brow is done by implanting the pigment with a tattoo machine.
This gives eyebrows a more made-up and defined look."
Indulge roadtest
Ready for new brows, I met Cameron at her Mount Maunganui clinic which is welcoming, decked out with candles and alluring cushions and throws.
This is a woman who takes her brow craft seriously - she has more measuring instruments than a maths tutor and if you think brows are just limited to browns and blacks, think again, as a whole section of her studio is devoted to rows of different inks.
The process includes two sessions, six weeks apart. The first is a consultation and the first layer of tattooing. At the second session, more ink is added and any necessary tweaks done to shape or colour.
We start the consultation by having a chat about the look I like. Cameron observes I like a 'made-up' look, and as I have a lot of brow hair still, she thinks the ombre look would suit. I also want to achieve more of an arch.
Cameron says her preference is always to follow a person's natural brows to which she can still add length, arch, curve, width and balance.
Brow tattooing can also help with asymmetry, which I point out I have. Cameron assures me few people have perfectly symmetrical brows but professional ink enhancement can often help hide obvious asymmetry.
She sets about with her measuring instruments to show me what I could realistically achieve, explaining the different mapping tools are essential to discover what will work with the symmetry of a person's face. It is not a one-size-fits-all approach and I like that the planning stage is very thorough and scientific. Cameron says this planning upfront is essential.
"Brow shape is unique to everyone's face. Eyebrows are not a one-size-fits-all situation."
When she has mapped out a shape, I lie back while she draws this on with pencil, before sitting up again to discuss together the shape and go over any questions, and together we slightly tweak it.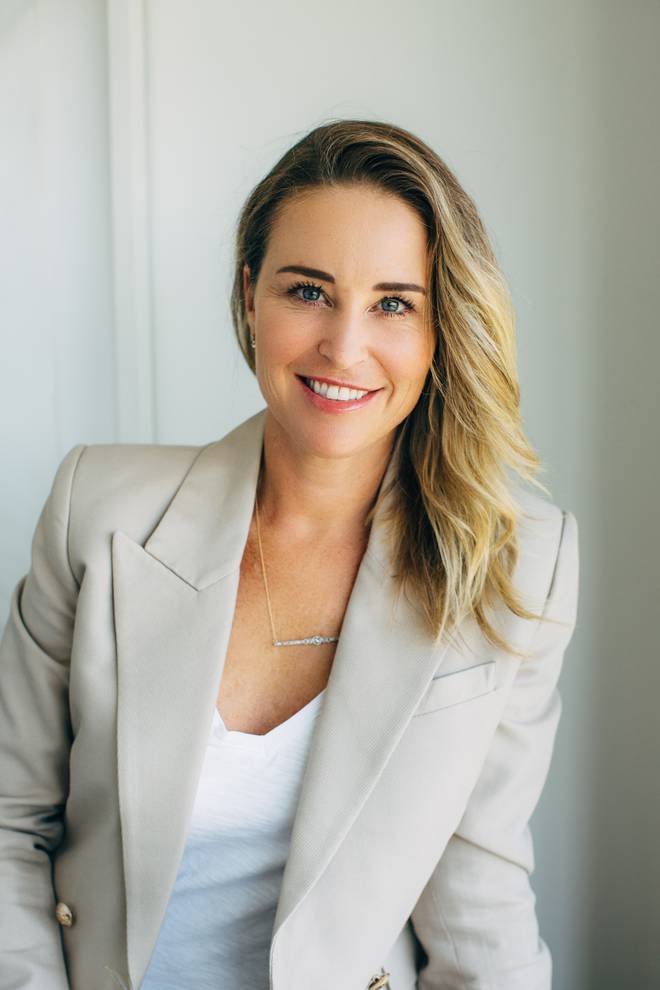 I am happy to take her professional advice though - for example when I ask for longer brows as I tend to pencil them in longer, she shows me how lengthier brows, if curving back down, can give a tired look.
Cameron suggests doing them shorter for now, saying she always prefers to go lighter on the first session so people can get used to their brows and the healing process. This makes perfect sense to me, after all, you can always add but you can't take away. I lie back down while the numbing cream takes effect. She assures me the pain is minimal.
"I have a few different types of numbing cream on hand to keep my clients comfortable throughout the process. Most clients require very little pain control and are genuinely surprised at their comfort level."
Having not ever had a tattoo before, I was apprehensive, but she was right. I was surprised that I felt no pain at all, just a tingling that was even a pleasant feeling. A lot of this has do do with Cameron's engaging manner and professionalism during the consultation process, which has put me completely at ease with her. This personal touch that she has makes me feel confident in her hands, which I think greatly contributes to lack of pain.
She starts by running the needle gently over the skin where she has drawn the lines. This implants pixelated colour which she gradually builds up in layers. She creates the ombre look with a soft front, then goes over the rest of the brow to give a more defined tail and body.
As she nears the end of the process we look together in the mirror more to decide on any tweaks.
The whole session takes around two and a half hours.
I leave armed with the written instructions she has already gone through about looking after the brows during the healing process, as well as special brow wax and some brow cleanser .
The healing process is important to take into account when deciding when to have brows done as for 10 days after the treatment you must keep the brows dry, apart from the allocated washing time, but must not go swimming or hold your head under the shower.
For the first few days you must apply the wax regularly and then after a few days you can wash the brow with the gentle cleanser.
Healing can take up to 10 days and during this time the brow will flake, and people will notice a lot of colour change.
"After the first session, the brows can look so dark but these will fade over time as they soften and they can even shrink a little more during the healing process. Many people do love the dark look though so on the second session we can go darker if that is preferred."
As well as colour, she can adjust shape and length on the second session. After that, maintenance is easy. Many people do not have to continue to dye brows unless natural brow hair has turned grey. The only maintenance is remove unwanted hair that is not part of the tattooed shape.
Colour-boosting is a must if you want to maintain the shape and colour of your brows.
While brow tattooing can last up to two or even three years, how often you get your brows retreated depends on your skin type, lifestyle and age.
"Oily skin will fade much faster than dry skin and younger skin will fade faster. Lifestyle, skin products, skin type, sun exposure will all have an effect on how long your brows will last."
She recommends the brow be colour boosted after a year to stop them becoming muted.
"The shape and colour will continue to fade if you skip colour boosting altogether. At the three-year mark your eyebrows will be almost disappeared."
I am loving the shape and enjoying the time-saving factor in the mornings now that I don't have to fill in my brow so much with makeup.
It is also great having ready-made waterproof and smudge-free brows. Coupled with eyelash extensions, you can get away with no makeup.
I like Cameron's advice about being realistic about what you want to create and your natural shape is almost always what suits your face. Always do your research on your brow artist.
- Annemarie Quill had ombre brows at Cosmetique Skin and Ink. Fifteen-minute consultation free. Sarah Cameron also offers facials, dermaplanning, waxing and massage. Facebook: cosmetiquebysarah Instagram: cosmetiqueink_bysarah Website: www.cosmetiqueink.com