Next month, celebrity chef Nadia Lim will appear at two fundraising events in Tauranga to raise money for the Cambodia Charitable Trust. indulge takes a closer look at the trust, the Tauranga lawyer behind it and the special bond between the two women.
When Tauranga lawyer Denise Arnold first travelled to Cambodia in 2007, she had no idea that it would become a labour of love.
Eight years later, having garnered the support of prominent business leader Theresa Gattung and celebrity chef Nadia Lim, Denise is helping thousands of children in Cambodia face brighter futures.
"I went to find out how I could help keep children safe, and what it was like to live in Cambodia. I wanted my candle to light," says Denise, referencing Eleanor Roosevelt's quote 'It is better to light a candle than curse the darkness'.
The first spark of passion for Cambodia was ignited by a disturbing article she read about children there being rented out from a brothel on a weekly basis.
"I couldn't live with my conscience, knowing that and doing nothing," adds Denise, who is a co-director with Tauranga law firm Lyon O'Neale Arnold.
When her friend Steve Chitty told her he wanted to take business-people to Cambodia to see if they could set up trade relations, Denise offered her legal expertise, however her focus soon shifted.
"The more I researched Cambodia, the more I realised it wasn't business I was interested in - it was helping in rural areas that were too remote to receive aid. So I went to see the countryside."
It was love at first sight, but the poverty was "crushing".
"I felt like somehow I belonged and was in the right place, which was pretty amazing considering I had never travelled alone before and had never been to Asia. But the problems seemed so numerous. I thought 'there must be a way I can help'. I was searching for that way," says Denise.
What struck her most was the desire for education.
"I saw it as the key to breaking the poverty cycle. When you see children who have nothing, not even clothes or shoes, you can never turn your back on them. I didn't want to come home and just return to my normal life. I wanted to remember and carry the images with me like a tattoo. I vowed I would remember and I would return."
And return she did - at last count, 14 times. Following that first, life-changing visit to Cambodia, Denise founded The Cambodia Charitable Trust, of which Theresa Gattung is now patron and Nadia Lim an ambassador.
Denise's vision in forming the Trust was - and continues to be - to save children from poverty, trafficking and slavery, through education and community development.
"Cambodia is a country that was torn apart and is still struggling to recover from decades of conflict. Under the ruthless Khmer Rouge regime, educated people were killed and schools and temples were destroyed," says Denise.
"Trafficking is a growing problem in developing countries where children from poor families are often sent away to work, and girls are particularly vulnerable. When families can't afford to send their children to school it's the girls that miss out first. Girls are often expected to care for their siblings, work on the family land or earn an income to support their family," she explains.
"
When girls receive an education, they marry later and have fewer children. Those children are healthier and more likely to also be educated.

SHARE THIS QUOTE:
"
Just listening to Denise is exhausting, her energy and enthusiasm seemingly at odds with her petite frame.
Working closely with Cambodia's Ministry of Education, Youth and Sport, Denise has designed an innovative programme that empowers the local community to bring about the changes needed.
The Trust now supports 6000 children in 16 schools, as well as two teacher-training colleges.
It has been a big year for Denise, who was named a finalist in this year's Next Woman of the Year Awards, attending a glittering awards dinner in Auckland last month, accompanied by Nadia Lim's mother Julie.
This in a year that has also seen Denise complete a Masters in Development Studies, travel to Cambodia three times and co-ordinate the screening of the internationally-acclaimed film Girl Rising in nine locations throughout New Zealand - all the while continuing to practice law.
And now the diminutive dynamo is organising two fundraising events in Tauranga with Nadia.
The first event, An Evening With Nadia Lim, will take place at ASB Arena on December 2, at which Nadia will speak about her 'nude food' philosophy, followed by book signings and photo opportunities.
The next morning Nadia will host an exclusive breakfast event at Trinity Wharf, limited to 126 people, where guests will be treated to a breakfast from her new Fresh Start Cookbook.
Nadia became involved in the Trust through her My Food Bag business partner Theresa Gattung, who visited Cambodia for the first time in her role as patron of the Trust at the end of last year.
The Trust's work resonates strongly with Nadia, who was in Cambodia with the Trust in July, honouring the legacy of her father who died last year.
Nadia's father Ken had visited Cambodia twice with Nadia's mother Julie, and had a passion for helping the underprivileged escape poverty through education. He had planned to return to Cambodia in his retirement to spend time volunteering.
"He understood the importance of an education for any child in a developing country. I, too, am a strong believer in the power of education to create opportunities and help individuals reach their potential," says Nadia, who recently announced she is expecting her first child.
During her visit to Cambodia, Nadia met 10-year-old Srey Chen, the girl she personally sponsors through the Trust.
"It was so special to meet her and see first-hand how the Trust is making a difference in the lives of people in her community," says Nadia.
Nadia and Denise formed a special bond during the trip to Cambodia, with Nadia offering to help the Trust in any way she could.
She offered Denise all her cookbooks at cost, so she could sell them through the Trust for a profit, and did not hesitate when Denise asked if she would come to Tauranga.
"Nadia is just such a lovely person," says Denise.
"She is warm, genuine and really has a heart for the Trust. We are extremely lucky to have her on board."
While the two Tauranga events with Nadia promise to be fun and informative, Denise says there is also a serious side to them, in that the funds raised are desperately needed by the Trust.
"There are families with not enough food, nowhere to live and no-one watching over them. Poverty sucks the hope and light out of you. It leaves you helpless and afraid, at the whim of the seasons, hoping your rice will grow so you can eat. Poverty takes away your choices," she says.
"We have the power to change lives with small change. Money we won't miss can feed a family. If you spend $100 in New Zealand it doesn't buy much. If you spend $100 in Cambodia you can buy a bike that will transport two children 5km to school every day and enough clothes and stationary for a year. It is literally life-changing."
As for Denise, her life has changed too.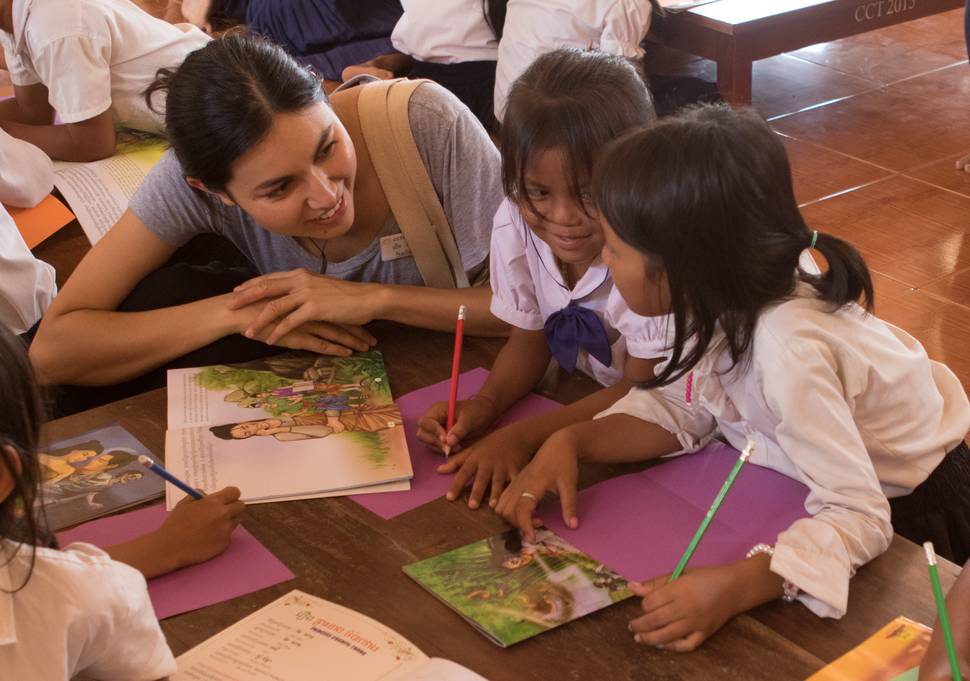 "When I came home from Cambodia the first time, I felt different. I felt I had grown up and taken responsibility for the fact that my life was one of privilege because of the country I was born in. I have well and truly found my candle and my job is not yet done."

The details
*An Evening With Nadia Lim, ASB Arena on December 2
*Breakfast with Nadia at Trinity Wharf, December 3, guests will be treated to a breakfast from her new Fresh Start Cookbook
*Tickets for the evening and breakfast events with Nadia Lim, along with her cookbooks, can be purchased at www.cctnz.org.nz or at Lyon O'Neale Arnold, 40 Willow Street, Tauranga. All profits go directly towards helping children in Cambodia.
Giveaway
indulge has a pair of tickets to the evening event for one lucky reader.
*To enter, like this post and our page on Facebook. Winners will be notified by Facebook and must check Facebook. Full terms and conditions on www.facebook.com/indulgemag