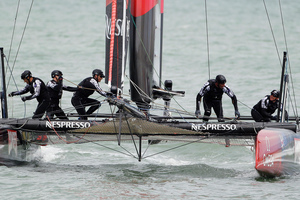 A row over team base facilities for next year's America's Cup has overshadowed the start of the world series regatta in San Francisco.
Team New Zealand have hit out at Cup organisers, calling their decision to scale back team facilities for the 2013 event "scandalous".
The challengers were informed this week that development plans for the team bases on piers 30-32 on the San Francisco waterfront had been abandoned.
In the original site plan for the team bases, the America's Cup Event Authority (ACEA) had promised to provide hospitality facilities for the team's corporate guests.
But the ACEA have now scratched those plans, instead focusing their investment on the fan experience at Marina Green at the western end of the city, which provides close-up views of the racing. The hospitality facilities would also be moved to Marina Green.
Team New Zealand boss Grant Dalton said the decision clearly favours Oracle and Swedish team Artemis, who already have established training bases at pier 80 and Alameda respectively.
"To hear yesterday that those plans have been abandoned six months from when the teams would move to San Francisco is scandalous."
Team New Zealand skipper Dean Barker took to the blogosphere this week to express his disappointment at the news.
He said without the promised investment from the ACEA the team base next year will be "a concrete slab with absolutely nothing on it, which will now require us to secure cranes, jetties and all the services required to function".
Barker later backed down from his comments in a second blog entry, claiming his comments were not intended to "expose a situation, just my own personal view on how things are unfolding in this edition of the America's Cup".
ACEA chief executive Stephen Barclay believes the impact on the teams would be negligible.