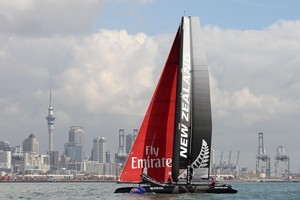 Team New Zealand. Photo / Getty Images
The rather stark announcement that Emirates Team New Zealand would contest the 2013 America's Cup, courtesy of $36 million of taxpayers' money, not only doesn't tell the full story - it doesn't show how close Team NZ sailed to the cold wind of failure.
CEO Grant Dalton admits that, at Christmas last year, he was worried about his team's America's Cup presence. Sponsors were reluctant and he couldn't even pitch properly to them until holders Oracle had come up with essential information - like the venue (San Francisco).
Dalton's quest to find the money reads like a combination of Who's Who and the world's corporate directories. First, Stephen Tindall, of the Warehouse, Italian billionaire Matteo de Nora and unnamed others kept Team New Zealand financially afloat. That was during the dark days when Oracle and former Cup holder Alinghi were in the midst of their tedious, extended legal action - solved only last year in a giant multi-hull contest between the two syndicates, which Oracle won.
The court action covered so quickly in that last paragraph took nearly three years and Tindall, de Nora and others drip-fed money into Team NZ at a time when other syndicates were withering; starved of funds and competition.
Meanwhile, fans and sponsors turned away in their droves from a sports event that became a barely understandable courtroom drama in the US; provoking more "rich boys' toys" taunts that some like to throw at the Cup.
"In Matteo's case, it wasn't a drip-feed; more like a river," said Dalton. "He has been instrumental in helping this team survive. He appeals to ideals like loyalty, trust and reliability - all those things that Kiwis like.
"Stephen has been great too; one of our most amazing supporters."
That support helped Team NZ mass enough forces to compete in key yachting events around the world - like the Louis Vuitton Series triumph in Dubai and the TP52 series win in Europe. That underlined that ETNZ had more strings to their bow than just the America's Cup. So did the later entry to the Volvo Round The World race and the association with giant Spanish sponsor Camper.
But, as far as the America's Cup was concerned, Dalton and Team NZ were still a long way short. The promised Government money kicked in only if the team reached a sponsorship ceiling. Fail to find enough private sponsorship and the taxpayers' money would have disappeared.
Emirates, for so long the naming sponsor of the team, were the key. It seems almost impossible to regard Team NZ without Emirates but, after all, Oracle lost their naming sponsor, BMW, when the German car giant had had enough of the courtrooms, the becalmed competition and the damaged image of the Cup.
It didn't matter so much to Oracle - they still had access to the billions of owner Larry Ellison - but Emirates was a deal-breaker for Team NZ.
"I don't think Oracle quite realise the remaining damage that still exists from their spat with Alinghi," said Dalton. "The average sponsor was asking a question about why the Cup would not end up back in court. That fear was hurting a lot of teams and still is.
"Oracle haven't quite done a proper PR job on that, in my view. People still think that - even though all the competing teams have signed a protocol which is binding and which means, no matter what the disagreement, that it will not go back to court. There's still a big education job to be done on that."
Even then, Emirates were not certain until the San Francisco venue was announced. The US is one of that airline's last frontiers so the Cup once again looked a firm financial/brand proposition - and Dalton had the money ball rolling again.
He was quick to salute sponsors like Omega and longstanding supporter Toyota but the coup that clinched the deal was Nespresso - the makers of coffee machines and quality, easy-to-use coffee capsules which have revolutionised coffee-making in Europe, the US and Australia.
Nespresso, owned by the giant Nestle corporation, have become Team NZ's second biggest sponsor after, ironically, sponsoring nemesis Alinghi in past regattas. Only after all that gathering was completed, could Dalton and Team NZ rely on the Government money.
Dalton says those funds are less than 20 per cent of the team's total budget - which seems to gel with Oracle Racing's CEO Sir Russell Coutts' recent estimate that teams would need at least US$80 million ($140m) to be competitive.
And, if anyone should doubt the economic return on investment, just head down to the Waitemata harbour and watch the America's Cup World series AC45 catamarans zipping about - built in Warkworth, with New Zealand know-how, already bringing millions into the country.