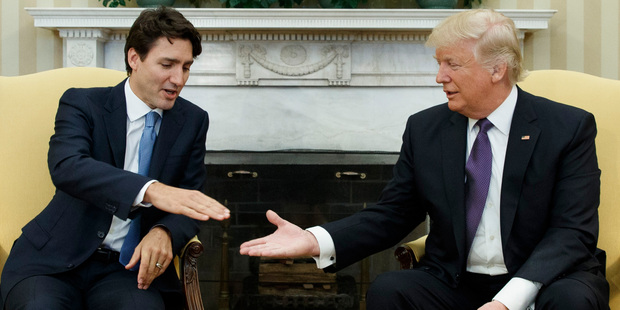 President Donald Trump met with Canadian Prime Minister Justin Trudeau at the White House on Monday (local time)
After last week's debacle handshake with the Japanese Prime Minister Shinzo Abe, and that awkward phone call with Malcolm Turnbull, the internet waited with bated breathe to see the results of president's first face-to-face interaction with his Canadian neighbour.
He didn't disappoint.
This was, of course, a candid moment but the look on Trudeau's face is priceless.
How the rest of the world views Trump in one image. pic.twitter.com/dklfmX39aR

— Dan Speerin (@danspeerin) February 13, 2017
Trump: Look at the size of that. Just look!
Trudeau: I'm seeing it.
Trump: Are you seeing this?
Trudeau: I am in fact seeing it.#leadership pic.twitter.com/YS35sItFY2

— Henry Tudor (@KngHnryVIII) February 13, 2017
The photograph is a veritable banquet of hand-size-joke opportunities.
Canada really doesn't rock with Trump. pic.twitter.com/qc1AZUiNTs

— Matthew A. Cherry (@MatthewACherry) February 13, 2017
Trump: C'mon, touch it.

Trudeau: No.

Trump: Why?

Trudeau: I know where it's been, and I know it wasn't consenting.#TrudeauMeetsTrump pic.twitter.com/Uk8BbNMT2U

— Fiona Adorno (@FionaAdorno) February 13, 2017
@GrimKim @BlueCollarFame pic.twitter.com/5KgPPrd6Y8

— Face Ripper Monkey (@FaceRiperMonkey) February 13, 2017
The leaders are meeting up to discuss US-Canadian relations and "the advancement of women entrepreneurs and business leaders."
In the White House, Trump and Trudeau are referring to each other as "Justin" and "Donald" pic.twitter.com/tOUcySiwJI

— Michael C. Bender (@MichaelCBender) February 13, 2017
At least there are women in the room this time.