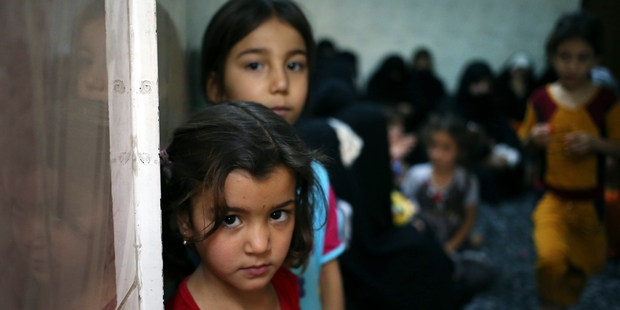 Sheikh Murshid Omar sits on a modest sofa in a room adjoined to the mosque his words echo through each week. He says that Islam is tolerance.
"The word Islam is derived from Salam in Arabic," he says: "Meaning peace."
His traditional Kurdish pants sag down from his waist and grey speckles dot his hair. His face is shaved clean. He laments the re-emergence of an austere strand of Sunni Islam gaining subtle traction in Iraq's Kurdish north.
"It saddens me to hear of our youth joining these groups," he says, referring to the Islamic State in Iraq and al-Sham (Isis), an ultra-violent Takfiri militia carving its way through Mesopotamia. "Its ideology is foreign to the Kurds."
According to the Kurdistan Regional Government (KRG), at least 200 Kurdish teenagers have joined Isis. Many were recruited from the impoverished town of Halabja, the traditional seat of Kurdish Islamic zeal in Iraq.
And as Isis militiamen, buttressed by Sunni tribes, careen in crazed convoys through Iraq's deserts and Shia in Baghdad militarise, the fear in Iraqi Kurdistan is that Isis' gaze may shift to the Kurds' oil-rich lands. The fear is it will use radicalised Kurds to stage attacks on Kurdish soil.
A twin car-bombing targeting the regional headquarters of a major Kurdish political party this month left 18 dead; Isis claimed that a Kurdish militant was involved in the attack.
"Kurdish jihadists could pose a security threat. They can destabilise Kurdistan, but it is unlikely they would be able to take and hold territory," says Wladimir von Wilgenberg, a Dutch researcher specialising in Iraq's Kurds.
"They could plant improvised explosive devices, and carry out suicide bombings and assassinations. But, so far, it appears the major target is Baghdad."
Previous Isis assaults - an attack in Erbil last September left seven dead and scores wounded - coupled with the reported arrest of Isis fighters infiltrating the region and a Kurdish militant group announcing its loyalty to Ayman al-Zawahiri last month underscore the threat.
As Isis spread through Anbar province in the past fortnight, the Peshmerga sealed Kurdistan - a ring of firepower defending their territory; Peshmerga recently clashed with Isis in Kirkuk and Jalawla - while the regional government looks to counter the rise of Kurdish jihadists and Isis' recruitment on its land.
"We have established a committee to investigate this problem," says Mariwan Naqshbandi, spokesperson for the KRG's Ministry of Endowments and Religious Affairs.
"We have been instructing mosques to emphasise religious tolerance during sermons and to encourage people to inform us if relatives have left for Syria."
Kurdish Islamism flourished in the 1970s and 1980s, but was severely weakened after the 2003 US invasion of Iraq.
Yet as civil war in neighbouring Syria ground on - imbued with an unmistakable and increasing sectarian hue - it inflamed religious tensions throughout the region.
Many thousands of Sunni Muslims from around the globe flocked to Syria to wage jihad, perceiving the Syrian conflict as a final reckoning between the Sunni and the Shia.
"We believe that some Kurds were recruited via social media," says Naqshbandi. "Some travelled to Syria via Baghdad, others travelled through Turkish cities like Gaziantep."
About 50 Kurdish Isis fighters have returned to Kurdish territory. Some were incarcerated and others are monitored by the police, Naqshbandi says. "It is a difficult time for us, the country is at war. In the future we will have to address the core causes of radicalisation: poverty, shortcomings in education," he says.
The small but emergent strand of steeled Sunni fundamentalism represents a fresh challenge to the Kurdish authorities. The region - variously inhabited by Christians, Shia, Sunni and Yazidi as well as various ethnic groups - has long prided itself on peaceful coexistence between the patchwork of sects woven into its soil.
For Sheikh Omar, sitting in an unassuming mosque - the air-conditioner barely keeping the searing Iraqi summer at bay - the threat from extremism is very real.
He says religious figures from various sects meet regularly, shoring up interfaith understanding in the face of the black Isis flags now fluttering across a massive expanse of land.
He looks at a series of pictures depicting a church Isis sacked in Mosul.
"These are symbols of our culture and civilisation. It is the heritage of our country, and it therefore belongs to all of us," he says. "Isis cannot see beyond itself."