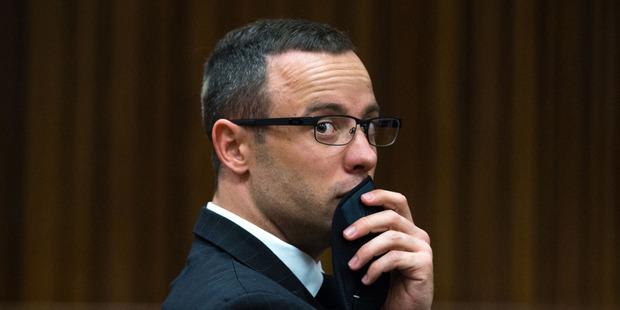 When police officers took Oscar Pistorius from his home on Valentines Day morning last year, the question the world wanted answering seemed simple enough. When he fired four bullets through his locked toilet cubicle door in the middle of the night, did he believe it was an intruder or his girlfriend Reeva Steenkamp on the other side?
After 15 months in the hands of South Africa's cleverest lawyers, that question has been contorted into a far more complicated shape, and the most bewildering twist of all may occur this morning. Eleven weeks into Mr Pistorius's trial, and approaching the point at which a verdict was looking imminent, Judge Masipa must decide whether to grant a request from the prosecution to send the athlete for a psychiatric assessment that could last up to a month and delay the trial for substantially longer.
Read more:
• Psychiatrist: Pistorius has 'anxiety disorder'
• Neighbour 'feared Pistorius would shoot himself'
• Pistorius trial: Family denies 'acting' accusation
Even though a psychiatric assessment could conclude Mr Pistorius has a mental disorder, and so legally diminish his responsibility for his actions on the night he shot his girlfriend dead, and it is the state that wants it to happen. Mr Pistorius himself has called it a joke and his own defence counsel has fought to prevent it.
This week, the trial has heard from Dr Merryl Vorster, a psychiatrist Mr Pistorius's legal team recently asked to assess their client and testify in court. She has simultaneously bolstered and undermined the athlete's case.
Dr Vorster claimed Mr Pistorius suffers from a generalised anxiety disorder as a consequence of his double amputation at 11 months old - a painful event his young brain would have been unable to understand properly, and would have processed as a traumatic assault. His mother, who died when he was 15, slept with a firearm under her pillow for fear of intruders, a fear Mr Pistorius shares. That he locked himself in his bedroom to sleep every night is evidence of this.
When faced with a fight or flight situation, such as facing an intruder in his home, Mr Pistorius when on his stumps and incapable of flight would be more inclined to fight, she claimed.
But the problem for Mr Pistorius is that this is not his own defence, at least not originally, and the state prosecutor, Gerrie Nel, has argued the court has a right to know what his defence is. Originally, it was putative self-defence that he falsely imagined himself to be in danger. But this seemed to change during his cross-examination to involuntary action that he fired four shots through the door before he knew what was happening. Now a mental disorder is suddenly relevant.
But even this generalised anxiety disorder would not have affected the athlete's ability to distinguish right from wrong. And Mr Pistorius's lawyers know that, even if the judge comes to believe Mr Pistorius thought he was shooting at an intruder, it is possible he can still be convicted of the lesser charge of culpable homicide, or even murder. At the heart of the matter is what is known in the South African legal system as dolus eventualis. It is a complex legal term: in essence, it is to be held responsible for the likely consequences of a course of action, even if they were not intended.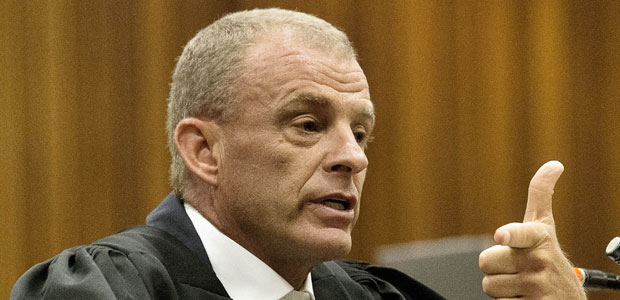 State Prosecutor Gerrie Nel. Photo / AP
Mr Pistorius was asked several weeks ago why he didn't fire a warning shot in to the shower cubicle next to the bathroom. He replied saying he knew a ricochet could hit him and kill him. To this end, he knew that four shots fired into the toilet cubicle could kill whoever was in there, and he didn't know who was in there. That his own psychiatrist has suggested he is more likely to fight than to flee casts doubt on the athlete's own assertion, that he acted out of fear, and possibly involuntarily.
The type of evidence given by Dr Vorster is unusual in the course of a murder trial. It is more commonly heard in mitigation after a conviction has been made. Mr Nel has suggested that Mr Pistorius could be inserting evidence now that could later be used as the basis for an appeal. As such the independent psychiatric assessment is, for Mr Nel, in the interests of justice.
If the application for an independent psychiatric assessment is granted, it will delay the trial substantially. The assessment would require observation for up to 30 days. It has also been reported that the centre that would carry out the assessment currently has a six-month waiting list. But other aspects of this case have been fast-tracked.
Mr Pistorius's defence counsel Barry Roux had indicated he would be finished with his witnesses by the end of this week, and a verdict had been predicted some time in late May or early June.
If convicted of murder, Mr Pistorius faces a mandatory life sentence which usually carries a minimum of 25 years in jail, though mitigation could reduce it in this case. If convicted of culpable homicide he could face 15 years, or a non-custodial sentence.
- The Independent